​Cosmic fireworks: Colorful pyrotechnics on display in a galaxy near ours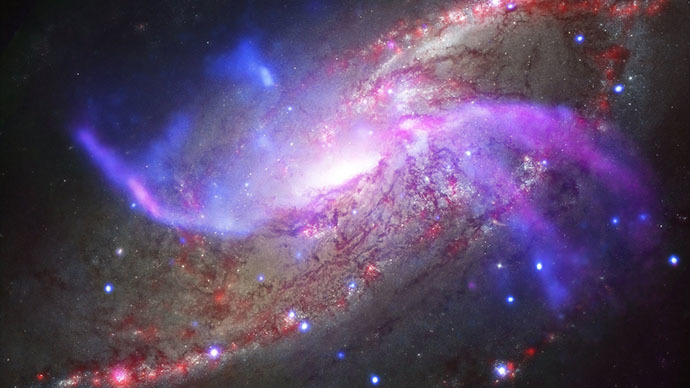 Some 23 million light years away, a nearby spiral galaxy is spinning like a pinwheel in space, putting on a fireworks display of truly galactic proportions.
The galaxy NGC 4258 (also known as Messier 106 or M 106) is much like our galaxy, with the addition of two extra spiral arms that glow in X-ray, optical and radio light. These features, rather than aligning with the galactic plane, intersect with it, giving it an anomalous shape.

A new composite image of the oddly-formed galaxy and its pyrotechnic proclivities was recently published by NASA. In the image, X-rays by NASA's Chandra Observatory are blue, radio data from NSF's Karl Jansky Very Large Array are purple, optical data from NASA's Hubble Space Telescope are yellow and infrared data from NASA's Spitzer Space Telescope are red.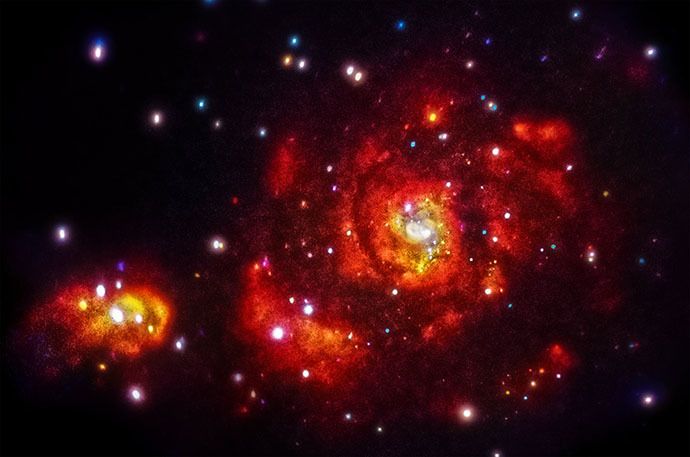 The cause of NGC 4528's spectacular activity was recently explained in the June 20, 2014, issue of The Astrophysical Journal Letters and is available online.

According to researchers, a supermassive black hole which sits at the center of the galaxy is churning out a truly psychedelic display of radiant stellar energy equal to tens of millions of suns.

The black hole is believed to be producing powerful jets of high-energy particles, which strike the disc of the galaxy. The disc, which is mainly composed of gas, dust and stars, generates shockwaves in the process. The shockwaves serve to heat the gas – mainly composed of hydrogen molecules – to thousands of degrees.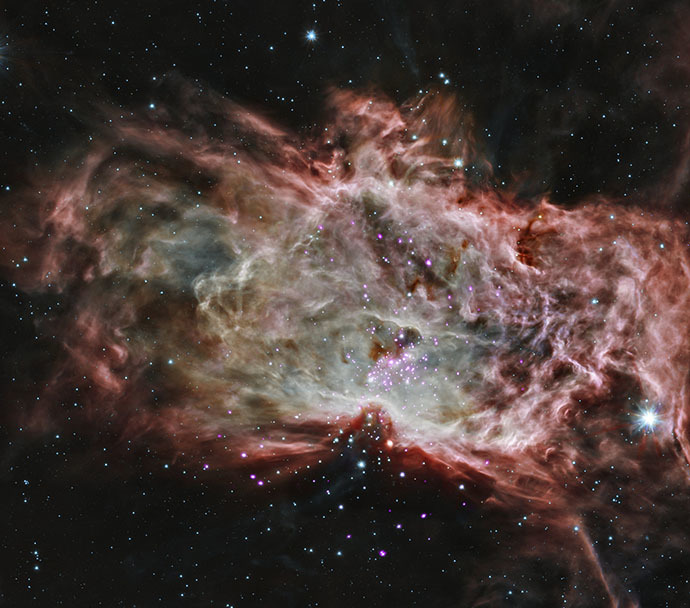 Researchers think that this ejection is occurring at such a fast clip, the gas will be exhausted within the next 300 million years, leaving less available gas to form new stars in the future. As a result, they believe 10 times fewer stars are being produced in NGC 4258 than in our own Milky Way.

"Jets from the super-massive black hole at the center of M 106 are having a profound influence on the available gas for making stars in this galaxy," said Patrick Ogle, an astrophysicist at the Infrared Processing and Analysis Center at the California Institute of Technology in Pasadena and co-author of the study.

"This process may eventually transform the spiral galaxy M 106 into a lenticular galaxy, depriving it of the raw material to form stars."

The opportunity to study NGC 4258 is providing scientists valuable insight into the nature of black holes and the life cycle of galaxies. In this instance, the immensely destructive capacity of a supermassive black hole at the center of a galaxy is on display in all of its kaleidoscopic glory.