Baghdad bodyguard: US troops in Iraq to receive Apache helicopters, drones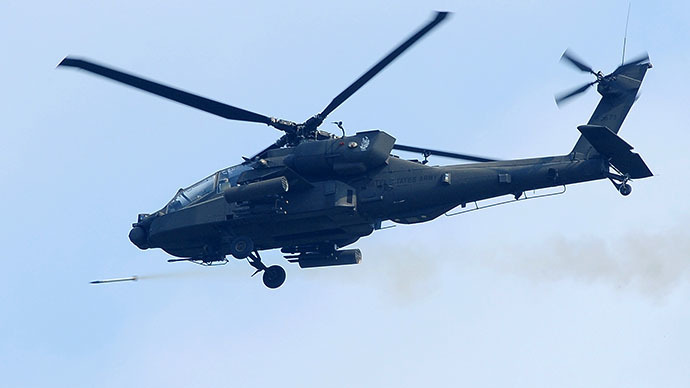 US troops and advisors in Iraq with get Apache attack helicopters and spy drones to provide security for US embassy diplomats and staff as Iraq forces battle Sunni extremists linked to Al-Qaeda, according to Pentagon officials.
The transfer of Apache attack helicopters comes after President Barack Obama on Monday ordered 300 additional troops to Baghdad, where the United States operates the world's largest embassy, a sprawling 4.7 million-square-foot complex that employs 15,000 people.

The Pentagon, which also delivered unmanned Shadow drones, is looking to secure Washington's diplomatic presence amid a mounting challenge from militants from the Islamic State of Iraq and Syria, recently rebranded to the Islamic State.

The Shadow drone, which can fly at an altitude of 8,000 feet (2,400 meters), is equipped with cameras that can relay data in real time.

The US forces will focus on securing access to the Baghdad airport as well as the embassy, an anonymous senior defense official told AFP.
A girl jumps rope at Kalak Refugee camp in northern #Iraq. Her family fled #Mosul fearing airstrikes by Maliki govt pic.twitter.com/o2yux1BqCj

— Lucy Kafanov (@LucyKafanov) July 3, 2014
Pentagon press secretary Rear Admiral John Kirby told reporters that the additional troops would "help provide extra security for our facilities, our people, our property, and to also allow - to help allow the State Department and the embassy to continue to function as it is."

The embassy complex remains "open," he added.

More than 800 US troops, of which about 300 serve as advisors, are in the country with the purpose of studying the state of the Iraqi army, Kirby said.

The situation "continues to be very dangerous" and "the threat continues to be very real," Kirby said.

"But we have seen Iraqi security forces in and around Baghdad begin to reinforce themselves and prepare to defend, and they are taking the offensive," he said.

The US build-up of personnel and weapons in Iraq comes amid growing international concern that the Sunni-led extremist group will sweep across Iraq and into Syria, fulfilling its goal of creating a caliphate across the Mediterranean and the Levant.
ISIS declares creation of Islamic state in Middle East
This week, Russia delivered five Sukhoi fighter jets to Iraq to help the country resist the rebel advance.

"The Sukhoi Su-25 is an air-ground support and anti-terrorism mission aircraft. In these difficult times, we are in great need of such aircraft. With God's help, we will be able to deploy them to support our ground forces on a mission against the Islamic State in Iraq and the Levant militants within the next three to four days," Iraqi Army Lieutenant General Anwar Hamad Amen Ahmed told RT's Ruptly news agency at an airport receiving the jets.
You can share this story on social media: