Nyet to Netflix: Russia 'vetoes' House of Cards filming at UN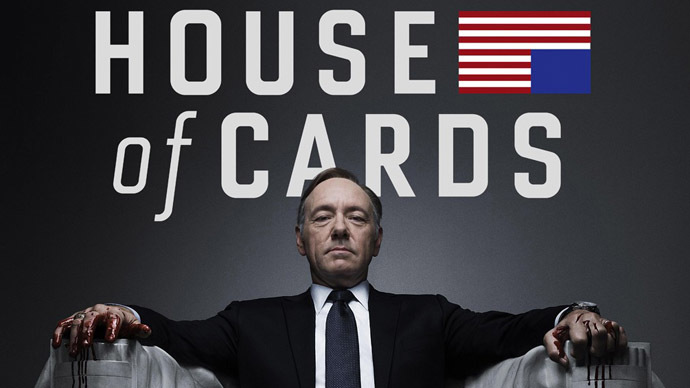 In a real-life power play worthy of the drama itself, Russia is said to have vetoed Kevin Spacey's megahit show House of Cards from filming in the UN chamber, saying the room should be free at all times to deal with global crises, not for TV shows.
Russia's veto came after UN Secretary-General Ban Ki-moon agreed to two episodes of House of Cards filming in the UN Security Council chamber during off-hours as a way to raise public awareness of the UN's work, Foreign Policy reported, citing confidential emails between Russian and other UNSC officials.
It was not immediately clear whether Russian diplomats had also taken offense to the political content of House of Cards, which exposes corruption and double-dealing in the White House and the US Congress, and portrays President Frank Underwood, Spacey's character, as a Richard III-type villain prepared to stop at nothing to achieve his political ambitions.
"Upon thorough reflection, we are objecting to the proposed filming in the Security Council," Mikael Agasandyan, UNSC coordinator for the permanent Russian delegation to the UN, wrote in an email to council members late Tuesday afternoon, FP reported. "We are of [the] opinion that the Security Council premises should be available at any time and on short notice. Besides that, we consistently insist that the Security Council premises are not an appropriate place for filming, staging, etc."
Agasandyan was responding to a circular from the British delegation, which will hold the rotating UNSC chair in August, when the episodes were to have been shot, asking for objections by a 6pm Tuesday deadline or the request would be approved.
The UN public affairs office, UK diplomat Michael Tatham wrote, "has reviewed the scripts for these episodes and judged them to be appropriate."
However, it appeared that not all Security Council delegations had seen the scripts.
Given the content of previous episodes of House of Cards, Russian diplomats may have been nervous about a potential storylines involving Russia or Ukraine. In the show's second series, which aired in February, a prominent storyline involved tensions between Beijing and Washington over the South China Sea, trade disputes, corruption and cybersecurity.
Russia just made a decision that most pay a heavy price for: The Kremlin said "no" to Frank Underwood. http://t.co/yYFDIGwRRH via @POLITICO

— Turner G. Cowles (@tgcowles) July 2, 2014
Mark Galeotti, Professor of Global Affairs at New York University and an expert on Russian security matters, told RT that he didn't think Moscow would be objecting to House of Cards in particular, as "it shows the American policy process as thoroughly corrupt and conducted by moral degenerates. Maybe the diplomats were just playing it safe."
Chinese concerns
After Russia's rejection of filming at the UN, China's diplomats also weighed in, expressing their concerns – but leaving the possibility of negotiations over filming open.
"I think Mikael's argument is reasonable," Bo Shen, a political counselor at the Chinese UN mission, wrote, FP reported. Chinese officials "think council members should have a rough idea on scripts for those episodes which are relating to our work. [The UN Department of Public Information] judged them to be appropriate but could not represent views of council members. Based on that, we regard the current information as insufficient before making a decision by the council."
The denial of the Netflix request – first reported by Foreign Policy under the headline: "President Frank Underwood Wants a Seat at the Security Council. Is Anyone Brave Enough to Say No?" – could deprive its 44 million subscribers of the chance to see Spacey, aka the Machiavellian Underwood in the series, scheme and outfox his political opponents from a seat at the iconic UNSC horseshoe table. The chamber has been the stage for such famous real-life scenes as Nikita Khrushschev's Cold War sandal-banging and Colin Powell's "we have proof of Saddam's WMD" charade ahead of the 2003 Iraq invasion.
It is not the first time that filmmakers have been denied access to filming in the UN HQ.
In 1959, British director Alfred Hitchcock wanted to stage a murder scene for his masterpiece "North by Northwest" in the UN's North Delegate Lounge. That time the United Nations rejected the request, but in recent years "the UN has been actively courting Hollywood filmmakers, in order to promote a positive image of the United Nations," Deadline.com reported. The website added an ominous warning, however: "Obviously, they've never watched House Of Cards."
'No streaming as usual'
Vladimir Putin: 1. Frank Underwood: 0. http://t.co/qzYaNc9Ula#HouseOfCards

— Cole Haddon (@colehaddon) July 2, 2014
Earlier this year, after Crimea voted in a referendum to join Russia in March, a satirical article posted by the New Yorker had US Secretary of State John Kerry "threatening" Russia's president, Vladimir Putin, with the "freezing" of his Netflix account.
"In what was described as a major ramping up of sanctions, Secretary of State John Kerry announced on Tuesday that the United States had frozen Russian President Vladimir Putin's Netflix account, effective immediately," blogger Adam Borowitz wrote in his fictional "Borowitz Report."
"'Unless and until Mr. Putin calls off the annexation of Crimea, no more 'House of Cards' or 'Orange Is the New Black' for him,' Mr. Kerry said. 'The United States will not stand by and reward the annexation of another sovereign nation with a policy of streaming as usual.'"
Sadly, Borowitz appeared to be unaware that the threatened "sanctions" against Putin were unenforceable. Netflix is currently commercially unavailable in Russia, although Russian fans of House of Cards can sign up for the subscription service using a VPN, giving them an IP address in the US or the UK, for example.