Emoti-con: Japanese pol's sob story apology for fraud has YouTube LOL, not crying on inside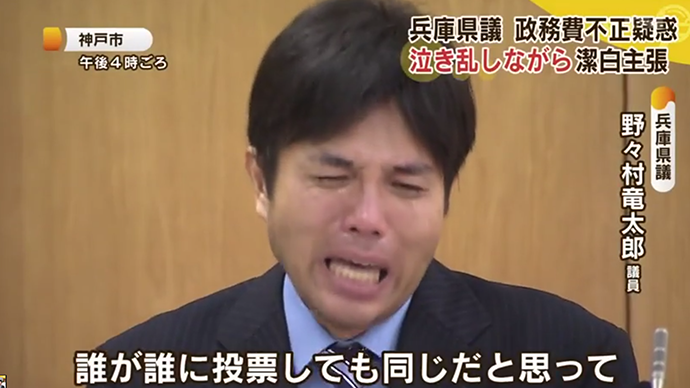 A Japanese politician burst into gut-wrenching sobs trying to explain how he spent $30,000 of government money on traveling. The video immediately caught on YouTube inspiring wild memes.
Ryutaro Nonomura was giving a press conference when he was asked how he wasted the public funds. He was elected to the assembly in the western prefecture of Hyogo in 2011 and is now suspected of misusing ¥3 million ($30,000) of official allowances on travel expenses.
The 47-year-old politician suddenly burst into tears shouting incoherent excuses, wailing and banging his fists on the desk.
"I finally became an assembly member… with the sole purpose of changing society… This Japan… I want to change this society… I have staked my life… Don't you understand?" he shouted while wailing.
Nonomura also made some strange outbursts, yelling: "The ageing population isn't only a problem in our prefecture!"
The politician allegedly spent the money on 195 trips he made to four locations in one year, including 106 visits to the same hot spring resort. For all these, he failed to produce an expenses report.
大泣きオジサンの野々村議員の顔で遊んでたらこんな時間だ。とりあえずおめでとうございます! pic.twitter.com/eWSmHgCtvh

— キノ子 (@KINOcom) July 2, 2014
Nonomura's emotional display had Japanese social media users laughing out loud, not crying on the inside. A YouTube video attracted 700,000 hits.
A series of memes flooded the web, including Nonomura's crying head attached to the body of Miss Japan and to the national football team's players.
Responses ranged from amused to angry. "Be a man! Don't cry!" wrote one YouTube user. "This is so embarrassing. Is he drunk?" asked another.
DJ NONOMURA pic.twitter.com/y0pKzdiTxR

— キノ子 (@KINOcom) July 2, 2014
"There was a kid like that when I was in elementary school. A kid who tried to explain by crying like that. lol," wrote @chiko86.
— キノ子 (@KINOcom) July 2, 2014
今話題の野々村議員。 Perfumeの「ねぇ」と合わせてみた。 pic.twitter.com/1EzsgIxHwu

— エキストラバージンクイマリオリーブ⊿ (@maria330eren) July 2, 2014
野々村議員素材豊富すぎてワロタwwwwwwwwwwwwwwwwwwwwwwwwwwwwwwwwwwww pic.twitter.com/B5pvcbBdlp

— くぬあみ (@kunu_ami_2525) July 2, 2014
野々村議員のモンスターカード作った。 pic.twitter.com/281xPw599p

— きゃるぴー (@dunhill_om) July 2, 2014
— 野々村竜太郎 (@ryutarononomura) July 2, 2014
You can share this story on social media: