Orthodox activists 'confront' Marilyn Manson band with eggs, holy water in Moscow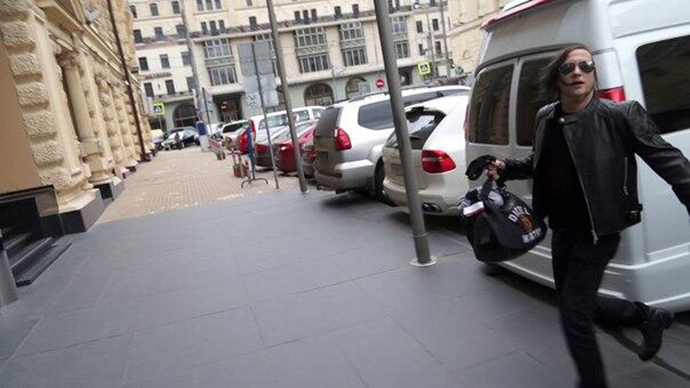 Musicians of the iconic American rock band Marilyn Manson were reportedly pelted with eggs and sprinkled with holy water by Orthodox Christian activists ahead of the band's Moscow concert. The gig was eventually delayed and canceled after a bomb threat.
Known for his controversial onstage performances deemed by some as offensive and anti-religious, Manson had already been faced with trouble during his current Russian tour, with mass protests taking place in the Siberian city of Novosibirsk, which later led to a canceled concert.
Manson-haters in Moscow also prepared a "warm welcome" for the singer and his band. The self-proclaimed defender of Russian Orthodox believers and leader of the "God's Will" movement, Dmitry Enteo, celebrated a "victory" over the "blasphemous" rock band on his Twitter page on Friday. Enteo said that he and his fellow activists threw eggs and poured holy water on Manson and other band members.
"Pelted at with eggs, Manson was running away from me and was squealing like a pig as we were sprinkling him with holy water. You won't believe it, he was making circles," Enteo wrote.

The activist earlier announced his action as "the decisive fight against the blasphemer Manson."

A video published by LifeNews allegedly shows part of the attack. Activists armed with bottles of water and eggs are seen chasing a man wearing sunglasses near a Moscow hotel.

However, the man shown in the footage does not appear to be Marilyn Manson himself. Enteo then tweeted: "I'm sorry, maybe we sprinkled not Manson himself, but members of his band. But maybe it was him – they all look alike."

Hours after the alleged attack, a performance of the controversial singer was due to take place at the Park Live festival, with crowds of fans waiting for him to take to the stage at the All-Russia Exhibition Center.

But the performance never happened, as police asked everyone to leave the area due to a bomb threat.

Though the festival later resumed, Manson's Moscow concert was canceled altogether. This was confirmed on the official Facebook page of his tour and by the rocker himself on Twitter.
Bomb threats have cancelled our show in Moscow, just as we were about to perform. pic.twitter.com/qPBNJh3bUW

— Marilyn Manson (@marilynmanson) June 27, 2014
Manson's frenzied Russian fans took to social media, accusing the same Orthodox Christian activists of disrupting the performance. Enteo denied his involvement on Twitter, but cheered the incident by saying "Thank God!"

This was not the first concert of Manson's to be canceled in the aftermath of protests against his stage acts – and neither was it the first time that the self-proclaimed "defenders of faith," led by Enteo, targeted a performance.

In November 2013, Enteo's group attempted to disrupt a controversial play at Chekhov Moscow Art Theater by taking to the stage in between acts to denounce the "sodomy" that was being portrayed in the performance. Although some audience members chose to escape the unscripted drama, the show did go on.
You can share this story on social media: