Russian pizzeria may be fined for drone delivery over 'airspace breach'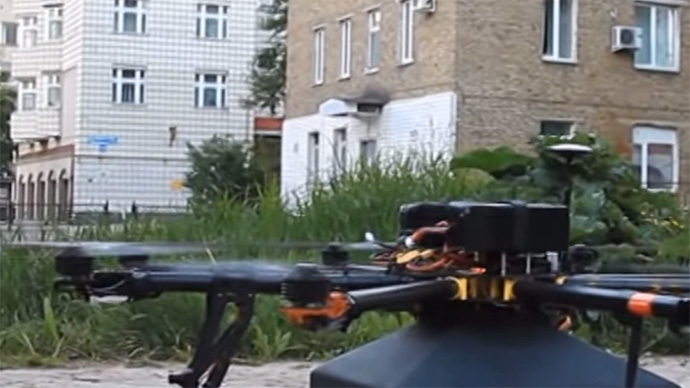 A pizzeria in the Russian city of Syktyvkar which launched the first unmanned food delivery in the country may be fined 200,000 rubles (US$6,000) after regional aviation authorities reportedly said the restaurant broke airspace rules.
DoDo Pizza rolled out its new drone service last week. Customers seemed happy with their orders, which came along with a bit of free entertainment when the hot pizzas were lowered to the hungry patrons via a cable. But the regional aviation watchdog wasn't as impressed as the customers – and now the pizzeria may have to pay a steep fine for its innovative service.
The pizzeria may face a fine of 200,000 rubles for breaking airspace rules, FlashNord news agency reported.
The restaurant owner said the use of drones is not officially regulated, so he doesn't believe his business' service is unlawful. He added that authorities have not yet approached him regarding the matter.
"There is no legislation regulating unmanned flying vehicles, so a precedent is important in this case," DoDo Pizza's Fyodor Ovchinnikov said.
The local transport prosecution service is reportedly investigating whether a drone was illegally used.
At the same time, transport prosecutors in the city of Novokuznetsk in Western Siberia are investigating another case of possible illegal use of an airborne vehicle.
On June 22, a woman arrived at a public beach by helicopter, landing close to other vacationers. After the private Robinson R44 chopper landed by the water, the swimsuit-clad woman disembarked and waved the VIP transfer away.
"According to federal aviation rules, any flights of aircrafts at such altitude must be coordinated and controlled by the flight navigation authorities of Western Siberia. This flight has not been coordinated," Novokuznetsk deputy transport prosecutor Sergey Akulov said.
The pilot may now face a fine, although no charges have been filed against the passenger.
Other beachgoers were most surprised by the woman's choice of destination, as she made the impressive helicopter appearance at an average public beach.
You can share this story on social media: