Honduras to shoot down planes suspected of drug trafficking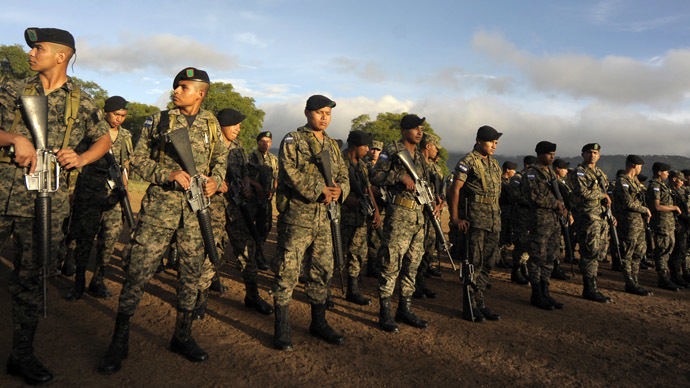 Honduras lawmakers have passed legislation authorizing the country's Air Force to shoot down aircraft suspected of carrying drugs in an effort to curb the cocaine trafficking through the country to the US.
The bill proposes banning flights 6 pm to 6 am in Honduras's airspace, especially if traveling at 5,500 meters and with a speed of less than 550 kilometers per hour, the Honduras Herald reports.
According to Hondura's former security minister, "these are the characteristics of the planes that have no flight plan and the aircraft almost 100 percent are carrying drugs."
Once having detected an aircraft with these characteristics, a plane of the Honduras Air Force would be put next to the aircraft and would be given instructions via radio signals or international airlines, for the aircraft to land at a domestic airport and be checked.
"If an unidentified, unauthorized aircraft is detected, it will be subject to the progressive use of force, starting with investigation, persuasion and then the elimination of the threat as a last resort," says the law, which stipulates the order to open fire must be given by the Defense Minister.
If planes do not comply, then the Honduran Armed Forces will be within their rights to "shoot them down." Alvarez maintains the new measure will act as a deterrent for drug traffickers "bringing death, pain and violence" to Honduras.
The new legislation was approved by 85 members of Congress, parliamentary sources told Reuters.
One of the lawmakers, Oscar Alvarez, told the agency that their concern was not only the drug trafficking, but also the breach of state sovereignty.
"The issue is that our sovereignty is being violated by planes that enter our airspace illegally, carrying drugs from South America to the US," Alvarez said.
In November, a Mexican-registered plane was intercepted and destroyed by the Venezuelan Air Force, causing diplomatic tension between the two governments.
In 2012, at least two civilian planes have been taken down by the Honduras Air Force over allegations that it was carrying cocaine to the US, an event which caused concern in the Obama administration.
Honduras is now preparing to acquire three Israeli radars to detect aircraft flights carrying cocaine through their territory from South America.
Honduras, ravaged by escalating drug-related violence, is the country the UN also ranks the highest in the world in terms of homicides, at 85 murders per 100,000 residents in 2012.
You can share this story on social media: