Cargo plane with 4 crew crashes into building in Kenya
A cargo plane crashed into a commercial building in Kenya's capital, Nairobi, shortly after taking off from city's main airport, the Kenyan Airports Authority (KAA) said. Four crew members on board are feared dead.
"A Fokker 50 cargo plane with four people on board has this morning crashed at a commercial building in Utawala after taking off from JKIA [Jomo Kenyatta International Airport]," KAA tweeted.
The cargo plane crashed at about 04:00 (01:00 GMT) at a time when the building would be expected to be largely empty, according to local officials.
Kenyan media reported all four crew members, including a pilot and his assistant, were killed in the crash.
"All four on board perished... it hit an electric post before crashing on a building and bursting into flames," a senior police officer told AFP.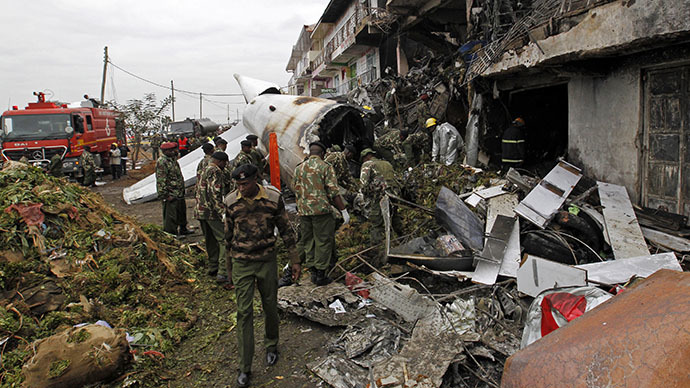 The plane was transporting the mild stimulant known as Khat to the Somali capital, Mogadishu, said Joseph Ngisa, the airport's head of police investigations.
According to preliminary investigations, the vehicle was flying low after takeoff and might have hit an electricity pole before the crash.
Footage on TV caught the moment of crash displaying how the tail and wings of a white plane ripped in half outside a two-story building, reported Reuters.
4people on board the cargo plane that crashed at Utawala are feared to have perished as @TransportKE investigations team arrive at the site.

— Kenya Airports (@Kenya_Airports) July 2, 2014
The airport was closed for "a few minutes as a matter of procedure," but has now reopened and "is operating normally," said KAA security chief Eric Kiraithe.
Jomo Kenyatta International Airport is the Kenyan capital's main airport, the busiest in East Africa.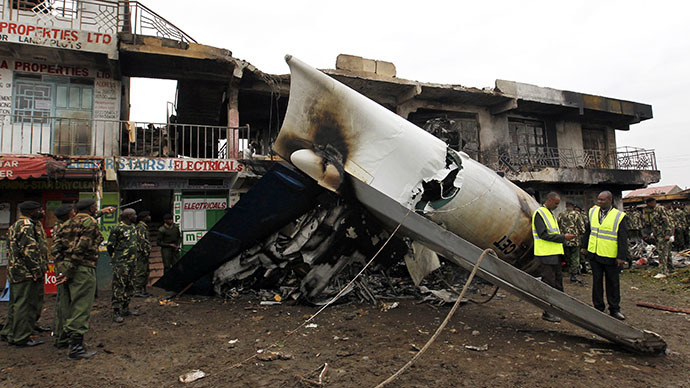 You can share this story on social media: