More than 2,400 killed in Iraq in June, highest monthly toll since 2007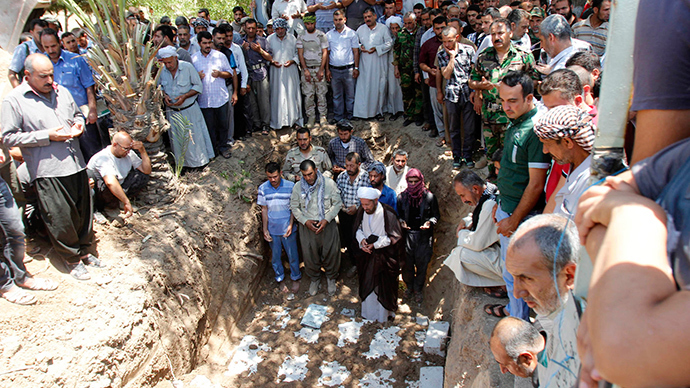 At least 2,417 people have been killed in Iraq in June 2014, the majority of them civilians, according to figures released by the United Nations. The death toll in the violence-plagued country is the highest since May 2007.
Follow RT's LIVE UPDATES on ISIS offensive in Iraq

The dead include 1,531 civilians and 886 members of Iraq's security forces killed in terrorist attacks and violence, UNIRAQ, the UN mission to Iraq, said in a statement.
In addition, a total of 2,287 people were injured in attacks in June.
"This staggering number of civilian casualties in one month points to the urgent need for all to ensure that civilians are protected," said Nikolay Mladenov, the UN's envoy in Iraq.
The UN body, however, didn't take into account casualties in the Anbar province in western Iraq, which is mostly controlled by armed Sunni radicals.
In the face of ISIS's military offensive, Mladenov called on Iraq's national leaders to work together "to foil attempts to destroy the social fabric of Iraqi society."
"What can be achieved through a constitutional political process cannot be achieved through an exclusively military response," he said. "Security must be restored, but the root causes of violence must be addressed."
The UN figures for dead and wounded are higher than those released by the Iraqi authorities, who recorded 1,922 people killed in June, including 1,393 civilians, 380 soldiers and 149 police officers. The data was compiled by Iraq's health, interior and defense ministries.
White House announces an additional 300 troops to Iraq
The government's figures for the injured are higher than those put out by the UN, however; in the total of 2,610 people wounded in June, there are 1,745 civilians, 644 soldiers and 221 police officers.
Iraq Casualties Increase Dramatically in June http://t.co/8cuMGgc1LV

— Nickolay E. MLADENOV (@nmladenov) July 1, 2014
The figures presented by Iraq Body Count (IBC), a web-based effort to record civilian deaths in Iraq, give a death toll for the month of at least 1,893 civilian deaths up to June 29.
31 civilians killed in #Iraq 29 June, 1,893 so far in June.

— Iraq Body Count (@iraqbodycount) June 30, 2014
The death toll has significantly increased since radical Sunni militants from the Islamic State in Iraq and the Levant (ISIS/ISIL) started capturing cities in the north of the country in early June. The group seized major areas of western and northern Iraq in recent weeks, committing mass murders of opposing Shia Muslims in the region.
On Sunday, the jihadists declared the captured territories from Iraq's Diyala province to Syria's Aleppo a new Islamic State, or caliphate. They removed 'Iraq and the Levant' from their name, urging other radical Sunni groups to pledge their allegiance.
All you need to know about ISIS and what is happening in Iraq.
While the bloodshed remains below the levels seen in 2006 and 2007, 2013 was Iraq's deadliest since violence began to ease in 2008. At least 8,868 people were killed in terrorist attacks or other acts of violence, UN statistics say.
You can share this story on social media: