​Israeli top court rules against child's forced circumcision
Published time: 30 Jun, 2014 15:03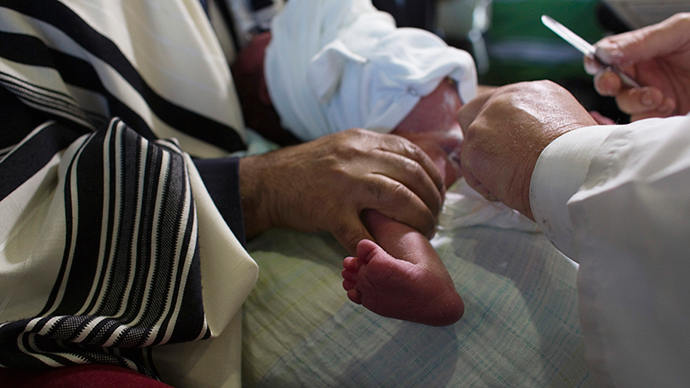 Israel's Supreme Court has overturned a ruling by a court of rabbis, which stipulated that a new mother was required to have her son circumcised under the terms of her divorce, and despite the potential ill-effects on the child's health.
The court decreed that "the rabbinical court was unauthorized to discuss the dispute over the circumcision issue, and there is room to annul any decisions made on the matter."
The decision was reached by a group of seven justices. Six voted in favour. It stated that only civil family courts can impose the measure.
While circumcision is not a legal necessity for Jews in Israel, a rabbi court had previously ruled that the woman must carry out her husband's wish for the child to be circumcised in the 'brit milah' as it is known in Hebrew.
"A decision with regard to circumcision is a complex and sensitive one," High Court justice Miriam Naor wrote in the decision. "It involves, apart from the irreversible physical act on the body of a child who is not a party in the divorce, questions related to basic rights of freedom of religion and freedom from religion as well as social and cultural considerations."
She added that both parents had the right to voice their opinions on the matter, which should not be tied to the divorce proceedings in any way.
"This is a dispute which could also rise between a couple which is not in the midst of divorce proceedings, or a couple which is not even married but shares a child," she said.
The woman had previously been sentenced to paying $140 per day until the child underwent the procedure.
"The baby was born with a medical problem, so we couldn't circumcise him on the eighth day as is customary," Haaretz quoted the boy's mother Elinor as saying last November when the original ruling was passed.
It was partly because the child's health was an issue that the rabbinic authorities were judged to have exceeded their obligations.
The father is now expected to turn to family courts in order to appeal the decision.