Austerity-driven European politicians 'whip up' hostility towards minority groups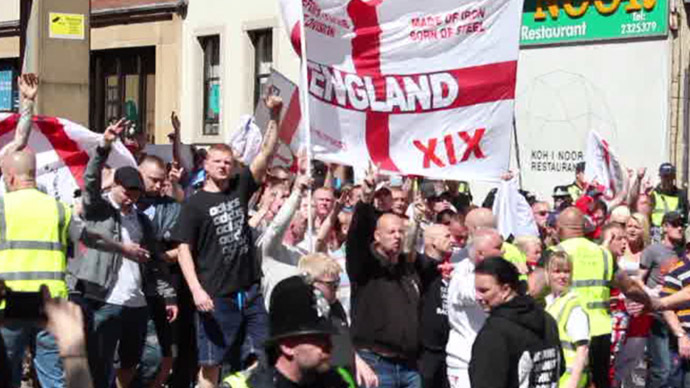 Politicians and media are scapegoating national and sexual minorities to redirect the anger of austerity-affected Europeans on the vulnerable instead of the bankers who created the economic crisis, British race relations expert Lee Jaspar told RT.
The incident at Tottenham's Markfield Park on June 23, where neo-Nazi nationalists attacked a music festival, could serve as a vivid example of radicalism imported to the UK from the continent.
Britons should stay vigilant, particularly after the parliamentary elections in the EU, marked with a notable drift towards both extreme-right and in some cases "openly Nazi" political parties, Lee Jaspar said.
Neo-Fascism has never reached a huge scale in Britain because local communities, trade unions and community organizations have always been "extraordinarily effective" at opposing them, he added.
"When our communities mobilize, we always outnumber them [Nazis] 10 to 1," Jaspar said, stressing that any time there is a neo-Nazi local threat, communities must react immediately.
"That should become a great concern not only to Britons, but to all peace-loving people across Europe," he said, blaming the austerity measures taken by the EU, which acted "as a magnifying glass to amplify existing disadvantage, anxiety and anger."
Scapegoating minorities, Muslims, and LGBT communities is another feature whipped up by politicians in the media to "promote hostility to minority groups… [it's] a classic example of what happened in Europe during times of economic stress – and we know where it led in the past," Jaspar said.
If the austerity measures in Europe continue, they will breed more homelessness, unemployment and poverty, making people even angrier in the end, the race relations expert believes.
"The issue is that at the moment politicians are directing this anger not to the bankers and rich institutions of Europe that have led to the economic crisis, but to the vulnerable lower-end societies and minorities," he said.
Tottenham's Markfield Park violence
An annual family music festival in Britain this week turned into an all-out melee after a gang of about 20 neo-Nazis attacked party-goers.
What's odd, though, is that the attackers were not even Britons but Polish immigrants wearing T-shirts bearing the slogan "Wielka Polska" (Great Poland).
The attackers were identified as members of the Zjednoczeni Emigranci Londyn (Emigrants United London) group of far-right Polish immigrants.
One local man was knifed and two other young men sustained head wounds. A 39-year-old man was subsequently arrested on suspicion of carrying out the stabbing but was later released on bail pending further inquiries. Police said that so far, they believe the suspect is not affiliated to any of the groups involved in the disturbance and there is no evidence that the stabbing was motivated by race or nationality.
"We were lucky we had two paramedics in attendance," one of the organizers of the event, Rob, told the VICE media outlet.
Witnesses say the assailants shouted profanities, and fought and threw bottles at the crowd before police arrived.
In another instance, a 22-year-old Pole was arrested for religious and racially aggravated common assault for knocking a man's kippah off his head.
Since then, there have been nearly daily protests against neo-Nazi activities in London. Police was closely monitoring protest marches and even arrested some protesters, though the marches were largely peaceful.
Unite Against Fascism organized one of the marches outside Tottenham Town Hall under the slogan, "Nazis Out of Haringey."
Protest against recent 'Polish Neo-Nazi' attacks in Tottenham, London - @Demotix News http://t.co/7tZdp4CnOf

— They Shall Not Pass (@AngelinaDeCosta) June 23, 2014
The protesters told RT Sarah Firth that they are a "reaction to the action" and said that it's better to protest Nazism immediately instead of fighting it later when it gets more powerful.
The activists said that Nazism has no nationality and expressed readiness to fight it no matter what, recalling the tragic events in Ukraine's Odessa on May 2, when a mob of neo-Nazi thugs mass murdered dozens of anti-Maidan activists, many of whom were beaten to death or burnt alive, not to mention being shot dead, slashed and dismembered.
You can share this story on social media: