​Iraqi troops push back ISIS militants in Tikrit as PM under pressure to quit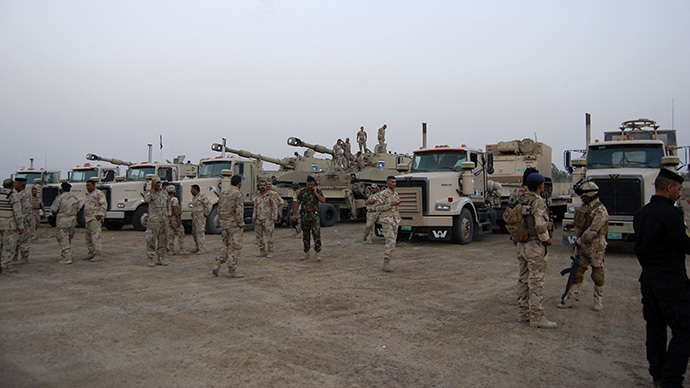 Iraqi government forces backed by helicopter gunships began an offensive on Saturday to retake Tikrit from Sunni Islamist militants, while party leaders pursued talks to end Prime Minister Nouri al-Maliki's rule, which is seen as highly divisive.
Politicians in Baghdad and around the world have warned that as well as taking back cities captured by insurgents from the Islamic State of Iraq and the Levant (ISIS/ISIL), Iraqi authorities must quickly form a government that might be able to bring the country's split communities together.
Since the beginning of June, ISIS jihadists have overrun mainly Sunni areas in the north and west of Iraq.

ISIS' aim is to re-create a medieval-style caliphate stretching from the Mediterranean to the Gulf. They believe that Shiite Muslims are heretics that should be killed, and there is already confirmation that they have staged mass executions of Shiite government soldiers, as well as civilians captured in Tikrit.

On the battlefield, Iraqi troops have been advancing on Tikrit from Samarra, and have stemmed the militant advance south towards Baghdad.

Iraqi special forces air-dropped snipers inside Tikrit University on Thursday, which had been taken over by ISIS fighters. Helicopter gunships were used against other targets in the city on Saturday, and ISIS fighters abandoned the main city administration building.

A senior Iraqi official told AFP that his security forces were coordinating with Washington, which has military advisors on the ground to help push back the militants. There were also reports of US drones flying over the city, the hometown of former dictator Saddam Hussein.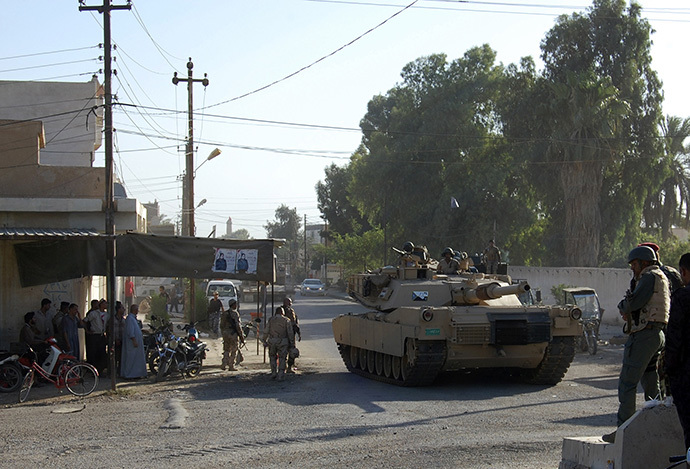 Qassim Atta, a spokesman for the Iraqi military, told reporters on Saturday that militant commanders are starting to struggle because "their morale has started to collapse." He added that 29 terrorists were killed in Tikrit on Friday.
But in the south of the country, ISIS militants were on the offensive. In Jurf al-Sakhar – located 85 kilometers south of Baghdad – police sources said that 60 ISIS fighters and 15 Iraqi security forces were killed in an attack on an army camp, but the militants retreated when they could not hold their positions.
Political wrangling
Grand Ayatollah Ali Sistani, a powerful Shiite cleric, intervened Friday and urged Iraq's political blocs to agree on a new premier, parliament speaker, and president before the newly-elected legislature meets in Baghdad on Tuesday.

Meanwhile, King Abdullah of Saudi Arabia promised US Secretary of State John Kerry to use his influence to encourage Sunni Muslims to throw their weight behind a new, more inclusive Iraqi government, in an effort to undermine support for the Sunni Islamist insurgents. The king's words are a significant shift from Riyadh's unwillingness to support a new government unless Maliki steps down, which may reflect his disquiet about the regional implications of ISIS' rise.

A Shiite lawmaker from the National Alliance, which groups all Shiite Muslim parties, said that a session of the Alliance – including Maliki's State of Law party – would be held throughout the weekend and that a number of Sunni political parties would also meet later on Saturday.

"The next 72 hours are very important to come up with an agreement to push the political process forward," the lawmaker, who asked to be kept anonymous, told Reuters.

Iraq's Sunnis accuse Maliki of pushing them aside and repressing their community, which has led many armed Sunni tribes to support the hardline ISIS insurgency.

The president of Iraq's autonomous Kurdistan region has also said that Maliki should go. Maliki's party won the most seats in the April election and was pushing for a third term before the ISIS offensive began. Now, some senior officials in his party say there is a possibility of him being replaced.

"It's a card game and State of Law plays a poker game very well. For the Prime Minster, it will go down to the wire," one official told Reuters.

Meanwhile, on the Iraq-Syria border, other Islamist rebels have challenged ISIS' grip on power and have launched a counter-offensive on the border town of Albu Kamal.
You can share this story on social media: