15 killed, dozens feared trapped as 2 buildings collapse in India (PHOTOS, VIDEO)
At least 15 people were killed in India after two buildings collapsed in New Dehli and Tamil Nadu states on Saturday, police said. Dozens are feared trapped under the rubble.
Ten people were killed, including five children, when a four-story building in New Delhi toppled over, security officials said. The 50-year-old apartment building housed only fourteen residents, according to police.
Building collapse in Delhi brings forth need to adhere to safety requirements. Structural Permits should be issued after proper inspection.

— Vijay Goel (@VijayGoelBJP) June 28, 2014

The cause of the incident has not yet been established, but officials suspect it is due to construction work in an adjoining building.

Former Delhi Chief Minister Arvind Kejriwal called the accident a "nexus between the builder mafia and the municipal corporation," Reuters reported.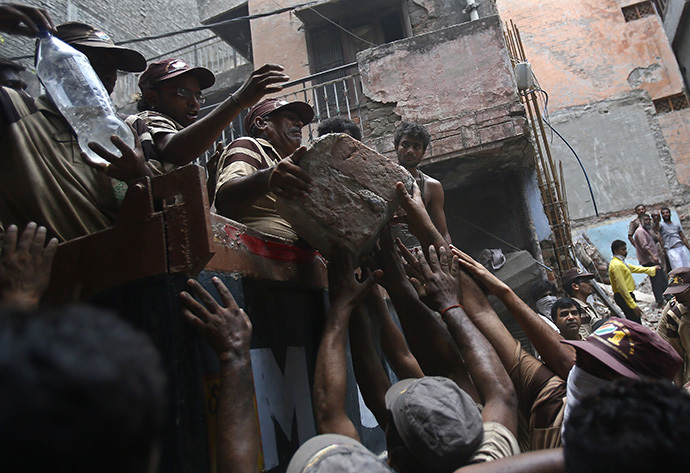 In another incident, five people were killed and dozens were trapped under rubble after an 11-story building under construction collapsed 20 kilometers from Chennai, the capital city of the Indian state of Tamil Nadu, local media reported.

Fifteen people have been rescued and those wounded have been transported to Ramachandra Medical College and Hospital. Police suspect that between 40 and 50 people are still trapped under the debris, NDTV reported.

"Some 10 workers are in hospital and one of them is in the intensive care unit," K. Shanmugasundaram, a spokesman for the state police, told Reuters.

Six construction workers have been identified and rescue teams are trying to save them. However, rescue efforts were hampered by heavy rains and a power cut.

"Police have been ordered to take action against those who are responsible for the incident," Tamil Nadu Chief Minister J. Jayalalithaa said in a statement, as quoted by local media.

Investigations into both incidents have been launched by local police.

There have been numerous recent collapses of buildings in India, most of which are typically related to badly constructed or illegally built structures. An eight-story building housing 150 people collapsed in April 2013 near Mumbai, killing 72 and injuring dozens more. In September, a five-story building toppled in Mumbai, killing more than 60. More than 100 people died in such accidents last year, according to local media reports.