Russian senate repeals law allowing deployment of military in Ukraine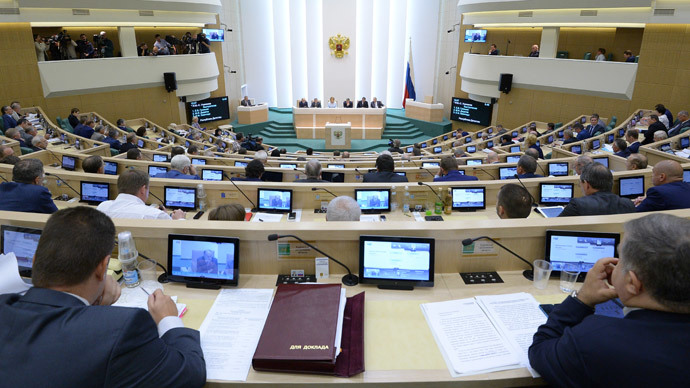 ​Russia's Federation Council has voted to repeal the legislation which allows the use of Russian armed forces on the territory of Ukraine if there is a threat to the local Russian population. The decision follows request of President Vladimir Putin.
153 MPs out of 154 voted in favor of the law's cancelation, which comes in force the day it is approved.
Russia will continue monitoring the situation in Ukraine, Federation Council Speaker Valentina Matvienko told the journalists after the vote.
"It doesn't mean that, repealing this legislation, we will be turning a blind eye if there are serious violations of people's rights [in Ukraine] or threats to their safety," she said.
Matvienko said she doesn't' believe that the Federation Council will vote again to adopt legislation allowing military action in Ukraine.
"I think that we shouldn't prepare ourselves for such a scenario, we should all strive to continue dialogue, and a peaceful way out of the crisis," she added.
Russia senate repeals law allowing military force in Ukraine due to 'start of 3-party talks' http://t.co/vYSRAmqyk7pic.twitter.com/6cT0KwwFnj

— RT (@RT_com) June 25, 2014
The Russian president's proposition is a manifestation of Russia's goodwill and aims at supporting trilateral talks on Ukraine, said Viktor Ozerov, Chairman of the Federation Council Committee for Security and Defense.
"The Federation Council still has the right to monitor the situation in Ukraine, follow the fulfillment of ceasefire conditions by the parties [Kiev and Ukraine's eastern regions]…and provide humanitarian help," he said.
Vladimir Putin's request is not 'correction work' but a positive signal to Western countries, says Ilyas Umakhanov, deputy speaker of the Federation Council.
"Moreover, I hope that our Western partners will receive these positive signals and stop inventing more scary stories [about Russia] and abandon the policy of whitening radical groups in Ukraine," he added, "Russia has confirmed its status of a great power, which defines its political course independently."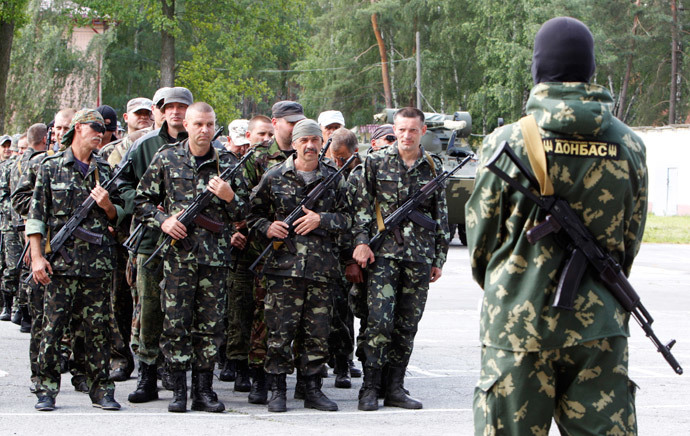 On Tuesday Putin asked the council to repeal the decision to allow military force in Ukraine.
"Because of the beginning of the three-party talks to settle down the situation in the eastern parts of Ukraine, the head of state has addressed to the Federation Council to repeal the resolution on the use of Russian armed forces on the territory of Ukraine," said presidential press secretary Dmitry Peskov.
The Federation Council's resolution from March 1 declares that the president has the right to use military force on the territory of neighboring Ukraine "until the normalization of the social and political situation in that country."
The resolution was adopted following a presidential address demanding security be maintained "for citizens of the Russian Federation, our compatriots and personnel of the Russian contingent deployed in accordance with international agreements on the territory of the [then-]Autonomous Crimean Republic of Ukraine."
On June 20, Ukraine's new president, Petro Poroshenko, announced a seven-day ceasefire from June 20 until the morning of June 27, which was agreed to by the self-defense forces on Monday. On Sunday he issued a warning, stating that he had an alternative "detailed plan" of regaining control over south-eastern Ukraine, should his current proposal for a truce fail to bring results.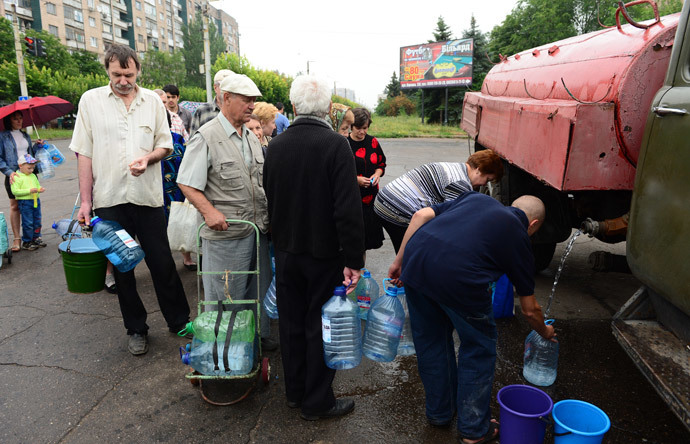 Putin: Weeklong cease-fire in Ukraine should be extended, accompanied by talks
However, despite the temporary truce, fighting continues in eastern Ukraine. Nine soldiers have been reportedly killed in Donetsk Region, after self-defense forces shot down a Ukrainian army helicopter being used to transport military cargo.
At least three railroad tracks were also blown up by unknown people in eastern regions of Donetsk and Lugansk in the last days. In Donetsk Region, 14 freight cars were derailed in what railroad staff believe was a planned explosion.
According to People's Republic of Donetsk, self-defense forces shot down the helicopter as Kiev troops had violated the conditions of the ceasefire.
"In fact there wasn't even a minute of truce. [Kiev troops] have been shelling us all the time," said Andrey Purgin, one of the leaders of self-declared republic, adding that on Tuesday at least 150 Kiev forces attempted to seize the city of Donetsk.
Putin said he hopes that a cease-fire between Kiev and the protesting regions in southeastern Ukraine will be extended beyond the set date of June 27.
You can share this story on social media: