Putin: Weeklong cease-fire in Ukraine should be extended, accompanied by talks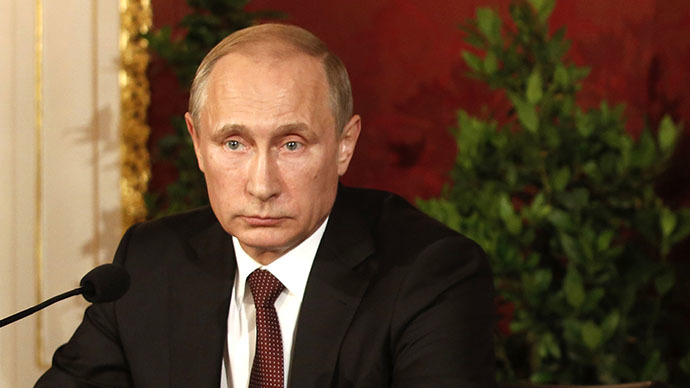 Russia hopes a cease-fire between Kiev and the protesting regions in southeastern Ukraine will be extended beyond the set date of June 27, President Putin said.
"I agree with Mr. President [Austrian President Heinz Fischer] that seven days are obviously not enough," Putin said at a press-conference in Vienna.
"We have told Ukraine and also given this information to President Poroshenko: to declare a cease-fire is not enough; it is necessary to start substantive negotiations on the nature of the problem," he added.
President Putin has stressed that negotiations should not just focus on stopping military actions. There should be dialogue "about specific arrangements between all sides in the conflict."
At the same time, Kiev should not be demanding disarmament in eastern Ukraine, given that "radical elements like the Right Sector and other radical [groups] are not yet disarmed, despite repeatedly talking about that and basically promising that illegal groups will lay down arms."

"In such conditions demanding militia to lay down arms, in my opinion, makes no sense," Putin said.
Nevertheless, the existing ceasefire and the start of negotiations "is definitely a right decision," the Russian president concluded. He added that Russia is interested in creating conditions "for a peaceful process" in Ukraine.

"This is what my appeal to the Upper House is connected with," Putin said, responding to a journalist's question about the presidential request to the Federation Council which is aimed at repealing the resolution on the use of Russian armed forces on the territory of Ukraine.

President Putin also stressed that his appeal will not mean that Russia "will not be paying attention to what is going on there."
Moscow will continue to protect the rights of the ethnic Russian-speaking population in Ukraine – "hopefully" without the involvement of military forces.

"We, of course, will not only be closely following, but also reacting in an appropriate way [to events in Ukraine]. I hope that armed forces will not be needed for that," he said.
On June 20, Ukraine's new president, Petro Poroshenko, announced the seven-day ceasefire, which was agreed to by the self-defense forces on Monday.
However, despite the temporary truce, fighting continues in the Donetsk region, where self-defense forces have downed a Ukrainian army Mi-8 helicopter used for transporting military cargo. At least nine people were reportedly killed in the attack.
READ MORE: Militia down chopper near Slavyansk, 9 feared dead – military spokesman
Fighting has also been reported in the suburbs of the city of Donetsk, according to Aleksandr Boroday, prime minister of the People's Republic of Donetsk.
You can share this story on social media: