Woman stops on road to help ducks, faces life in jail for deadly car crash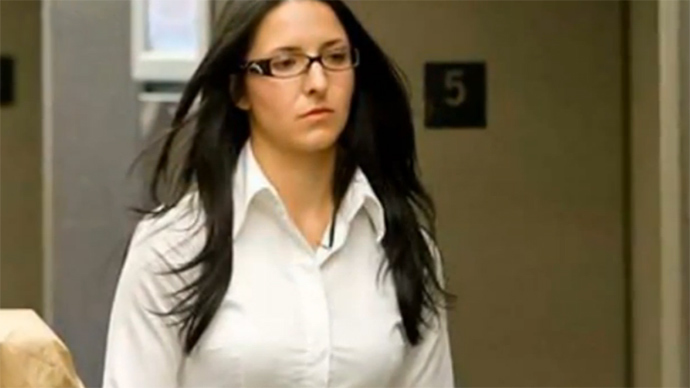 A Canadian woman was found guilty of criminal negligence over two road deaths caused by her stopping her car at a highway to help ducklings. The charge carries a maximum sentence of life in prison.
The jury on Friday delivered guilty verdicts on all four charges faced by Emma Czornobaj, 25. Sentencing is expected in early August.
Czornobaj was prosecuted over a June 2010 incident in which two people died. Stopping her car on a highway in Candiac, Quebec, Czornobaj, a professed animal lover, saw some ducklings on the roadside without their mother and thought she should pick them up and bring them home, she told the court.
Moments later André Roy, 50, riding a motorcycle, slammed into her car. Both he and his daughter Jessie, 16, who was riding pillion, died in the collision.
"I saw a body go over the car. It looked like a rag doll," witness Martine Tessier testified, as cited by the National Post newspaper. "I shouted to my daughter to call 911."
She said Czornobaj's car was stopped at the leftmost lane of the highway and that its hazard lights were not on.
A provincial police officer told the court that Roy was driving at an estimated speed of 113 km/h to 129 km/h when he applied his brakes. The prescribed speed limit on the road is 90 km/h.
Roy's widow, Pauline Volikakis, was at the trial to hear the verdict. On the night of the incident she was also riding her own motorbike on the road, behind her husband, but at a slower speed. She managed to avoid injury. During the trial, Volikakis stressed that she was not the one pressing charges against Czornobaj.
"It's not me that's bringing her to court," she said. "I have no expectations concerning this trial."
Czornobaj wiped away tears as the verdict was delivered to a packed courtroom in Montreal. Quebec Superior Court Justice Eliane Perreault said the 12-member jury voted unanimously.
She was willing in April to plead guilty in the trial, her lawyer Marc Labelle said, but the prosecution refused to offer her a plea bargain that would enable her to avoid jail time.
Labelle may file an appeal, considering that usually criminal negligence convictions involve elements of criminal intent on the part of the convict, he told reporters after the verdict was delivered.
"This was not a race. This was not a person who took a chance and drove drunk. This is not about someone who was speeding and took a risky maneuver," Labelle told reporters.
He added that his client might only merit a sentence that can be served in the community and that he may request a pre-sentence investigation report when the case comes back to court on August 8 for sentencing. It would give the judge more information on Czornobaj, including her lack of criminal record and her attitude to the road deaths she was involved in.
Prosecutor Annie-Claude Chasse said the trial sent a clear message for motorists.
"What we hope is that a clear message is sent to society that we do not stop on the highway for animals. It's not worth it."