Three inmates escape Canadian prison in helicopter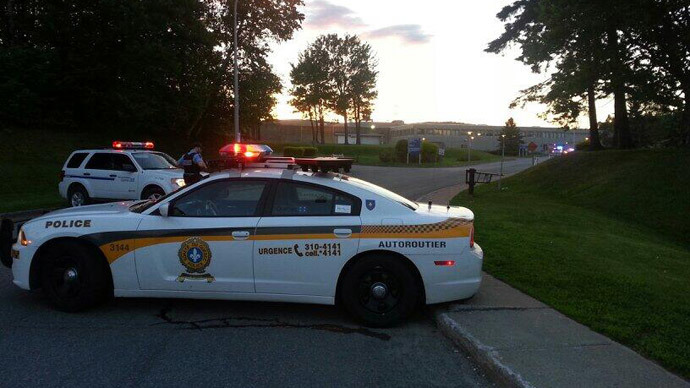 Canadian police are looking for three inmates who made a daring escape from jail by helicopter – a second such jailbreak in Quebec province in less than two years.
The fugitives escaped at 19:45 local time from Orsainville detention center where they were waiting to stand trial. Law enforcements identified the fugitives as Yves Denis, Denis Lefebvre and Serge Pomerleau. All were detained in 2010 as part of a massive trafficking investigation that led to the arrest of dozens of people.
Denis Lefebvre est présumé être le chef de la cellule la plus importante du réseau de trafic de stupéfiants. pic.twitter.com/IBP2aijh4B

— SebastienDubois (@SebDuboisTVA) June 8, 2014
Sgt. Audrey-Anne Bilodeau, a spokesperson for the Surete du Quebec, said police are looking for a green helicopter with red and white markings that allegedly landed in the detention center.
She claimed that authorities believe that a lone pilot was aboard the chopper when it arrived at the prison. "There is a massive manhunt going on to try to locate them," she said.
Airports are on high alert for any sign of the aircraft. Military is aiding the search.
Provincial police said the helicopter carrying the fugitives was seen heading west from the detention center, presumably towards Montreal. Local residents were advised to call police if they come into contact with the prisoners and not approach them.
Three men escape #quebeccity prison. A helicopter may have been used in the escape. http://t.co/o4DxvAzn1Spic.twitter.com/fFGgnpyZ0V

— Canoe (@Canoe) June 8, 2014
It is the second helicopter-assisted jailbreak in Quebec in just over a year. Last March a pilot at gunpoint was forced to fly a helicopter to pick two inmates at St-Jerome prison. The two escapees and the two suspects who hijacked the aircraft were apprehended by police within a few hours of the escape.