Assange marks two years in legal limbo
​Julian Assange, a modern day hero and enemy of state, is preparing to mark two years in captivity inside the Ecuadorian embassy in London, with another major leak of state secrets and a fresh challenge to escape legal limbo.
Having spent two years inside a small ground-floor apartment in the heart of Knightsbridge, London, the 42-year-old year old founder of WikiLeaks is still making his presence felt with a new batch of documents implicating Canada and 49 other countries, it's expected to be released later on Thursday.
Assange: 'Obama should consider his legacy'
On the eve of the two year anniversary of captivity, Assange in a phone interview with journalists has once again stressed that the US Department of Justice is engaged in a witch hunt investigation of a publisher – the longest since the introduction of the Espionage Act of 1917.
"It is against the stated principles of the United States and the values supported by its people to have a four-year pre-law investigation against a publisher," Assange said.
Meanwhile his UK-based lawyer Jennifer Robinson told reporters the defense team plans to file a legal challenge with the Swedish courts next Tuesday, based on "new information gathered in Sweden". She said further details of the "information" would be revealed next week. The announcement is the first sign of a possible route out of captivity that has entered its third year.
The WikiLeaks founder, in his latest interview, said next week's challenge could be a first step in annulling the Swedish detention order, to face "the larger problem of the US and its pending prosecution and perhaps extradition warrant."
Assange, whose services exposed more than 8 million anonymously leaked documents since 2006, continues to crave freedom.
"He craves freedom, he can't buy his own food and he would love to have the chance to have a normal walk in the fresh air," journalist Vaughan Smith, who gave refuge to Assange back in 2010, told UK's Channel 4 news.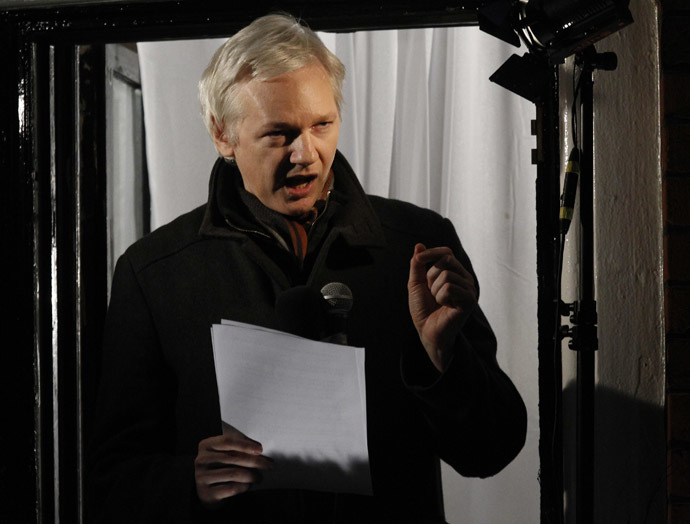 Denial of fresh air has so far caused the British taxpayers more than £6 million for security services to prevent Assange from escaping the Ecuadorian premises. The bill will further grow, Ecuadorean officials warned, as Assange was welcome to stay in the embassy as long as it was required.
The UK has been refusing to provide Assange safe passage to Ecuador ever since the Australian sought refuge inside the Ecuadorian Embassy in London on June 19, 2012. Downing Street is committed to securing Assange's extradition to Sweden, where he is wanted for questioning for alleged sex crimes.
"If he goes to Sweden it will likely be a one-way ticket to the United States," where he is wanted for exposing US military secrets, including evidence that a US military helicopter crew in Iraq gunned down civilians in July 2007, Assange's attorney Michael Ratner told Cnet.
#June19 send out a strong message Asylum is a Universal Human Right Free Julian #Assange NOW! https://t.co/nRQOJAkcNxpic.twitter.com/B4mWxqJSo4

— WLFriends (@solidarityvigil) June 18, 2014
Assange insists on his innocence, with his lawyers claiming that repeated refusal by the Swedish authorities to have the Australian testify either in writing or by Skype indicates there is a bigger plot behind simple questioning.
WikiLeaks made headlines in 2010 when it published US military and diplomatic documents leaked by Chelsea Manning. Assange has become an even bigger celebrity over this past year, with his portrayal in the 2013 blockbuster The Fifth Estate and in an independent documentary film We Steal Secrets, both of which received mixed feedback and criticism from those familiar with the real WikiLeaks story. Assange's patronage was also instrumental in getting Edward Snowden from Hong Kong to Moscow last year.
You can share this story on social media: