UK scrambles jets to intercept Russian planes in intl airspace over Baltic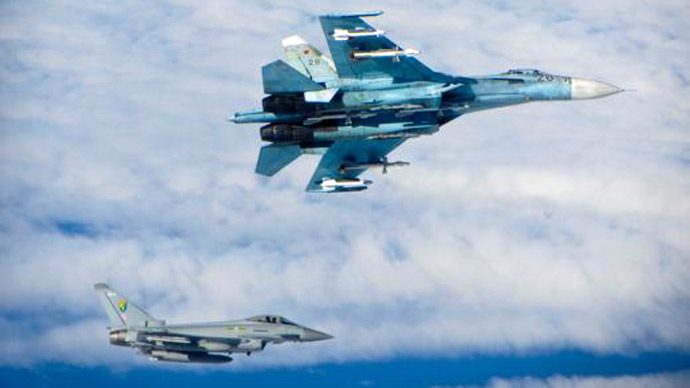 Typhoon fighter jets from the UK's Royal Air Force (RAF) were launched to intercept a number of Russian aircraft which were carrying out a routine training mission, as part of NATO's ongoing mission to police Baltic airspace.
On Tuesday the British jets identified a number of Russian aircraft, including four Sukhoi Su27 fighters, a Tupolev 22 bomber, a Beriev A50 early warning aircraft and an Antonov An26 transport aircraft, the RAF reported.
The Russian aircraft appeared to be carrying out routine training.
Wing Commander Ian Townsend said that this was also a routine deployment for his aircraft.
"We regularly intercept Russian and civilian aircraft from UK Quick Reaction Alert and so this type of mission is core business for us and exactly what we were sent to the Baltic region by NATO to do," he said as quoted by the Royal Air Force website.
Flight Lieutenant Mark Long, one of the pilots of the Typhoons also remarked that there was nothing unusual about the interception.
"Todays' interception of the Russian Flankers [SU27 fighters] is all in a day's work for an RAF fighter pilot," he said.
The increased military activity in the Baltic region comes after 10 NATO countries launched Sabre Strike, along with Baltic Host 2014 and Baltops 2014 naval drills. Up to 4,700 troops and 800 military vehicles are taking part.
READ ALSO: Tanks, troops, jets: NATO countries launch full-scale war games in Baltic
In response, Russia, which sees NATO as a threat, ordered military exercise in the Kaliningrad region, which are comparable in size to the NATO war games.
READ ALSO: Russia sends 24 warships, bombers to Baltic drills as NATO stages war games
You can share this story on social media: