Russia revises Ukraine humanitarian draft resolution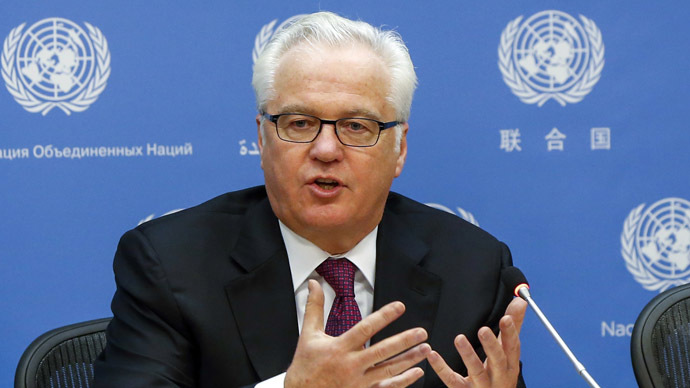 Russia has offered a "quite extensively" revised draft of a UN Security Council resolution on Ukraine, "combining components" of the two previously failed resolutions and taking into account the criticism that the drafts received from Western states.
To clarify any uncertainty surrounding the events taking place in southeastern Ukraine, Russia – which now holds the rotation presidency of the UNSC – has invited UN Humanitarian Chief Valerie Amos to brief the 15 members on the volatile nature of the conflict via teleconference from Geneva.
"We believe that we did our best in order to make it a balanced text, a text which can attract support from wide ranging members of the Security Council," Russia's envoy Vitaly Churkin told the press after the closed-door UNSC session.
'Unguided munitions and inhumane weapons'
"The situation in eastern Ukraine continues to deteriorate. Towns and villages are getting shelled every day by heavy artillery, including rocket systems 'Grad,' tanks and air force," Churkin said.
Churkin reminded that a nurse was killed after a hospitaland maternity ward were targeted in Slavyansk. He went on to cite Ukrainian military assaults on Semyonovka and Gorlovka, and a Grad attack on Artemyevka which hit a hospital, residential houses, and a kindergarten. "Buses with children evacuated from the war-zone are being targeted," he added.
#Slavyansk right now - getting hammered again pic.twitter.com/RrAThOPjUX

— Babay (@Truth_Seeker_11) June 16, 2014
"It is of particular concern that Ukrainian forces use unguided munitions and inhumane weapons. There is video footage that shows that incendiary phosphorus containing ordnance was used by the Ukrainian air force against the town of Semyonovka, in the Donetsk region, which may be qualified as a war crime."
"Indiscriminate attacks" by Kiev forces in and around Lugansk and Slavyansk have resulted in "hundreds" civilian casualties, including children, he said.
'Energy and water infrastructure deliberately targeted'
Civilians in the area have been left without water supply for at least 10 days now, as "water supply facilities and energy infrastructure are deliberately targeted" by Ukrainian forces, Churkin said. Citing the International Committee of the Red Cross, Churkin reiterated that southeastern Ukraine is in "urgent" need of humanitarian assistance.
The Russian diplomat also reminded journalists that Kiev has stopped pension payments in eastern Ukraine.
Water queue in Slavyansk today. #Ukraine#SaveDonbass #StopUkrainianArmypic.twitter.com/DqIjG5bY54

— Balkan news (@NewsBalkan) June 12, 2014
"In a number of cities of eastern Ukraine, Kiev's authorities have deliberately stopped the payment of social allowances, thus targeting the most vulnerable population – old age retirees, pensioners with disabilities."
Refugees flood Russia
At the same time, Churkin stated that refugee numbers in Russia continue to grow, as the civilian population tries to escape "the indiscriminate use of force by the Ukrainian armed units."
#Ukrainian refugees flee besieged cities to neighbouring #Russian region http://t.co/gLhP3izpTEpic.twitter.com/Xwvr290Ol1

— Back to the Past (@NotXsale) June 9, 2014
Russia is on the receiving end of some 100,000 refugees and is proving them with 195 "temporary" shelters. Others are staying with relatives in Russia. Churkin added during a Q&A session that Russia is also providing humanitarian aid to people in Ukraine.
'Systematic kidnapping and torture of journalists continues'
Addressing the issue of the continued abductions of journalists in Ukraine, Chukin reminded that "captors from the Right Sector threatened to kill the journalists of TV Channel Zvezda and demanded a ransom of $200,000 from their relatives."
"Systematic kidnapping and torture of journalists continues, and not only Russian journalists. The standard practice is to make them kneel, threatening with guns, putting bags on their heads and beating them up," Churkin said.
'Police left the scene'
Moscow is "disappointed" that the UN failed to condemn the assault on the Russian embassy in Kiev, Churkin said.
"We are disappointed that the Security Council colleagues failed to support a statement condemning the attack on the Russian embassy, notwithstanding the fact that Russia had always expressed its support to colleagues from other countries in similar situations."
The UN envoy said that police just stood by while explosive and smoke grenades thrown at the embassy building in Kiev endangered Russian diplomats.
"The Ukrainian law enforcers did nothing about this outrageous situation. The police simply left the scene while the minister of interior calmly watched from a safe distance. This is obviously a gross violation of the international obligations of Ukraine."
Meanwhile, the draft resolution condemning the assault on the Russian embassy was blocked by the Lithuanian delegation, Churkin revealed.
Kiev failed to issue condolences to Lugansk victims
Commenting on the Il-76 transport incident, Churkin said that while the grief of the families is understandable, "one must not forget that those men were sent to the epicenter of armed confrontation started by the Kiev authorities themselves."
The Russian envoy also highlighted that while 49 Ukrainian troops were killed when their military Il-76 transport jet was taken down by local militia forces, Kiev failed to issue condolences to the families of some 50 civilians in Lugansk who also lost their lives that day.
"Many members of the Council and also Valerie Amos said that they believe that some political action was necessary under these circumstances. Action not just to further energies the humanitarian operation but also help move the political process forward," Churkin concluded.
You can share this story on social media: