'Coca' cake for UN chief: Bolivia gives Ban a birthday treat
Wearing a straw hat and a garland of flowers, UN Chief Ban Ki-moon blew out 70 candles on probably the most unusual cake he's ever received for his birthday – served with coca leaves and presented to him by Bolivia on the eve of a G77 leaders' summit.
Schoolchildren sang 'Happy Birthday' to the UN chief in three languages - English, Spanish and Ayoreo (a native dialect) while giving him a cake in the village of El Torno, reports the Bolivian Agency ABI.
"The Bolivian people will never forget your visit," the president of Bolivia, Evo Morales, a former coca farmer himself who considers coca chewing to be part of Bolivia's heritage, told Ban in front of hundreds of people. Morales long time defended the legal use of coca for tea, sweets and medicines.
Ban was also presented a traditional Bolivian jacket and took part in a folk dance with local people from the Santa Rita community in Bolivia's eastern Concepcion region.
"Thank you for my birthday celebration. Thank you for your gifts, I will take them to New York to remember you forever," Ban said.
The UN chief, however, didn't taste the 'torta de coca' in public.
"The Bolivian people have a big, broad heart ... and great wisdom. You have lived for thousands of years in harmony with nature," said Ban
Ban was traveling to Bolivian city of Santa Cruz for a G77 leaders' summit to discuss the measures for reducing poverty.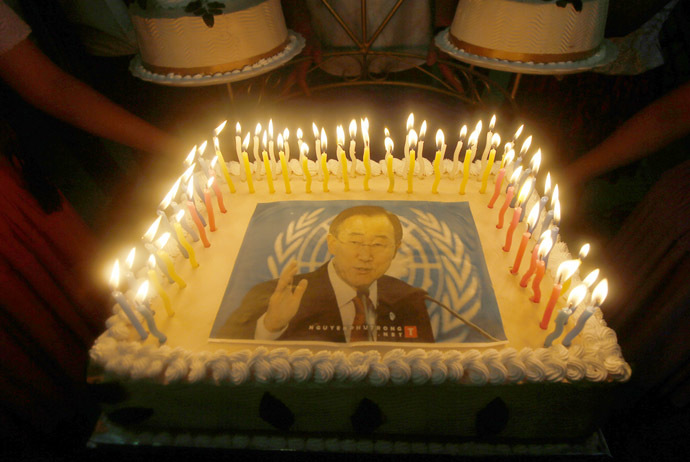 The coca leaf is the base material for cocaine. However, coca chewing and coca tea is drunk daily by millions of people in the Andes as well as considered sacred within indigenous cultures.
UN Single Convention on Narcotic Drugs banned coca leaf except for medical or scientific purposes in 1961, listing coca leaf together with cocaine and heroin as prohibited drugs. In 2012 Bolivia withdrew from convention to protest the criminalization the ban on chewing coca leaves.
The Andean tradition of chewing coca leaves as a mild stimulant has been accepted by the UN since 2013. Of the 61 countries needed to veto the initiative only 15 turned out led by the US and UK.
In 2009, the UN Office of Drug Control estimated that 30,900 hectares of coca were planted in Bolivia, making it the third-largest producer of coca after Colombia and Peru.
You can share this story on social media: