'Proper Zionist response': Israel issues tenders for 1,500 new settlement homes
Published time: 5 Jun, 2014 11:29
Edited time: 6 Jun, 2014 02:32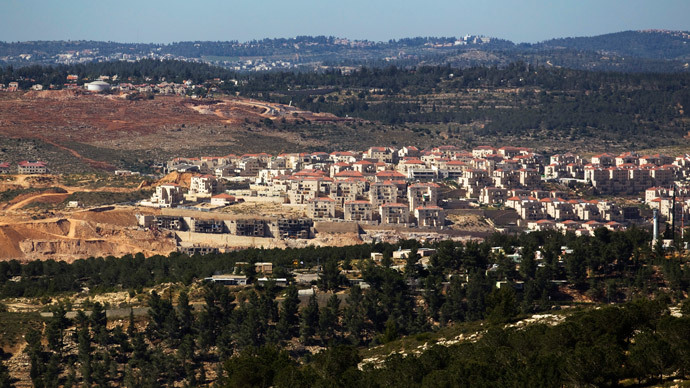 Israel's housing ministry has issued 1,500 tenders for new settlement housing units, explaining the move as a response to the Palestinian unity government. The Palestinians say they will appeal the decision at the UN Security Council.
Tenders for 900 housing units in the West Bank and 560 units in east Jerusalem were issued late Wednesday. Housing Minister Uri Ariel described the move as a response to the new Palestinian unity cabinet, which was sworn in Monday.

"I congratulate the decision to give a proper Zionist response to the establishment of the Palestinian terror cabinet," Ariel said, Haaretz reported. "The right and duty of the State of Israel to build across the country to lower the housing prices is unquestionable, and I believe these tenders are just the beginning."
- @AmbShapiro condemns #Israel's new settlement building plans http://t.co/zA5VECgzrD@usembassyta

— The Times of Israel (@TimesofIsrael) June 5, 2014

Israel has slammed the reconciliation of the Palestinian Fatah and Hamas movements and has urged the world against recognizing the new unity government.
UN Secretary General Ban Ki-moon expressed concern over Israel's plans to build new settlements and has urged Tel Aviv to freeze its construction activities, and "abide by its commitments under international law."
"As the United Nations has reiterated on many occasions, the building of settlements on occupied territory is illegal under international law," UN Secretary general spokesman, Stephane Dujarric, said in a statement.
On Tuesday, Israeli Prime Minister Benjamin Netanyahu strongly criticized the Obama administration for pledging to work with the new Palestinian cabinet, now including representatives of the Gaza-based Hamas, which has been labeled a terrorist organization by the US, the European Union and Israel.
The Palestine Liberation Organisation (PLO) reacted to the announcement of the settlement tenders by promising to appeal to the UN Security Council over the decision.

"The executive committee of the PLO views this latest escalation with the utmost seriousness," executive committee member Hanan Ashrawi said in a statement, AFP reported. The executive committee "will counter it by addressing both the United Nations Security Council and the General Assembly as the proper way of curbing this grave violation and ensuring accountability," she added.
The new settlement tenders have been condemned by chief Palestinian peace negotiator Saeb Erekat, who said the decision was "a clear sign that Israel is moving toward a major escalation."

"The Palestinian leadership will respond to this new settlement activity in an unprecedented manner," Reuters reported a spokesman for Palestinian President Mahmoud Abbas as saying.

Not all of the Israeli government members endorsed the new settlements plan. Justice Minister Tzipi Livni said the announcement was a "political mistake... that will only distance us from the ability to recruit the world against Hamas."

Settlements on the territories Israel captured during the 1967 war have always been a major stumbling block to peace talks between Palestinians and Israel.

The latest round of peace negotiations lasted nine months and ended in April, with no breakthrough achieved.