Iraq blocks Twitter, Facebook, YouTube amid growing ISIS threat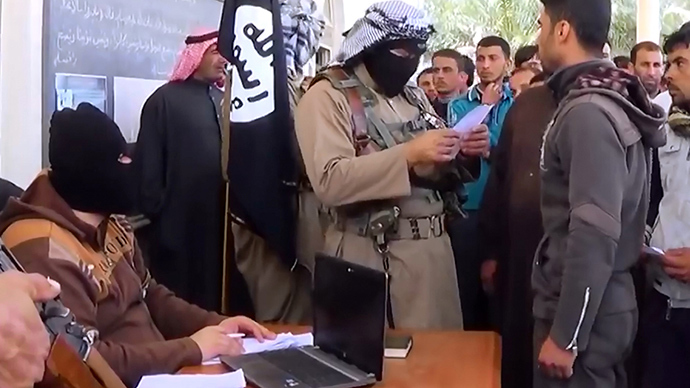 The Iraqi government has blocked access to top social media sites like Facebook and Twitter, reportedly to hinder the activities of militants formerly associated with Al-Qaeda. Meanwhile, thousands are signing up to fight the jihadist insurgency in Iraq.
Numerous media reports citing journalists and open-internet advocates said that internet users in Iraq are getting block screens when trying to access top social media sites and Google.
The Kuwait News Agency cited a source in the Iraqi Ministry of Communications who said the agency was told to block access to Facebook, Twitter and YouTube, as well as a number of pornographic websites.
The source did not specify why the sites were blocked, but it is believed to be a move to thwart militants of the Islamic State of Iraq and the Levant (ISIS or ISIL) from posting videos and pictures of exploits in the nation's northern and western regions. The group has captured major ground in those areas, including Mosul, the second-largest city in Iraq.
Hayder Hamzoz, founder of the Iraqi Network for Social Media, spread word of the block, and Ammar Al Shahbander, the Iraq director for the Institute for War and Peace Reporting, offered a screenshot of error messages received by users in Iraq.
Users of largest #ISP#internet in #Iraq ( #Earthlink )blocked #facebook#twitter#youtube by order from ministry of communication #insm_iq

— Iraqi Blogger (@Hamzoz) June 13, 2014

#Maliki government started blocking #twitter, #facebook & #youtube in #Iraq, #Baghdadpic.twitter.com/eS1geJ3uDQ

— Ammar Al Shahbander (@superammar) June 13, 2014
Cyber Arabs, an internet freedom monitor and cybersecurity training provider in the Middle East and North Africa, confirmed with Mashable that Facebook, YouTube, and Twitter were hampered across Iraq.
Martin Chulov, reporting for the Guardian, said the sites were all down due to Iraqi government fears that ISIS would use social media to "organise & mobilise."
Facebook blocked in #Iraq. Govt fears it was used by #ISIS to organise & mobilise

— Martin Chulov (@martinchulov) June 13, 2014
And down goes Google and Youtube. All main social media platforms now blocked in #Iraq#ISIS

— Martin Chulov (@martinchulov) June 13, 2014
"We are disturbed by reports of access issues in Iraq and are investigating," a Facebook spokesperson told Mashable. "Limiting access to internet services – essential for communication and commerce for millions of people – is a matter of concern for the global community."
Twitter and YouTube spokespersons said the companies are looking into the reports.
YouTube spokesperson on Iraq outage: "There is no technical issue on our side and we're looking into the situation." #insm_iq

— Anonymous Operations (@YourAnonCentral) June 13, 2014
There have been reports of users losing access to messaging services WhatsApp and Viber, as well.
Whatsapp and Viber have blocked in #Iraq#insm_iq#Baghdad

— zahraa ∞▲. (@zahraa901) June 13, 2014
Internet activists also pointed out that blocking connections to users across Iraq would likely not help in refuting ISIS-fueled rumors of their own victories.
a lot of fake news coming from #ISIS on #Social_Media about #Iraq like using photos from war in #syria or tweet a fake news about Victory

— Iraqi Blogger (@Hamzoz) June 13, 2014
The best way to fight rumors is not by cutting Internet in many Provinces in #Iraq#insm_iq 1/2

— Mohamad محمد (@MoNajem) June 13, 2014
Maleki should learn from his own citizens, fighting false news by more accurate news is coming from @IN4SM Bloggers #insm_iq#Iraq 2/2

— Mohamad محمد (@MoNajem) June 13, 2014
Meanwhile, thousands of Iraqi civilians are signing up to fight ISIS – Sunni Arab jihadists that also have a major presence in neighboring Syria. ISIS has handily beaten Iraqi security forces in their advance through the nation, leading Prime Minister Nouri al-Maliki to announce that civilians would be armed for an offensive against militants.
The volunteer effort received a boost from words of encouragement from Grand Ayatollah Ali al-Sistani, a top Shiite cleric adored across Iraq.
"Citizens who are able to bear arms and fight terrorists, defending their country and their people and their holy places, should volunteer and join the security forces to achieve this holy purpose," Sistani's representative announced for the cleric.
"He who sacrifices for the cause of defending his country and his family and his honour will be a martyr," he added.
You can share this story on social media: