Turkish anti-govt activists face up to 30 years in prison in Gezi 'show trial'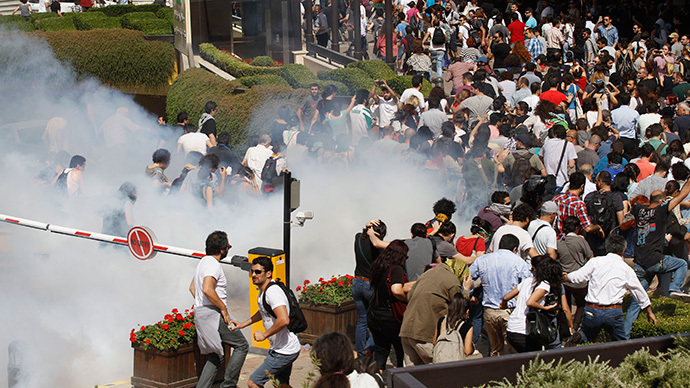 Turkey began a trial against 26 people on Thursday on charges related to last year's massive anti-government protests. Human rights groups described it as a politically motivated "show trial."
The five main defendants are accused of founding a crime syndicate, violating public order, and organizing illegal protests via social media. They face up to 30 years in prison, with the government using their social media posts as evidence. However, the prosecutor has only called for 13-year jail terms for those suspects, AFP reported.The other 21 suspects could face between one- and three-year sentences for charges like breaking the law on public assembly.
Most of the defendants are members of Taksim Solidarity, the loose group of engineers, architects, doctors, business owners, and activists who opposed Prime Minister Tayyip Erdogan's plans to redevelop Taksim Square, including razing Gezi Park - one of the last green spaces in central Istanbul - to build a shopping center.
"We came together as Taksim Solidarity to fulfil our duties and protect our most basic constitutional rights," architect Mucella Yapici, who is accused of leading the protests, told a packed courtroom, denying the charges against her. "You cannot found a criminal organisation by saying 'I don't want a shopping mall.' It is a very ridiculous charge." Yapici's daughter Cansu, 27, is also on trial.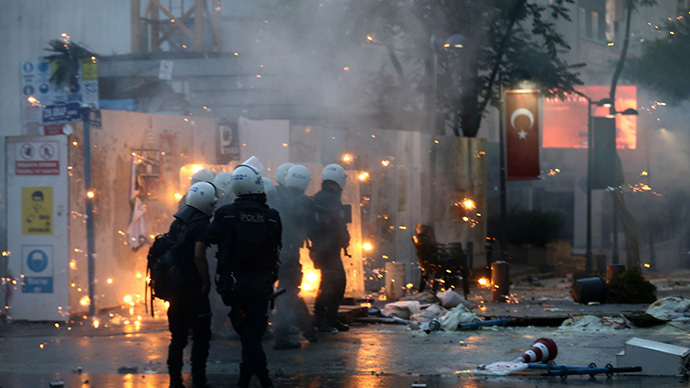 In July 2013, the country's Transportation and Communications Minister Binali Yildirim called on social networks to cooperate with authorities in a probe that attempted to identify and eventually prosecute the organizers of mass demonstrations. Human rights advocates have decried the current trial resulting from that probe as a "scandal" and a "show trial."
"This is a vindictive, politically motivated show trial without a shred of evidence of actual crimes. It should be stopped at the first hearing," Andrew Gardner, Amnesty International's researcher on Turkey, said in a statement on Thursday.
"The prosecution has concocted a case simply to send a strong message to the rest of Turkey that the authorities will ruthlessly pursue anyone who dissents and organizes protests against government policies."
Last year's protests left at least eight people dead and more than 8,000 injured after a violent crackdown by police, AFP reported. The toll of seriously hurt could be as much as 10,000, according to the Turkish Medical Association.
"The Turkish authorities have been relentless in their crackdown on protesters - be it police violence on the streets or by prosecuting them through the courts. Meanwhile the police enjoy near total impunity. The message is clear: peaceful demonstrations will not be tolerated," Salil Shetty, Secretary General of Amnesty International, said in a Tuesday statement.
Erdogan depicted the protests not as peaceful, but as an international conspiracy that was part of a coup against his decade-long rule. The trial indictment said some protesters threw bottles, rocks, percussion bombs, and Molotov cocktails to repel police officers trying to clear Gezi Park.
"They have submitted as evidence a picture of me shouting for help while police fired tear gas in my face," Yapici said in a speech that drew cheers from those in court. "We started a resistance which was exemplary to the world, which was very peaceful."
"But we faced increasing violence each time we took the streets. I was gassed from a very short distance and my friends who were defending me were badly injured after the police attacked."
Throughout the country there are an estimated 5,500 people on trial in 95 prosecutions for protests against Erdogan, according to Turkish rights groups.