Turkey announces plans 'for gas' and cyber security in face of Gezi protests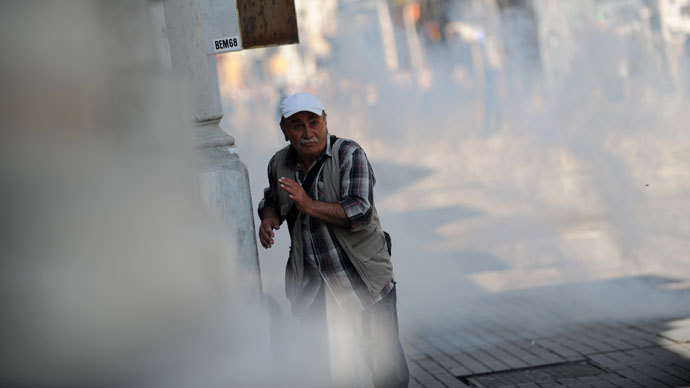 Turkey has announced plans to purchase 100,000 gas bomb cartridges and launch a central cyber security agency, local media report. This comes after protests across the country which also saw a series of attacks on government's websites.
The order for the 100,000 new cartridges will be accompanied by an order for 60 water cannon vehicles, the daily local newspaper Milliyet reported, also stating that the excessive use of gas bomb cartridges meant that Turkish riot police used up some 130,000 units across the space of a mere 20 days.

The protests began in Istanbul, but nationwide demonstrations shortly followed suit, drawing thousands in support of the Gezi Park protesters suffering brutal police repressions. In one of the instances, a horrifying video emerged of a man in a wheelchair being fired at by a similar vehicle on June 11.

"The excessive use of force by the police has turned this issue into a security one," said Galip Dalay, a research assistant with the SETA foundation.

At the same time, Turkish Transport, Maritime Affairs and Communications Binali Yildirim announced the formation of a new cyber security agency on Thursday. He declared "The Center for Response to National Cyber Threats," (or USOM) was to be founded on the grounds that cyber-attacks during the Gezi Park protests were a global threat and "likely to increase."

At the beginning of June, Anonymous hacking group launched #OpTurkey, which took down the Turkish President's website, along with that of the country's ruling party, in support of anti-government protests.

Another mid-June attack on over 225 tourist, library, and private business websites was blamed on Kurdish group ColdHackers.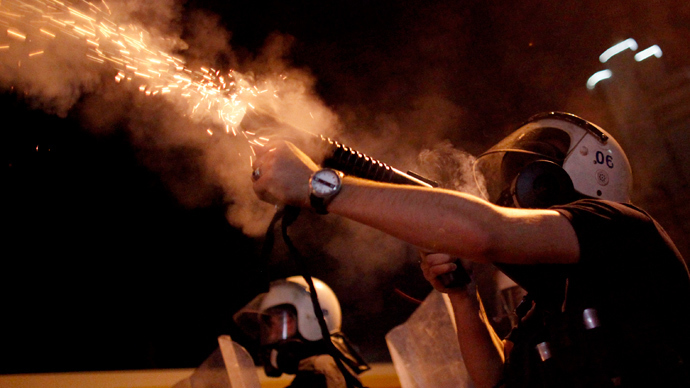 On Thursday, Turkish hacker group Redhack claimed responsibility for all tweets relating to the Gezi protests after the launching of an investigation into some 5 million Gezi Park tweets was announced by the AKP (Justice and Development Party).

"We have posted all tweets and hacked thousands of people's computers. Don't take on the innocent ones, we are here," Redhack wrote on its Twitter account, going on to say that any accounts that appeared to play a role in the organization of resistance were to re-tweet their message, and  those that did had been hacked by the group.
Following the claim of responsibility, Twitter users began to announce that they were hacked by Redhack using the hashtag #wewerehackedbyredhack.

After 29 people's houses were raided and they were subsequently detained for tweets related to the protests on June 5, the group recommended that "users can tell the police that their account was hacked by Redhack. We would take the blame with pleasure."  

Social media activists had been accused of using Twitter to "instigate public hatred and animosity," according to Turkish media.

PM Erdogan even blamed social media for the unrest stating "there is now a menace which is called Twitter," in the midst of the upheaval, dismissing the protests as being organized by extreme societal elements. "The best examples of lies can be found there. To me, social media is the worst menace to society," he said.

Transport Minister Binali Yıldırım stressed however on June 19 that the government was working to "fight against cyber-crime, not to regulate social media," with Deputy PM Bülent Arınç adding that people were free to communicate on social media but should be deterred from encouraging crime or violence.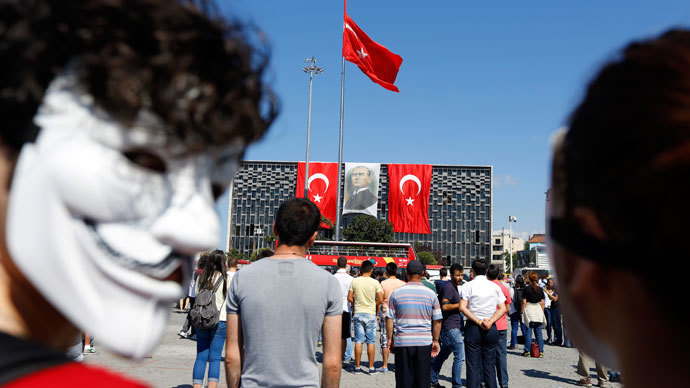 As the protests have continued to draw support across the country, the Turkish government have used increasingly retaliatory measures against anyone involved in protests, culminating in threats to deploy the armed forces on Tuesday, the day after using tear gas and water cannons to disperse Monday's demonstrators. Over 130 were arrested on Thursday alone, and six people have died to date as a result of the unrest, which is not scaling down despite authorities halting proposed renovations of Gezi Park.

"They've left branches hanging off trees and water and debris all over the streets" said RT's Tom Barton in Ankara on Thursday.

Peaceful demonstrations began on May 28 when a group of environmentalists gathered together to campaign against the proposed development of a shopping mall in Istanbul neighborhood's only remaining park – Gezi Park – next to Taksim Square. The violent suppression after Erdogan announced that he had already made his decision motivated thousands nationwide to display their solidarity.

You can share this story on social media: