Militants seize Turkish consulate, take 80 Turks hostage in Iraqi city of Mosul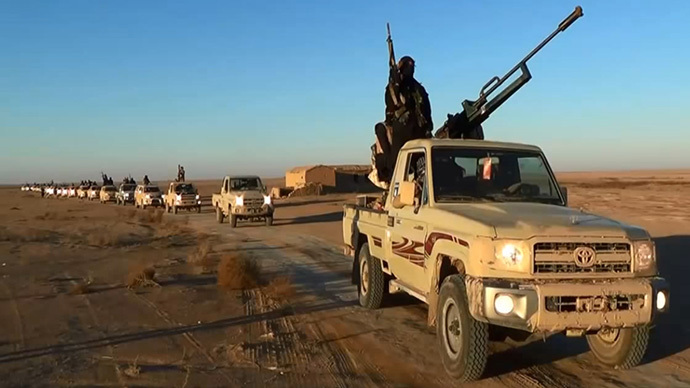 Jihadist insurgents have kidnapped 49 people in the Turkish consulate in the northern Iraqi city of Mosul and 31 Turkish truck drivers in separate attacks, Ankara said. Al-Qaeda offshoot ISIS has been advancing on the cities north of Baghdad.
Militants of the Islamic State in Iraq and the Levant (ISIS / ISIL) have captured 49 Turkish citizens at the Mosul consulate, Turkey's Foreign Ministry announced on Wednesday. As many as 31 Turkish drivers have also been taken hostage by the militants in separate incidents and are being held at a power station in Mosul, the ministry added.
The Turkish Consul-General in Mosul, Ozturk Yilmaz, several members of Turkey's special forces and three children were among those taken hostage by the ISIS militants, Reuters reported citing sources in the Turkish prime minister's office.
Turkish Prime Minister Tayyip Erdogan has summoned an emergency meeting of NATO to discuss the security situation in Iraq. Ambassadors of the NATO member states met in Brussels. However, no announcements were immediately made following the meeting.
Erdogan earlier held an emergency meeting with Turkish President Abdullah Gul, Turkish intelligence chief and the chief of general staff, and talked with US Vice President Joe Bide.
This is huge -> MT @jmsardo#Iraq: Turkish consul in Mosul Öztürk Yılmaz taken hostage w/ 45 workers by ISIS fighters pic.twitter.com/e7eXPExBjp

— Yannis Koutsomitis (@YanniKouts) June 11, 2014
According to Turkish media, the captors have been holding diplomats in militant headquarters and unharmed.
An Islamist Twitter account, @Dawla_NewsMedia, which has been tweeting photos and pro-ISIS reports from the scene, claimed that the Turkish diplomats have been moved "to an unknown location." The account has since been blocked by Twitter.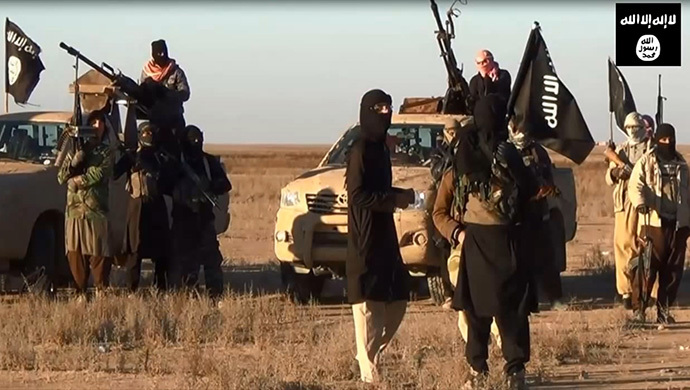 Turkish Foreign Minister Ahmet Davutoglu reportedly cut short his visit to the US and flew back to Ankara in connection with the Mosul hostage-taking. Davutoglu was due to deliver a speech at a UN counter-terrorism meeting in New York.
The Turkish Foreign Ministry meanwhile said it was verifying the information amid conflicting reports.
The radical Sunni militants have already taken hostage at least 32 Turkish nationals – truck drivers – in the area since Tuesday, according to Hurriyet.
Map from @AFP marking areas of #Iraq controlled by ISIS pic.twitter.com/fAB4a5SmXk

— Phoebe Greenwood (@pagreenwood) June 11, 2014
Meanwhile, Reuters sources suggested Ankara has been in "direct contact" with the militants over the situation.

"Certain militant groups in Mosul have been directly contacted to ensure the safety of diplomatic staff," a Turkish government source told the agency.

The Turkish government has earlier been accused of assisting jihadist groups fighting in Syria against Syrian President Bashar Assad's government. Damascus complained to the UN in March that Turkey was providing cover to rebels crossing the border from Turkish territory, which allegedly included several Al-Qaeda affiliates.
ISIS militants spread fighting to other northern cities
Some 225km (140 miles) south of Mosul, the ISIS militants have seized the city of Tikrit, Iraqi security officials told AP on condition of anonymity. According to the report, the provincial governor has gone missing from the city.

Tikrit, just 150 kilometers (95 miles) northwest of Baghdad, was the hometown of President Saddam Hussein, who was overthrown in the US-led military operation.
AFP quoted Tikrit police as saying that the militants controlling the city freed some 300 prisoners there.

"All of Tikrit is in the hands of the militants," an Iraqi police colonel told AFP.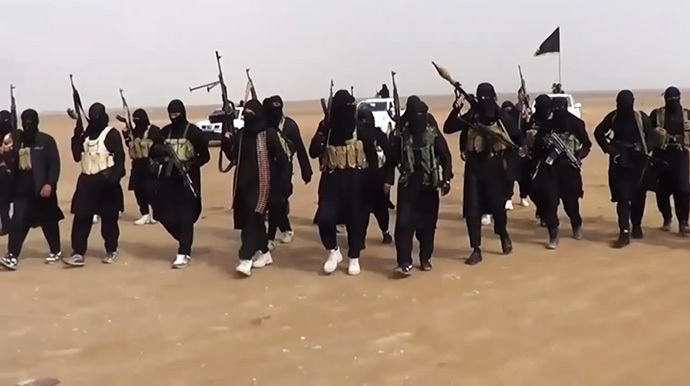 Meanwhile in the city of Samarra, located further south of Tikrit on the east bank of the Tigris River, clashes reportedly broke out between Iraqi forces and militants arriving in trucks with machine guns, according to AFP. Samarra, a UNESCO World Heritage Site, is home to several holy sites for Shia Muslims.
A military source told Al Arabiya news channel that Kurdish forces are reportedly fighting ISIS militants in Kirkuk to stop their offensive.
Earlier, ISIS boasted the capture of Iraq's biggest oil refinery north of the city of Baiji, claiming it had "seized it without a shot." The oil refinery, located less than 180km (110 miles) from Mosul was one of the strategic objects secured by the US-led forces in the 2003 invasion of Iraq and thoroughly searched for "weapons of mass destruction." No chemical agents were ever found there.
Reports from the scene suggested that ISIS militants agreed to leave the city and energy installations of Baiji after negotiations with local tribal leaders. The militants allegedly left for nearby villages after torching the city's courthouse and police stations and freeing prisoners.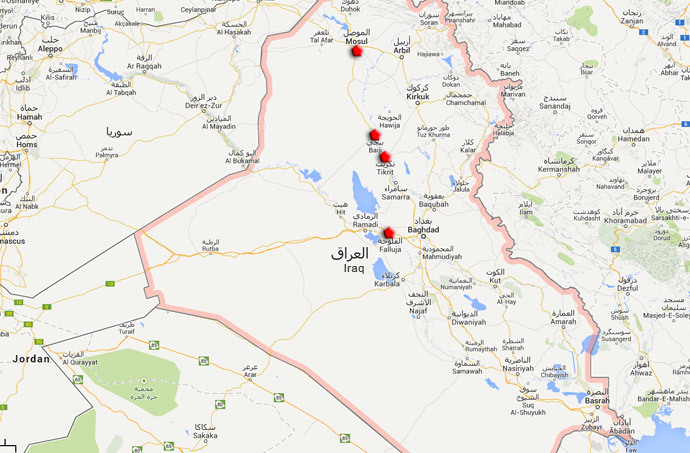 On Monday night, fighters from Al-Qaeda splinter group ISIS stormed provincial government headquarters armed with rocket-propelled grenades and heavy machine guns.
"The city of Mosul is outside the control of the state and at the mercy of the militants," an Interior Ministry official told AFP on Monday. It is now the second city to fall under control of Islamist fighters since the beginning of this year. In January militants seized the city of Fallujah, displacing over 70,000 people.
Eyewitness accounts describe the scenes of chaos on the streets of Iraq's second-largest city as thousands of people fled for their lives. A number of reports say that militants are freeing detainees from police stations, while AL RAI Chief International Correspondent Elijah J Magnier tweeted that the ISIS had freed over 2,000 inmates from a "counter terrorism prison."
Following the seize of Mosul, local media reports said that ISIS looted some 500 billion Iraqi dinars (about US$429 million) from the city's central bank, possibly making it the richest terror group in the world. Nineveh Governor Atheel al-Nujaifi confirmed that millions have been stolen from several banks in Mosul.

The militants have also captured an unknown number of Iraqi Black Hawk helicopters parked in the Mosul area, reports said.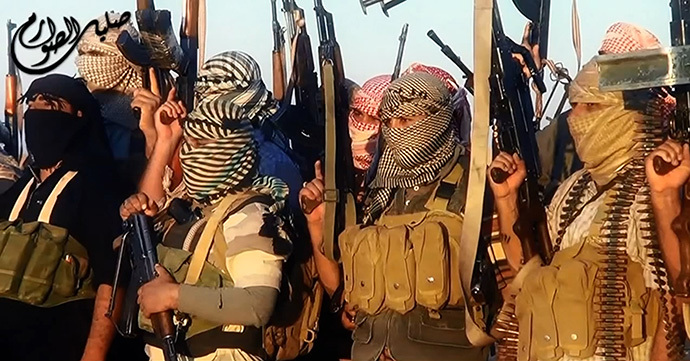 ISIS has been actively using social media, particularly Twitter, to spread the news of the group's progress in Iraq. One of the Twitter statements said that ISIS is determined "to conquer the entire state" of Nineveh.

Led by Abu Bakr al-Baghdadi, the militant group fighting for the creation of a huge Middle Eastern caliphate previously had strong ties with the international terrorist organization Al-Qaeda. However, al-Baghdadi is believed to have broken up with Al-Qaeda's leader Ayman al-Zawahri, and since then ISIS fighters have reportedly clashed with Al-Qaeda in Syria.
Hundreds of thousands of people are believed to have fled Mosul and the northern Iraqi province of Nineveh, which the jihadists have largely taken under control. The International Organization for Migration (IOM) placed the number of refugees at 500,000.
Those fleeing the region included demoralized Iraqi troops, who chaotically left their positions, dropping uniforms, weapons, munitions and military hardware.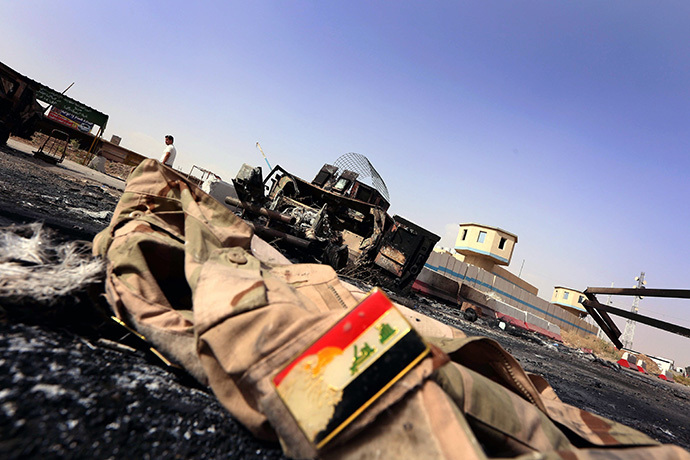 You can share this story on social media: