Fukushima creates its own Pharrell Williams HAPPY video and it's really inspiring
Published time: 9 Jun, 2014 12:33
Edited time: 10 Jun, 2014 22:55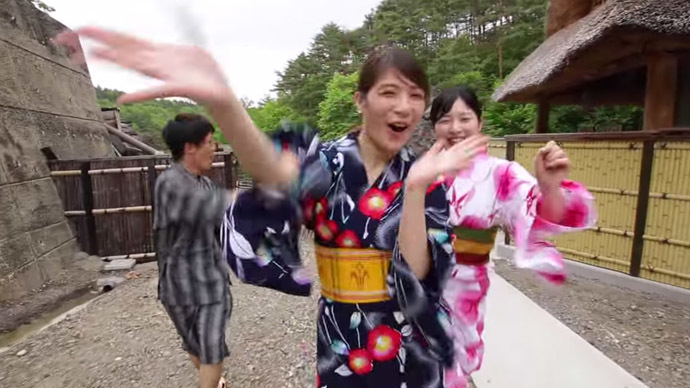 From tsunamis to radiation, Fukushima has been inundated with bucketloads of bad news over the last three years. But one media-savvy local has reimagined Pharrell Williams' smash hit "Happy" to bring the beat back to the "island of good fortune."
"Fukushima is also happy!!" Hitomi Kumasaka, the founder and CEO of Fukushima-based Social Media Labs, which is behind the funky remake, wrote on her YouTube page.
With a cameo from Fukushima's mayor and a cast of characters showcasing the region's social vibrancy, Kumasaka's clip put a Japanese spin on Pharrell Williams' global chart topper.
For anyone not familiar with the original video, just imagine a lot of really "happy" people dancing to a neo-soul jam carried by a Curtis Mayfield-inspired falsetto.
According to Kumasaka, her version of the global hit was inspired by the "Happy from Harajuku Tokyo" iteration of the hit, released this past April.
With the help of over 200 people, 214 gigabytes of footage were compiled over two weeks to distill four minutes of pure bliss from Fukushima City.
Kumusaka said she was trying to dispel the image of Fukushima as a gloomy and disaster-hit town where people shuffle by in masks fearing for their lives. She makes no bones about trying to appeal both to a domestic market and the international stage, where negative news of Fukushima has been unrelenting. Noting that the video has been viewed by 121 countries worldwide, she said it was not her intention to create "a tourist propaganda video," though alluring street scenes to the Noji Onsen (hot springs) perched 1,200 meters above sea level might certainly pique the interest of a few intrepid travelers.
But from dumping radioactive water into the Pacific Ocean to irradiated fish, Fukushima-fever is so prevalent in Japan that even cooking-themed comic books have been infected with fear. When the troubles confronting your backyard are apocalyptic in nature, sometimes the only thing you can do is keep calm and dance on.
The Japanese government has done its best to get people to return to the affected area, though even the manager of the Fukushima nuclear plant has admitted that efforts to bring the disaster-stricken plant under control have resulted in an "embarrassing failure."
Kumasaka, however, believes these lingering issues should not rain on anyone's parade.
"Many people might think that Fukushima has been unhappy after 3/11," Kumasaka said on her YouTube Channel referring to March 11, 2011, when the devastating earthquake and tsunami stoke Japan's eastern coast. "But it's not true. With this video I want you to know that we are also happy and healthy just like you. Please enjoy our dance and share our happiness!"
Stylistically and thematically, the infectious tune lends itself to imitation. As of May, more than 1,500 videos had been created in homage to the global hit, which itself has generated 284 million views on YouTube so far.
People across Japan have also made similar videos for other prefectures, including Tokyo, Okinawa and Kyoto.
But while those thousand-plus fans were likely playing their part in the viral phenomenon merely for the love of the song, a place like Fukushima can't help but make a broader statement with a simple declaration of happiness.
There has been some speculation regarding whether Kumasaka was commissioned by the Japanese government to craft a viral hit that could generate some positive PR. Kumasaka, however, told RT that the clip was "100% independent."
"No government, no TEPCO. I and my friends want people to know that we are also happy. That's all," Kumasaka said via email.
If anyone needs a cheer-up in Japan, then it is indeed the Fukushima province. Despite three years having passed since the devastating earthquake and tsunami, the crippled nuclear plant is still plagued with controversy and scandals. At the end of May, it emerged that 90 percent of the employees escaped the facility after the quake and the tsunami initially damaged it in contrary to earlier reports.
READ MORE: 90% of Fukushima crew fled failing nuclear power plant
While TEPCO, the plant operator, has started work on a giant underground barrier wall of ice set to isolate the water build-up – in spite of the warnings that the ground may sink.
READ MORE: Japan's Great Wall of Ice: TEPCO starts work on Fukushima underground barrier