Blasts, gunshots, fatalities as Taliban storm Pakistan's largest airport
At least 24 people have been killed after a well-trained Taliban group disguised as security guards stormed the airport in Karachi, Pakistan's largest city. A standoff ensued, followed by a large blast. Three terrorists are reportedly still inside.
At least 14 of the dead were civilians, with 10 militants taken out during the siege, as security forces resumed the operation, following more gunfire from the inside. Officials report at least 24 fatalities in the attack, according to Reuters. It is reported that at least 15 others have been injured.
The Directorate of Inter-Services Public Relations – an administrative military organization within the Pakistan Defense Forces – initially announced that all the Taliban were eliminated soon after being cornered at two areas inside the airport. However, three still remained inside as more gunfire is heard.
"We carried out this attack on the Karachi airport and it is a message to the Pakistan government that we are still alive to react over the killings of innocent people in bomb attacks on their villages," the spokesman for the Pakistani branch of the Taliban said in a statement claiming responsibility for the attack, according to the the Dawn news service.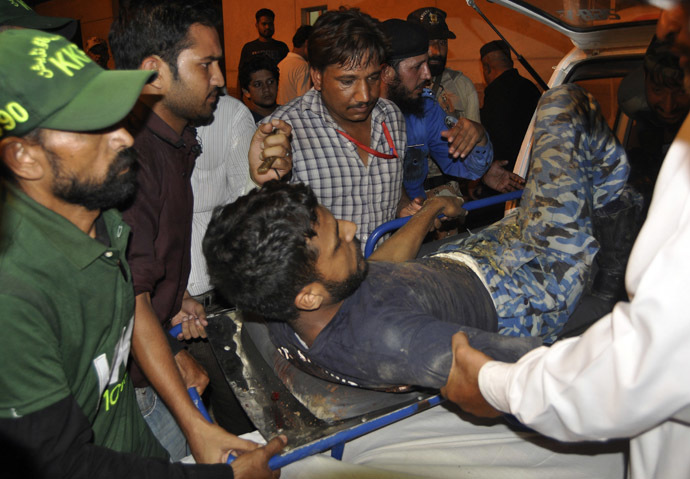 ''They were well trained. Their plan was very well thought out,'' the Chief Minister of Sindh province, Qaim Ali Shah told reporters.
Channel News Asia reports, citing a senior intelligence source as saying that some militants were found wearing a light blue uniform.
"One of them blew up when he was shot," indicating he was wearing a suicide vest. A rocket launcher and four SMGs were recovered from the slain terrorists. Latest reports indicate that additional blasts have been heard. An AFP reporter at the scene said that the blasts are feared to be suicide bomb explosions.
The militants launched grenades and opened fire as they entered Jinnah International Airport. At least three blasts were heard when an airport emergency has been declared, with flight operations suspended, reported the local Karachi Post.
Many dead bodies laying at the runway #Karachi#Pakistan

— Karachi_Post (@Karachi_Post) June 8, 2014
#KarachiAirport. Pic by a friend stuck there - M. Qasim. #Rangers can be seen. pic.twitter.com/ey8OyUJEEF

— Ahsan Iftikhar Nagi (@ahsannagi) June 8, 2014
The militants reportedly forged ASF identification passes and entered the airport's old terminal, known as Fokker Gate. Rescue forces have been dispatched and are being allowed to pass into the area after being intricately checked, according to Dawn.
Fresh gunfire at #Karachi airport, security operation resumes http://t.co/jl0UIUaiMDpic.twitter.com/BAk8XA2yVF

— Gulf News (@gulf_news) June 9, 2014
KARACHI: Ruptly's stringer: terrorists are in full control of the airport, army choppers are moving in

— Ruptly News Desk (@RuptlyNewsDesk) June 8, 2014
Earlier it was reported that one of the rocket propelled grenades (RPGs) in the terrorists' possession was fired towards a plane, journalist Ali Kamran Chishti reported on his Twitter.
Television footage showed plumes of smoke rising from the runway and fires where planes were parked.
Two planes stranded on the runway at the airport's Jinnah Terminal and the passengers are being interrogated as they are directed to leave, Chishti said.
"All flights destined for Karachi have been diverted to other cities," said a civil aviation authority spokesman.
Huge blast !!!!!! I do not know whats going on out side -- heavy firing started again - full panic on board !

— Syed Saim A. Rizvi (@saim_riz) June 8, 2014
"Terrorists have walkie talkies, satellite phones - heavy weapons - they are here for the long-haul," Chishti tweeted.
He added that Pakistani politician, Farooq Sattar, who leads the MQM political party is reportedly on one of the planes.
Yet another terrorist attack was reported around the same time the airport situation was taking place - a suicide bombing in the southwest of the country, where another 23 fatalities had occurred. The target of the second assault were a group of Shiite pilgrims returning from Iran, authorities told the AP.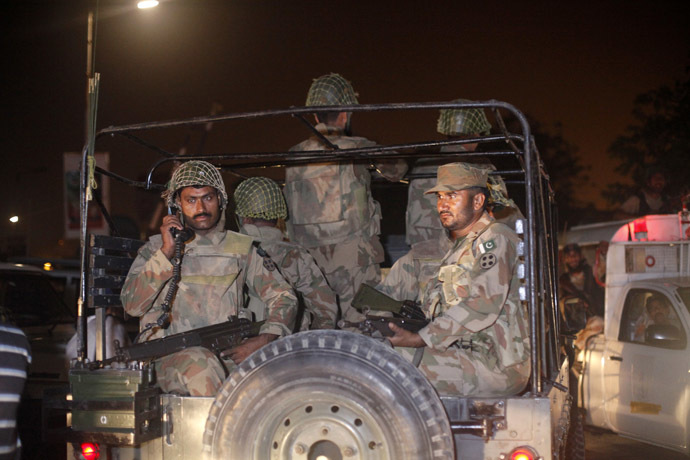 The suicide bombing took place at a hotel in the town of Tuftan near the Iranian border, and involved four suicide bombers, according to the Baluchistan province's Home Minister Mir Safraz Bugti. The group returning from Iran was accompanied by security, who took out one of the bombers, but the other three had managed to get inside the hotel. The blast from their vests also injured 10 people.
Pakistan has been waging war against a homegrown Islamist insurgency for more than ten years, which cost the country thousands of lives. In 2011, Taliban gunmen attacked a Karachi naval base, destroying two US-made Orion aircraft and killing ten staff in a 17-hour siege.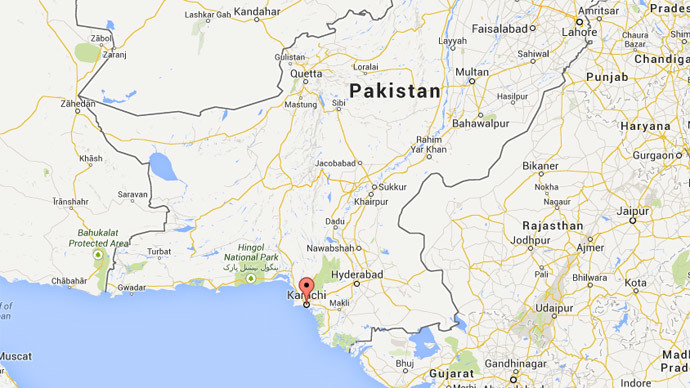 Jinnah International Airport is the largest and busiest airhub in Pakistan. In 2013, over 16,065,465 passengers used its international and domestic terminals. Over 113,000 planes used its services last year, handling on an average more than 44,000 passengers a day.
You can share this story on social media: