'Toughest grand slam final ever': Russia's Sharapova wins Roland Garros (PHOTOS)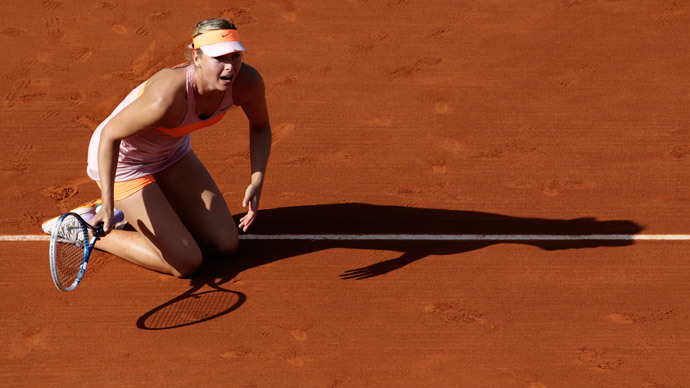 Roland Garros Stadium in Paris burst into applause as Russian tennis player Maria Sharapova grabbed the top spot in the women's singles final of the French Open tennis tournament, beating Romania's Simona Halep.
The Russian tennis player Sharapova defeated rising star Halep 6-4, 6-7(5), 6-4.
"This was the toughest Grand Slam final I've ever played" she said, following the three hours and two minutes match under the scorching sun on Philippe Chatrier Court.
"My respect to Simona. I thought she played an unbelievable match today."
"My dream came true! I won Roland Garros the second time. I have been preparing for so long and was heading to victory. It's amazing. I thank Russian fans. I could hear them very well."
The epic battle between the two women was the first three-set final in 13 years in women's singles, and just two minutes away from the Roland Garros women's record of 3:04, set by Steffi Graf and Arantxa Sanchez-Vicario.
The match was Halep's first ever major final. Sharapova played a brilliant game and snatched her fifth Grand Slam title in her fourth straight three-set match. Sharapova won her first Roland Garros title in 2012. The second win gives her the title of the first Russian, male or female, to win the same Grand Slam twice.
Vainqueur de l'édition 2014: Maria Sharapova. #RG14pic.twitter.com/TTTeo5z9x2

— rolandgarrosFR (@rolandgarros_FR) June 7, 2014
TWO SWEET! @MariaSharapova defeats #Halep, 6-4, 6-7(5), 6-4, to win her second RG title! #RG14pic.twitter.com/igUUn6hMbm

— Roland Garros (@rolandgarros) June 7, 2014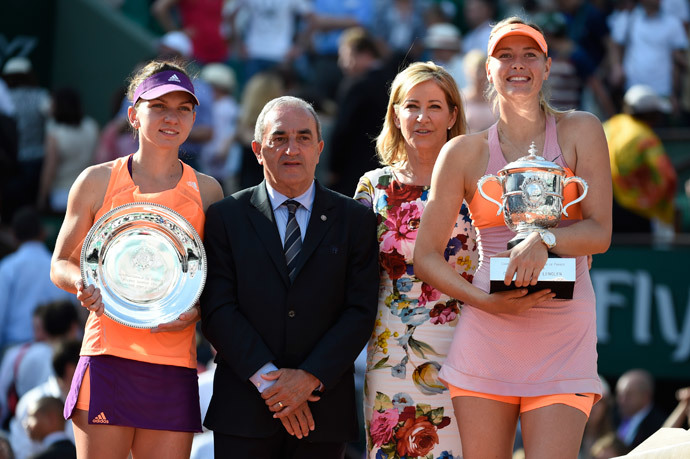 The 27 year old was born in Nyagan in western Siberia. The young tennis player made her professional breakthrough in 2004 at age 17, when she defeated two-time defending champion and top seed US player Serena Williams in the Wimbledon finals. She then snatched major titles at the 2006 US Open and 2008 Australian Open. Following shoulder surgery she returned to the sport in May 2009 and grabbed her fourth Grand Slam title at the 2012 French Open. Following this she won a silver at the London 2012 Summer Olympics.