Poroshenko sworn in, but can he steer Ukraine away from abyss?
Billionaire Petro Poroshenko has been sworn in as Ukraine's new president at a ceremony in Kiev. He won the emergency election in the first round on a promise of change as the country faces a massive political and economic crisis.
Follow RT's Live Updates on Kiev's military operation in E. Ukraine

Poroshenko gave his presidential oath on Saturday at an event attended by delegations from 56 countries. The US, the key supporter of the opposition forces, which ousted Poroshenko's predecessor Viktor Yanukovich in the February armed coup and made way for his presidency, was represented by Vice President Joe Biden.
A wealthy businessman with assets in the chocolate industry, media and shipbuilding, Poroshenko is no stranger to government. He served in the Cabinets of presidents Viktor Yushchenko and Viktor Yanukovich, chairing Ukraine's central bank and serving as its foreign minister and trade minister at different times.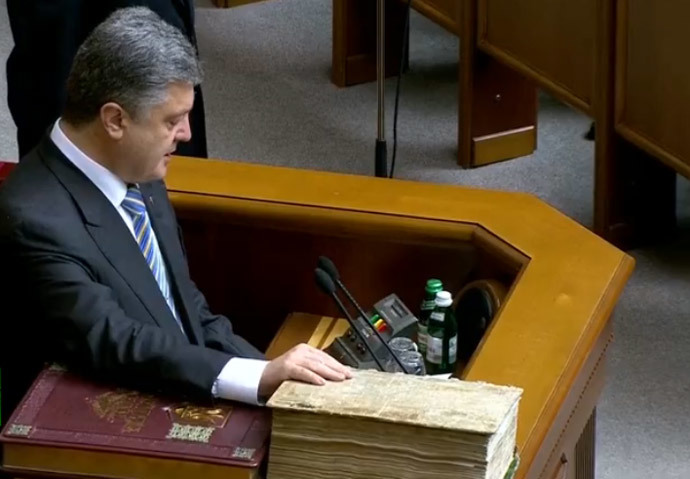 Following the inauguration the new Ukrainian president proceeded to deliver his inaugural address in front of members of the Ukrainian parliament. He faces several tough challenges, including a slide towards civil war, economic slowdown, debt crisis and a potential continuation of public rioting in Kiev.
The president's immediate plan is to hold early parliamentary election in the country as well as in the regions currently engulfed by violence. He offered amnesty to Ukrainians not guilty of committing serious crimes and a free way out of Ukraine to Russia for armed militias, whom Poroshenko described as "Russian militants."
Turning point. RT @radiosvoboda: choir singing national anthem at Poroshenko inauguration in Kyiv pic.twitter.com/AmHltxubZo#Ukraine

— Chrystyna Lapychak (@chryslap) June 7, 2014
Poroshenko also said he wants a new international treaty that would ensure that Ukraine is defended militarily by foreign nations if its territorial integrity is threatened, although he didn't say which countries were willing to offer such protection. He also said Ukraine must pursue visa-free travel with the European Union, although it is not yet clear whether Brussels is willing to grant it. Poroshenko also promised to fulfil pledges he made during his election campaign.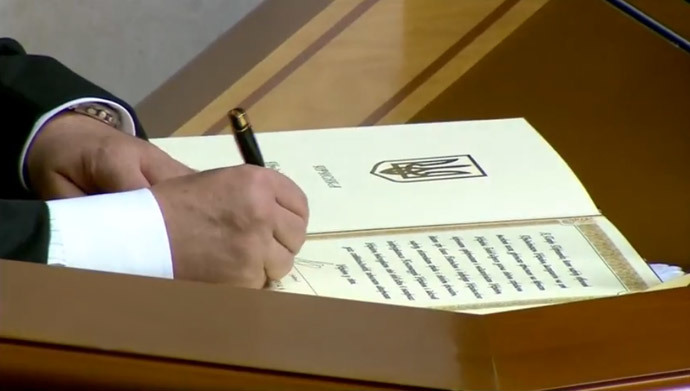 Poroshenko campaigned on a platform of change, promising to free the country from corruption and domination of the oligarchs. Yet some of Ukraine's rich are now governing its provinces and even have personal armies. With all the public support he managed to rally, he may find it difficult to rein in officials and business elites, especially with his presidential authority diminished by a constitutional reform and the parliament dominated by the party of his bitter rival, Yulia Tymoshenko.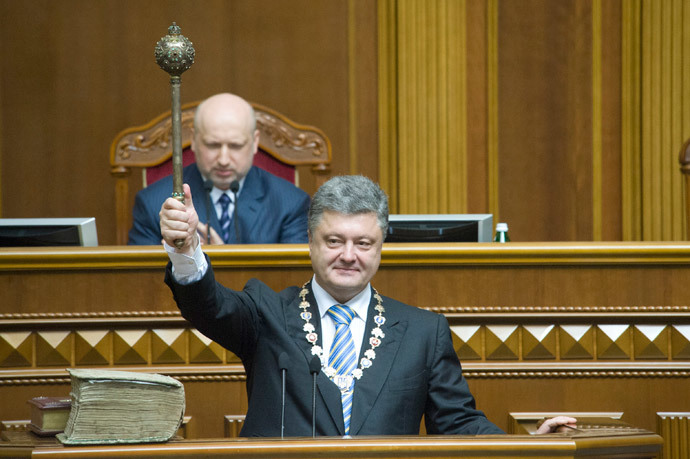 The gap between the new Ukrainian president's wishes and the reality on the ground was underscored hours after the inauguration. Sergey Taruta, the Kiev-appointed governor of the Donetsk region and one of the country's oligarchs now holding public office, said that Poroshenko's plans to visit the region as soon as possible, reiterated in his speech, would have to wait.
"I don't know when Poroshenko would visit Donbass. Certainly not next week or the week after next. For Poroshenko to come, his security must be guaranteed. So far doing it is difficult," he told Ukrainian news agency OstroV.
Poroshenko switches to Russian in the inauguration speech, addressing Donbass residents. Promises to protect rights of Russian-speakers.

— Leonid Ragozin (@leonidragozin) June 7, 2014
There is also doubt over whether the president intends to deliver on his election campaign promises. He pledged to sell his business assets to assure personal integrity, but he refused to sell his TV channel, which was one of the most vocal critics of the Yanukovich government, and has bought a new factory since making his promise.
The first test of his presidential independence and determination is likely to be dealing with the country's unruly eastern provinces, which boycotted the election and are defending themselves against Kiev's military crackdown. So far Poroshenko has demonstrated little intention to replace air strikes and artillery barrages in Donetsk and Lugansk regions with peace envoys and negotiators.
Stopping the bloodshed is the main demand from Russia, which may choose to stop delivering gas to Ukraine without pre-payment, as Kiev has been behind in paying its bills for months. Moscow agreed to postpone the shutdown until Monday after Ukraine covered a portion of its debt, but it leaves Poroshenko with a deadline looming just days ahead.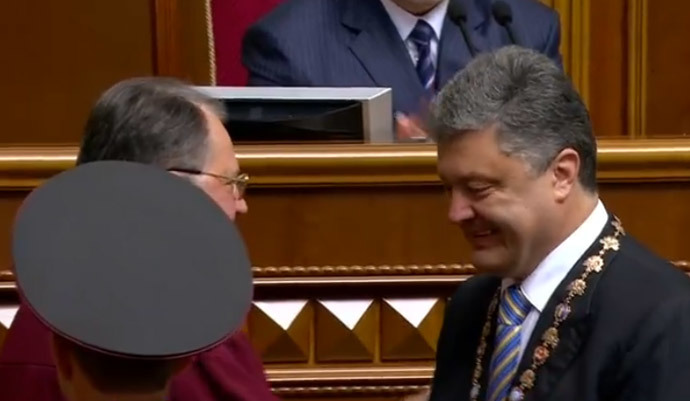 Poroshenko pledged to sign the economic part of the EU Association Agreement. Yanukovich's refusal to do so was the trigger of the public protest that ousted him. But the painful reforms and losses from severing economic ties with Russia, which were the reason for Yanukovich's move, are still there, and Poroshenko's chances of softening the blow are even slimmer now, with recession kicking in and credit lines from the IMF, the US and the EU far from assured.