Parents in Ukraine's Donetsk rally, demand security for their kids (PHOTOS, VIDEO)
Over a thousand people rallied in the eastern Ukrainian city of Donetsk on Sunday demanding that children be protected from Kiev's assault, with posters reading "Save Donbass kids from the Ukrainian army!"
The "Protect Donbass Children" rally saw several hundreds come out on Sunday to the city center, many holding banners reading "No to the Ukrainian army," "Slavic world without fascism" and "We are for peace". Mothers with their kids, some injured women among them, demanded an end to the offensive in the region.

The military operation has not stopped after the Ukrainian elections, but has, in fact, intensified. Several children were reported injured in Slavyansk on May 30, after the Ukrainian military shelled the town's residential area, with one of the shells hitting a children's hospital. A couple of days earlier a school and a kindergarten were damaged by Kiev's fire in Slavyansk.

Women rallying in the region say they want to attract the international community's attention to the fact that civilians are being targeted by the Ukrainian army.

"Snipers shoot at our children. We don't have words to express it any more, just emotions, tears and pain," one woman told Mir24 journalists at the rally.
Собравшиеся на митинг в Донецке требуют защитить детей Донбасса от украинской армии pic.twitter.com/PbgEvLjC09

— Донецкая Республика (@dnrpress) June 1, 2014
"We want to live in a peaceful country, we want not to be afraid to go outside," a boy told RT's Paula Slier at the rally.

Meanwhile, a girl said that she wants peace "for all children in the world, but especially in my native region, here in Donbass. People are being killed in Slavyansk, and here in Donetsk they bombed the airport, we heard shooting."

When asked if she was afraid, the girl said that she was in the beginning but has now "gotten used to the feeling."

"We have a cellar for that case!" a young boy added.
Desperate protesters trampled down boxes of Roschen candy, demonstrating their discontent with newly elected President Poroshenko, also known as 'the chocolate king'; he is the owner of the confectionery concern.

Earlier, the PM of the self-proclaimed Donetsk People's Republic, Aleksandr Boroday, warned parents of Donetsk school graduates not to celebrate the end of the school year and to cancel graduation parties, as there were "concerns for children's lives and safety."
A similar rally took place in the city of Kharkov.
#Харьков Молодцы pic.twitter.com/ieoTAvmL0a

— Патриот (@NOVORUSSIA2015) June 1, 2014
Demonstrators also rallied in Odessa, protesting the military operation in the east of Ukraine. Hundreds of individuals came out and many brought their children.
Protesters drew anti-military slogans on the ground in front of the Trade Unions House, which was set on fire by nationalists earlier in May, killing dozens of people.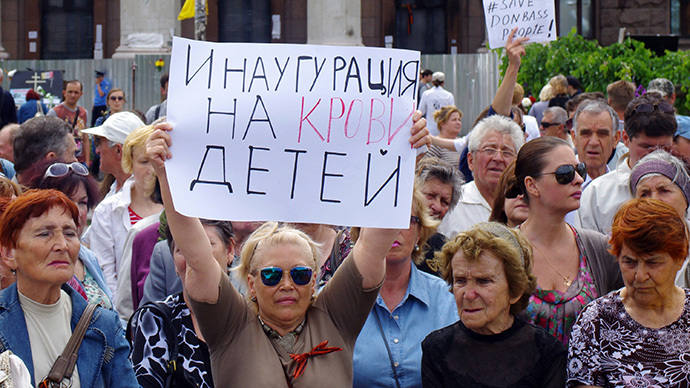 One woman held up a sign that said: "Inauguration by the blood of children." June 1 marks the International Day for Protection of Children.
Some of the other signs said: "No to war" and "We'll not forget, we'll not forgive." Police were present at the rally, and no incidents were reported.
An online action 'Save Donbass Children' has also been initiated via social networks. Donbass is an important industrialized coal mining area in eastern Ukraine. The city of Donetsk is considered the unofficial capital of Donbass, which is the most densely populated of all Ukrainian regions, excluding Kiev.
#savedonbaspeoplepic.twitter.com/SfnkjRkXEM

— Наран Ситняков (@naran_official) May 29, 2014
REPOST!Нас убивают!Спасите детей Донбасса от украинской армии.They are killing us #SaveDonbassPeopleFromUkrainianArmypic.twitter.com/9qBmnAdgtN

— Донецкая Республика (@dnrpress) June 1, 2014
Славянск pic.twitter.com/dNlDerlvuc

— Правдивая ПРАВДА (@Pravdiva_pravda) May 28, 2014
After parts of the South East of the country, including the town of Slavyansk, turned into a warzone, hundreds of children were evacuated from the region, but the Ukrainian authorities seized some of the transport carrying Slavyansk refugees. On May 31 a bus carrying women and children from the area was stopped at a border checkpoint by Ukrainian guards.
Evacuation from Donetsk has not been launched, as the city is blocked by Kiev's forces. The authorities of the self-proclaimed republic are talking of sending several buses with children to safety in Russia.
After the presidential elections, Ukrainian troops launched a military operation in the eastern city, deploying fighter jets and helicopters, aiming to gain control over its international airport. During the operation, traces of violence eventually shifted to Donetsk downtown and several civilians were killed by random fire.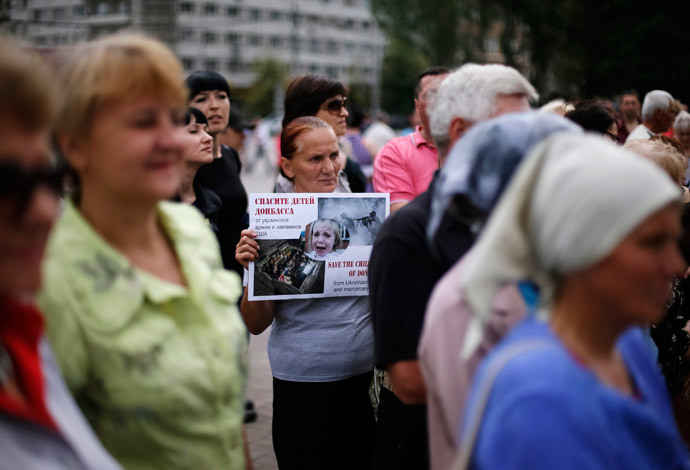 Kiev has mounted allegations against the region's militia, saying they are only targeting "terrorists" and not civilians, but militia fighters are using civilians as human shields, the commander of the operation has said. The central government intends to continue its massive military operation in the region until the situation "stabilizes."

Since April, Kiev has been engaged in an intensive military operation in the country's South East. The Donetsk and Lugansk regions had their independence from Kiev supported by a majority of voters in May referendums, proclaiming themselves "people's republics." The Ukrainian government does not recognize the regions' legitimacy, calling the opposition activists "terrorists."
You can share this story on social media: