'Material Evidence. Syria. Ukraine' on display in Berlin (PHOTOS, VIDEO)
Crimes against peace have become a central theme of the international photo exhibition that is now touring Germany. Scenes of misery and destruction in the Syrian and Ukrainian conflicts were handpicked by a jury to show the true face of the war.
Photo exhibition "Material Evidence. Syria. Ukraine" in Berlin is based purely on the material submitted by war correspondents illustrating "the evolution of the countries undergoing civil conflicts." It is organized in such a way that allows maximum visitor participation.
Besides unique photographs and multimedia displays, visitors have a chance to see some material evidence from the warzone. Gas masks, tire roadblocks and personal possessions of the victims are just some items found on display.
"This is a brilliant idea, to juxtapose photos and the materials that were present at the scene when the photograph was taken," Irina Schiemann, Assistant Organiser of the exhibition told RT. "Such an approach allows the visitor maximum absorption of the true nature of conflict. Every visitor notes that."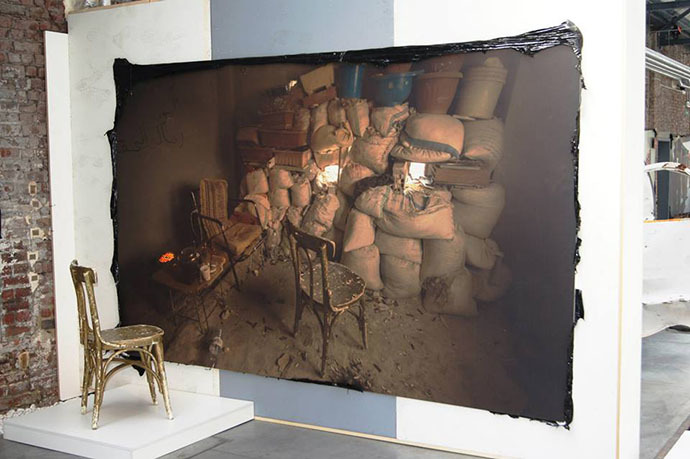 "In the last decades the international community has been observing, once again, a distortion of what is considered the 'rules of democracy', which are constantly broken by political dictatorships," organizers of the exposition say.
Democracy, they argue, should result in minimizing conflicts and confrontations. Instead, the drive for democracy is tainted in blood. "The consequences can be seen nowadays in Syria and Ukraine, as well as it happened and still happens in Iraq."
"What did really happen in Kiev and Crimea? Why did Ukraine end up like this? Who is taking advantage of the Syrian war and of what happened to this country?" are just some of the questions brought up by the exhibition.
All journalists, bloggers and public figures, sensitive to the "great injustice" of global conflicts were welcomed to submit their works to an international jury committee, comprised of public personas and celebrities from different fields, such as culture, society, politics, art and the press.
"Material Evidence" was organized by a Russian publication Zhurnalistskaya Pravda (Journalistic Truth). The organizers have managed to set prizes in six categories. The top prize of €20,000 for journalist research will be awarded by the jury at the end of the contest in December. The best documentary will receive €15,000, while special photographic report, news and best article winners are to be awarded a €10,000 prize.
The key winning criteria will be the "singularity and authenticity" of the submitted materials.