GCHQ operates secret Middle East spy hub in Oman – report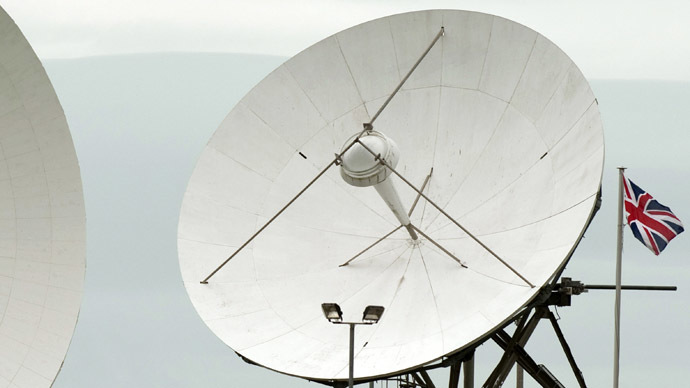 The location of secret British spy bases in Oman, tapping undersea cables in the Middle East, has up until now remained unpublished because of pressure from the government, according to a new article that reveals those details.
British intelligence agency Government Communications Headquarters (GCHQ) has three "above-top-secret" spy bases located in Oman, "where it taps in to various undersea cables passing through the Strait of Hormuz into the Persian/Arabian Gulf," Duncan Campbell reported for the Register, citing leaks by NSA whistleblower Edward Snowden. The bases, codenamed "CIRCUIT" reportedly focus on Iraqi and Yemeni communications.
NSA blowback: Top 8 political scandals sparked by Snowden leaks
GCHQ spends tens of million pounds annually to employ two telecom companies, BT (codename "REMEDY") and Vodafone Cable (codename "GERONTIC"), to "run secret teams which install hidden connections which copy customers' data and messages to the spooks' processing centres" and "install optical fibre taps or 'probes' into equipment belonging to other companies without their knowledge or consent." GCHQ calls in engineers from BT whenever it wants to tap into a new international fiber optic cable, Campbell wrote.
Currently GCHQ is believed to have access to more than 18 submarine cables coming into the GCHQ, including from transatlantic submarine cable Hibernia Atlantic, as well as three European connections.
But the actual locations of their "access points" on the underwater, international cables are considered "Strap 3," or three levels above Top Secret classification, while the names of the telecom companies are labeled one level lower, or "Strap 2."
According to Campbell, the British government threatened to move against the Guardian newspaper, one of the main publishers of Snowden leaks, after it posted "Strap 1" information on Project Tempora, which allows the UK spy agency to intercept and store for 30 days huge volumes of data, like emails, social network posts, phone calls and much more, culled from international fiber-optic cables.
"The Guardian was forced to destroy hard drives of leaked information to prevent political embarrassment over extensive commercial arrangements with these and other telecommunications companies who have secretly agreed to tap their own and their customers' or partners' overseas cables for the intelligence agency GCHQ," Campbell wrote in the article. "Intelligence chiefs also wished to conceal the identities of countries helping GCHQ and its US partner the NSA by sharing information or providing facilities."
Since the Guardian did not publish the information, the British government dropped its threat of injunctions against the paper, Campbell told Wired.co.uk.
Last August, Campbell revealed in the Independent the UK operated a secret station in the Middle East that tapped into international fiber-optic cables, but that newspaper would not reveal the exact location. He said the information came from Snowden leaks, but Snowden denied any contact with the investigative reporter.
"I have never spoken with, worked with, or provided any journalistic materials to the Independent. The journalists I have worked with have, at my request, been judicious and careful in ensuring that the only things disclosed are what the public should know but that does not place any person in danger," Snowden wrote in a statement published in the Guardian in August.
"It appears that the UK government is now seeking to create an appearance that the Guardian and Washington Post's disclosures are harmful, and they are doing so by intentionally leaking harmful information to The Independent and attributing it to others," he continued. "The UK government should explain the reasoning behind this decision to disclose information that, were it released by a private citizen, they would argue is a criminal act."
In the Register article, Campbell again cites the Snowden leaks. He refused to tell Business Insider how he got his information. "Journalists in the UK — just as in the US — do not reveal their sources, or respond to questions as to confidential sources. We protect them. That is our obligation and our duty," Campbell wrote in an email.
When Wired.co.uk asked him if he had copies of the documents he quotes, he responded, "I won't answer that question -- given the conduct of the authorities." But he went on to say, "I was able to look at some of the material provided in Britain to the Guardian by Edward Snowden last year."
He also pointed to the naming of one of the Omani locations involved in Circuit on Zone-Interdite, a website that finds covert bases around the world using photos from the public arena, as corroborating evidence.
Campbell told Wired.co.uk there was no reason to keep the exact locations hidden from the public. "This is not something that affects national security," he said. "The information has been reported before, and the site as you can see is perfectly visible and it's one of many things the UK government and GCHQ sought to suppress from entering the debate."
You can share this story on social media: