Erdogan accuses CNN of acting 'like spies'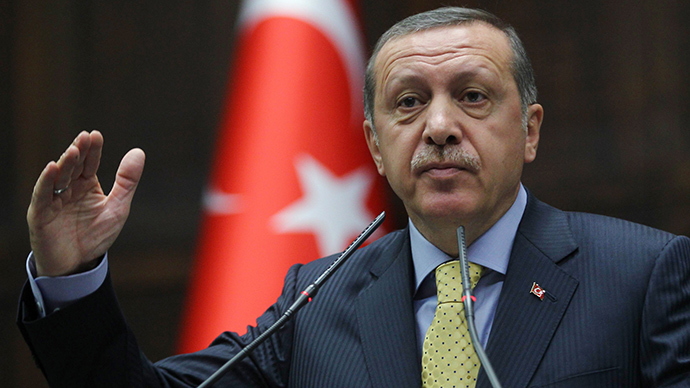 Turkey's prime minister has accused CNN of behaving like spies in an address to lawmakers from his ruling AK Party, after the US channel's reporter was arrested live on air last Saturday during a crackdown on protesters in Istanbul.
Recep Tayyip Erdogan ramped up his rhetoric against the western media Tuesday and blasted Ivan Watson, a correspondent for CNN International who was detained during a live broadcast on the anniversary of the Gezi Park protests on May 31.
This is not the first time Erdogan has criticized the activities of the foreign media in Turkey. Last year he accused them of being biased in their reporting of the Gezi Park protests.
"CNN International made an eight-hour broadcast during last year's Gezi events. Why? To stir up trouble in my country. This year, they have been caught red-handed," Erdogan said during a weekly address to his Justice and Development Party (AKP) in parliament.
"International media organizations who came to Istanbul for provocative and exaggerated broadcasts were left empty-handed," Erdogan added, in an apparent reference to the arrest of Watson.
The embattled Turkish PM, who has limited the freedom of speech in his own country, including slapping a ban on Twitter and YouTube, accused CNN of being spies.
"[CNN] doesn't care about a free, impartial and independent press. They are assigned to work like spies," he said.
Demonstrators who were marking a year since nationwide protests against Erdogan's increasingly authoritarian rule were violently dispersed by police Saturday.
In Istanbul, riot police fired tear gas and water cannon against protesters who had amassed on the city's side streets in order to stop them reaching Taksim Square, the center of last year's uprising. A total of 76 people were detained and 14 were injured in clashes with police, according to Turkey's Human Rights Association (İHD). Istanbul police chief Selami Altinok put the figure of arrests late Saturday at up to 120, the Anadolu news agency reported.
RT's correspondent Sara Firth, who was on the scene in Istanbul, tweeted that there were thousands of police in the area of the city surrounding Taksim. She was caught in the tear gas used by police officers.
The police detained Watson's news team as it was in the middle of a live broadcast on Taksim Square.
"Turkish police released the CNN team after half an hour. Officers apologized for another officer who kneed me while I was being detained," Watson said on Twitter.
Erdogan has also denounced Der Spiegel and the BBC's Turkish service over their reporting of the Soma mining disaster last month.
Der Spiegel was forced to withdraw their Turkey reporter Hasnain Kazim after he received death threats following his reporting of the mine disaster.
Turkish daily Today's Zaman reported that Kazim received around 10,000 threats from supporters of Erdogan's AKP Party via e-mail, Twitter and Facebook, after he wrote an article with the headline "Go to hell, Erdogan," a direct quote from a miner in Soma who was incensed at the prime minister's remark that mining accidents were natural disasters.
Last year's nationwide protests were initially sparked by plans to uproot trees in Istanbul's iconic Gezi Park next to Taksim Square and build a shopping mall on it.
Demonstrators complained that it was one of the last green spaces in the center of Istanbul, and the police's heavy-handed response caused the protests to mushroom in size and intensity.
Three weeks of violent protests followed, leaving six people killed and thousands injured. Another half a dozen people were killed in the ensuing months as the protests continued to simmer.
Erdogan has previously called the protesters extremists and accused them of trying to derail his government's economic achievements over the past few years.
Many of the protesters at Gezi who were from a variety of political backgrounds and mainly young, accuse Erdogan, who is a religious conservative, of authoritarian rule.
Erdogan also insisted in his Tuesday address that the police were evenhanded in their handling of the Gezi protests and promised to screen footage of police crackdowns in other parts of the world.
"So I don't have the right to defend my police? Can such a thing be possible? Go and do this in the United States. Go and do it in Britain and Spain. Those who continually show our police as a target should see how they act in the world," he said.