​Russia and NATO trade accusations of military build-up, fueling Ukraine conflict
Published time: 3 Jun, 2014 02:49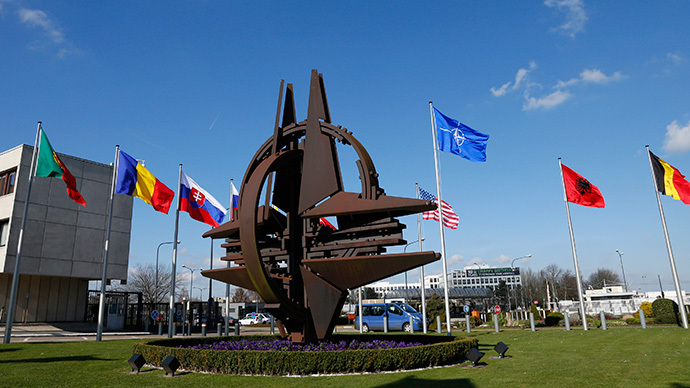 Moscow has accused NATO of encouraging Kiev's military operation in the east amid its own unprecedented activity near Russian borders while the alliance's chief during a peacemaking meeting in Brussels blamed Russia for illegal aggression against Ukraine.
"NATO is providing Kiev – a member of its Partnership for Peace program – with technical assistance, thus encouraging the prolongation of its use of force. Thus the Alliance accepts a part of the responsibility for the escalation of the situation, and the collapse of diplomatic negotiations," said Aleksandr Grushko, Russia's envoy to NATO, following a meeting that was initially called by Moscow.
Newly-elected Ukrainian President Petro Poroshenko – not recognized by the country's eastern regions which are demanding independence from Kiev – ordered a swift finalization of the military operation that has already resulted in hundreds of deaths, including many women and children.
In his post-meeting speech, NATO chief Anders Fogh Rasmussen said that Moscow is to blame for the crisis in Ukraine.
"The climate at the moment is not good – not because NATO wants it that way, but because of Russia's illegal aggression against Ukraine," he said.
Rasmussen urged Russia to "stop the flow of arms and fighters into Ukraine," and to "use its influence for the freeing of OSCE monitors taken hostage." A team of four people from the international organization – whose monitoring mission has been officially endorsed by Kiev, Moscow, and the West – were detained by local self-defense forces last week.
The sides also exchanged barbs over the build-up of forces on Ukrainian borders.
"We have noticed unprecedented NATO activity near Russia's borders. It is excessive, inappropriate, and weakens stability, security and predictability in the Euro-Atlantic region," said Grushko.
The Alliance has transferred additional naval forces to the Baltic and the Black Sea, and has also moved extra fighter squadrons into Poland. The increased presence will continue at least until the end of the year, according to US NATO envoy Douglas Lute.
In turn, Rasmussen has asked that Russia withdraw its own troops "completely" and "transparently" from its border with Ukraine. Although the removal of Russian troops from the border region was ordered by President Vladimir Putin ahead of Ukraine's presidential election a week ago, Western powers have so far refused to recognize the move.
In the words of Alliance spokesperson Oana Lungescu, the talks between Russia and NATO – which suspended all official cooperation with Moscow after the incorporation of Crimea in April – show "that there are fundamentally different views on this crisis, on its origins, on what is happening now and on how it should be resolved."
Following the failure of emergency talks to produce a hint of consensus, NATO member defense ministers are expected to be even more focused on Ukraine during their meeting in Brussels, which begins on Tuesday.