Sleeping drunks on streets of Japan turned into human billboards (VIDEO, PHOTOS)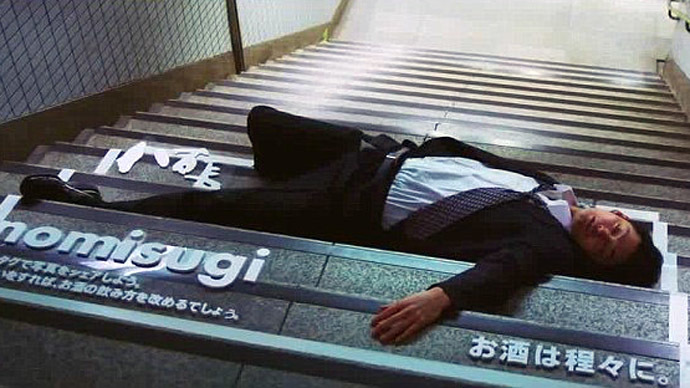 Sleeping drunks on the streets of Japan have been turned into human billboards in a campaign against excessive drinking launched by a local bar chain.
After a stressful week, Friday and Saturday are the days when hard-working Japanese men and women "let their hair down" by taking part in post-work 'drinking until you drop,' says Yaocho Bar Group, which launched the alcohol awareness campaign.

Combined with a low alcohol tolerance common among the Asian population, consequences of the wild weekend partying can be less than ideal.

During weekend nights, thousands of people can be found sleeping on the streets after having too much to drink. This is considered normal behavior in Tokyo, according to the popular bar chain.

"So we decided to address the issue," Yaocho Bar Group said.

Armed with duct tape and several printed sheets of cardboard, they made impromptu advertisements on the most popular and crowded streets of the capital.

Video of the campaign - created by Ogilvy & Mather together with Geometry Global - shows heavy drinkers passed out in the streets being turned into human billboards.
The campaign encourages people to take photographs of the sleeping drunks and upload them to social networks with the hashtag #nomisugi ("too drunk").

"As honor is paramount in Japanese society, we shamed people into drinking moderately or risk becoming our next Sleeping Drunk Billboard," the campaigners say.
アーティスティックな酔っ払い #nomisugipic.twitter.com/3zWkfqeo4v

— じゃがいもさん (@imaicci) April 25, 2014
#Nomisugi in Shibuya pic.twitter.com/SuZE5guE00

— nicholas (@coldicott) April 20, 2014
明日は我が身 #nomisugipic.twitter.com/zaP1Rx36QZ

— 160 (@160_160product) May 29, 2014
This idea and campaign is both brilliant and surprising for #Japan.. #LT#nomisugipic.twitter.com/RTEC37X1X6

— Tristan Lavier (@trilavier) May 30, 2014
#nomisugipic.twitter.com/5kjmEzLmeY

— David Rittenhouse (@media_director) May 21, 2014
The heavy drinking phenomenon has been addressed by Japanese media in recent years. Meanwhile, photos of intoxicated office workers are popular on social networks, with separate pages dedicated to the issue. For example, a Facebook page called "I Love 'Salaryman' in TOKYO" has various photos of suit-wearing professional men passed out in various locations including streets, trains, bus stops, metro stations, and other public places.
You can share this story on social media: