Police seize almost 100 kilos of marijuana from jobless Russian
Published time: 28 May, 2014 11:08
Edited time: 28 May, 2014 11:45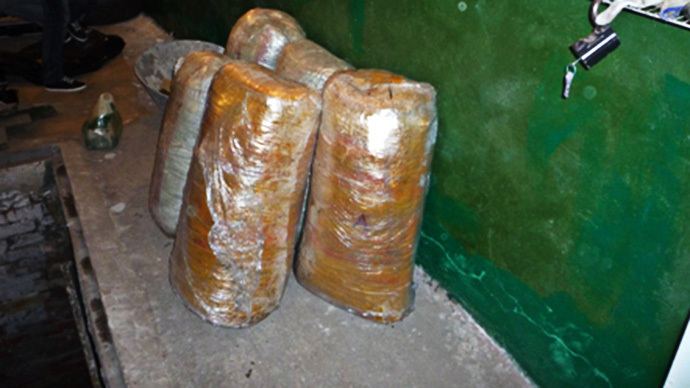 An unemployed man in Chelyabinsk in the Urals region has turned out to be a drug lord, selling marijuana by the kilo. After police detained the big dealer, they found a little less than 100 kilos of weed in the man's three garages.
Now the 37-year-old man could face up to 20 years behind bars. And that's a bit of luck for him, Chelyabinsk drug police believe.

"If the seized marijuana weighed 100 kilos or more, he could get a lifetime conviction," the police's official statement says.

The law enforcers started suspecting the man after they had intercepted several stashes of the drug around the city. The clues they got led them to a man, who despite being unemployed managed to rent three garages and an apartment, where he lived with his wife and little son.

Police surveillance revealed the man was selling marijuana in quantities that were no less than one kilo at a time.

The Chelyabinsk big dealer was eventually caught red-handed, while selling another load of the drug.

Apart from 100 kilos of marijuana, the law enforcers also seized 500 grams of hash, a shotgun and bullets in the suspect's hideouts.