Brazilian police clash with indigenous groups protesting World Cup (PHOTOS)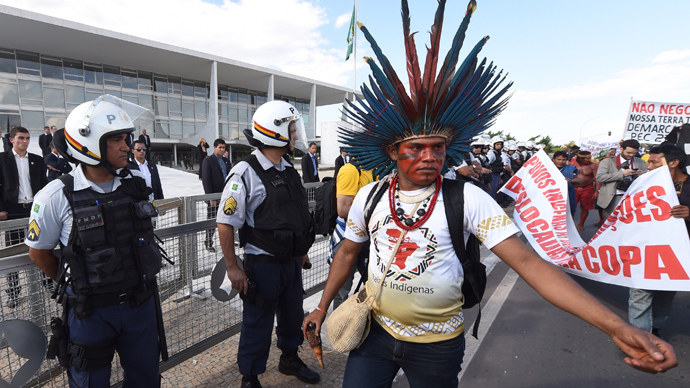 Police in Brasilia responded with tear gas when anti-World Cup demonstrators, about half of which were indigenous peoples, marched on the Brazilian capital and briefly occupied the roof of the parliament building.
The group of some 1,000 protesters moved towards the city's World Cup stadium in a show of defiance against the large sums of money the state has spent to host this year's football event.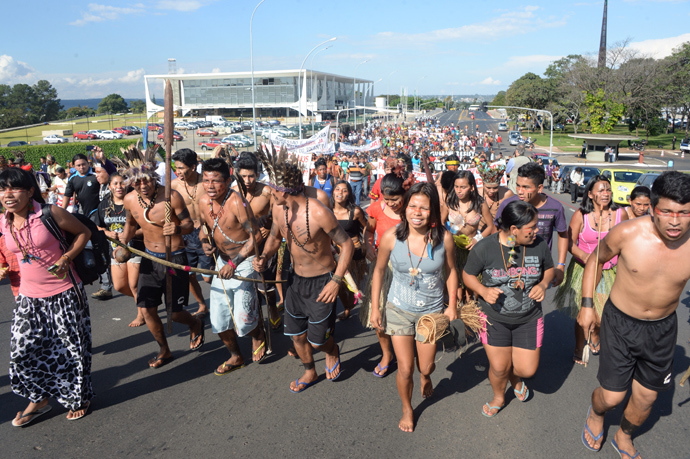 Traffic was snarled during rush hour in Brasilia as demonstrators congregated around the Mané Garrincha National Stadium, built to host some of the soccer tournament's matches during the 32-nation football event which will kick off on June 12, Reuters reported.
At one point, a group of some 500 Amerindians wearing traditional indigenous clothing scaled the walls of Brasilia's parliament building. According to demonstrators, Brazil's government has spent too much on the infrastructure to host the World Cup, believing the amount is especially excessive for a developing nation.
The South American nation is still struggling to complete its stadiums and transportation systems in time for the World Cup, while at the same time the event has become a magnet for protests and a symbol of government corruption and misplaced priorities.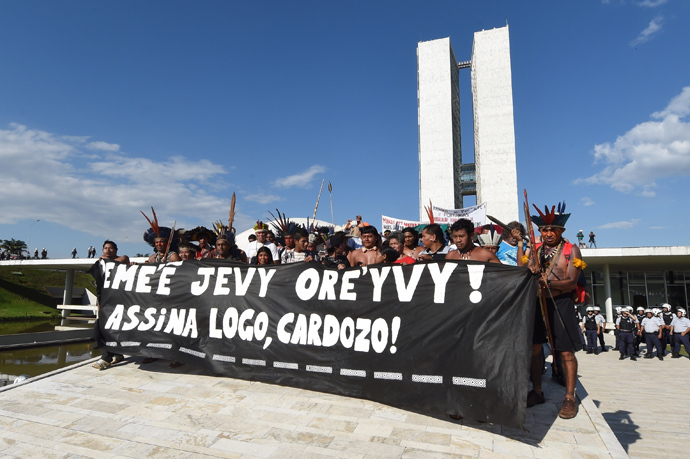 Tuesday's protesters alleged that real estate prices have soared in the run-up to the World Cup, pushing lower-income families out of the areas adjacent to the tournament's facilities. The games are expected to attract about 600,000 visitors to Brazil.
The World Cup stadium in Brasilia will cost US$849 million by the time it is complete – three times its initial budget, according to city auditors cited by Reuters.
Though there have been numerous protests in the run-up to the football tournament, Tuesday's demonstration by Brazil's Indian community was a new development. The indigenous groups in the country, which number about 800,000 (close to 0.5 percent of the country's population), routinely march on the capital to protest moves to redefine the boundaries of Brazil's reservations.