If you're assaulted at the World Cup, 'don't scream' say Brazil police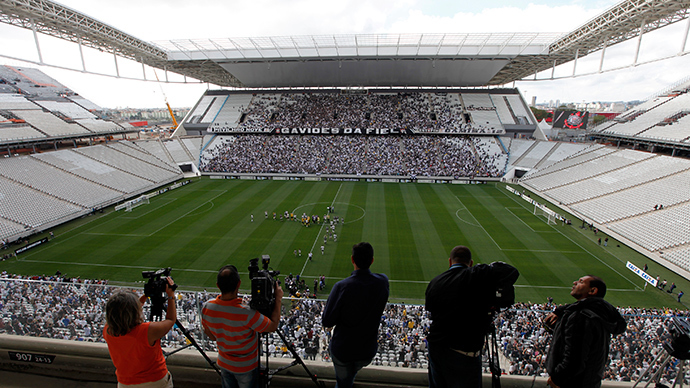 Brazilian police have warned World Cup visitors not to scream if they are robbed. This comes among other tidbits of cautionary advice issued to intrepid sports fans visiting the country from June this year, in a pamphlet issued by Sao Paulo police.
"Do not react, scream or argue," the brochure states. The Sao Paulo police, who put the document together, are reportedly attempting to keep criminal and violent incidents to a minimum.
The main warning is to help reduce harm caused by armed robbery - robbery followed by death, known as latrocinios – committed against those who have no idea how to behave in a city as violent as Sao Paulo, according to the local paper, Estadao Sao Paulo.
The crime of 'latrocinios' has become an increasingly widespread concern. "Tourists come mainly from Europe and the United States, where they do not see this crime very often," President of the World Civil Police of Sao Paulo's Cup Management Committee, Mario Leite, told the paper.
Pamphlets will be published in English, Spanish, French and Portuguese. "They will know that they should not walk showing off specific items, exercise caution walking alone at night, and be accompanied," stated Leite.
He advised, at the risk of sounding paranoid, to always try and treat the journey as if someone was following or watching them.
"There is no use crying over spilt milk," he stated, explaining it is necessary to be pragmatic in regards to the realities on the ground.
At least 600,000 foreign travelers are expected during the World Cup in Brazil, from June 12 to July 13.
Brazil itself has one of the globe's highest murder rates. The UN Office on Drugs and Crime stated in 2012 that some 25 people are killed for every 100,000 of the population.
Other measures being taken include language training for police, as well as the establishment of a 'talent bank' to be filled with fluent foreign language experts, and the securing of paths from hotels to stadiums.
You can share this story on social media: