Barroso to Putin: Gazprom responsible for steady transit to Europe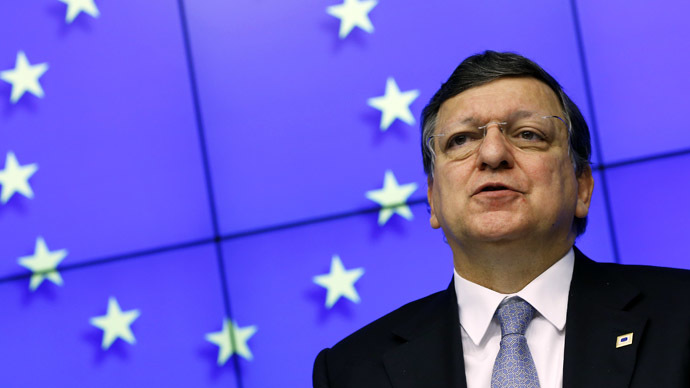 Gazprom should stick to existing contracts with Europe and gas supplies shouldn't be interrupted, EC President Jose Barroso wrote in a letter to President Putin. It comes at a time when the escalating conflict in Ukraine threatens to disrupt gas tarnsit.
"It … continues to be Gazprom's responsibility to ensure the deliveries of the required volumes as agreed in the supply contracts with European companies," European Commission President wrote in a letter published Wednesday.
"I also recall that the European Union expects the Russian Federation to activate the early warning system well in advance if ever the need arises," Barrosso added.
Gazprom CEO Aleksey Miller warned on May 12 that if Kiev failed to pay its gas bill by June 2, exports to Ukraine would come to a halt the next day. Such a scenario naturally worries Brussels, as 50 percent of Europe's gas supplies enter the continent via Ukraine from Russian supply lines.
Barroso's letter is in response to one sent by Putin last week that said Gazprom, starting in June, would only deliver gas to Ukraine if paid in advance.
"Given the circumstances, the Russian company has issued an advance invoice for gas deliveries to Ukraine, which is completely in accordance with the contract, and after June 1 gas deliveries will be limited to the amount prepaid by the Ukrainian company," Putin said in the letter.
The Russian leader also said that Ukraine's gas debt to Russia continues to grow, and now stands at $3.5 billion.
Barroso mentioned the ongoing trilateral talks between Brussels, Kiev and Moscow that are centered on the "issue of the price for gas supplies to Ukraine," as well as establishing "the willingness of the Government of Ukraine to pay the agreed upon arrears" owed to Russia.
The Commission President described it as "imperative" that the parties agree on a future price for gas supplies that "reflects market conditions."
Barroso revealed in his letter that the EU and "other international donors" have already given "significant support" to Ukraine and will continue to "remain committed."
The letter was posted on the European Commission's website the same day Moscow was celebrating a $400 billion dollar gas deal with China that will provide energy supplies to the world's economic powerhouse for the next 30 years.
You can share this story on social media: