Back from the dead: 'Executed' N. Korean singer makes live appearance on State TV
A North Korean singer, believed to be a former girlfriend of leader Kim Jong-un, has made a surprise comeback on state television. Earlier blood-chilling reports claimed she had been executed by firing squad in 2013.
Getting accurate information out of the world's most secretive country is never easy and can often lead to revelations worthy of Monty Python's "I'm not dead yet" refrain. Such was the case with Kim Jong-un's uncle getting ripped apart by dogs in an execution extravaganza, which emanated from a satirical blog entry. The Onion stories apparently not having taught many news outlets anything, that report spread like wildfire.
Now there's singer Hyon Song-wol, leader of the group Moranbong, performing her famous 'Excellent Horse-like Lady'.
In August 2013, South Korean newspaper Chosun Ilbo, which has close links to Seoul's intelligence services, stated that the singer, together with 11 other well-known performers, had been executed after they had been caught making a sex tape.
"They were executed with machine-guns while the key members of the Unhasu Orchestra, Wangjaesan Light Band and Moranbong Band, as well as the families of the victims looked on," sources were quoted as saying at the time.
Nam Jae-joon, South Korea's spy chief, added weight to the reports in October when two MPs quoted him as telling a closed parliamentary session, "We are aware of the execution of some 10 people associated with the Unhasu Orchestra."
Hyon was reported to have fallen out of favor with the party's elite last summer after having incurred the displeasure of Ri Sol-ju, the North Korean leader's wife.
However, fast forward eight months and the singer is making an appearance on state television, in which she praises Kim Jong-un.
On Friday, she was filmed delivering a speech at a rally of national art workers in the capital, Pyongyang. There she pledged to work harder to "stoke the flames for art and creative work," the Telegraph reported.
'Critical thinking just goes out the window on N. Korea'
North Korea is wary of official comment, which contributes to speculation and helps create the image of a global scarecrow. In the case of Kim Jong-un's uncle, state officials in Pyongyang confirmed that he had been executed on December 12, but did not give any details.
In December 2013, the official KCNA news agency said that Kim's uncle was guilty of "attempting to overthrow the state." The government called Jang Song-thaek "despicable human scum...who was worse than a dog."
Perhaps this was the comment on which a blogger critical of North Korea built up his satirical piece asserting that Jang was executed by a pack of dogs. Hong Kong-based Wen Wei Po newspaper picked up the story. The report was later noticed by the Singapore-based Straits Times and then taken up by major US and European media outlets.
In 2012, the Chosun Ilbo newspaper alleged that Kim Jong-un used barbaric methods, including mortar rounds, to execute high-ranking military officials.
"When Kim Jong-un became North Korean leader following the mourning period for his father in late December, high-ranking military officers started disappearing," the daily's source said. "From information compiled over the last month, we have concluded that dozens of military officers were purged."
The source added Kim Jong-un ordered loyal officials to "get rid of" anyone caught misbehaving during the mourning period for his father, Kim Jong-il.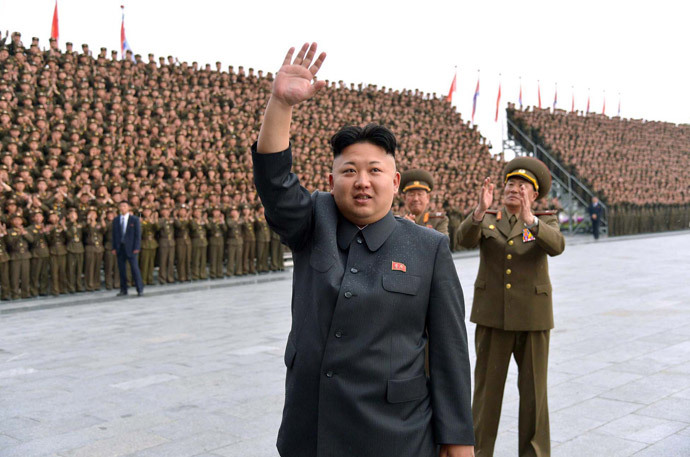 One of those to fall foul was an assistant chief of the Ministry of People's Armed Forces, who was found to be drunk during the period of mourning. According to reports from the newspaper, rather than being executed by a firing squad, he was killed by a mortar round, which was in line with Kim's orders to leave "no trace of him behind, down to his hair."
Following this report, criticism was sparked even in the US. Michael Madden, editor of North Korea Leadership Watch, cautioned in Foreign Policy that such stories of official purges can be wildly exaggerated without the ability to verify facts.
The mortar story, he concluded, is probably a deliberately circulated rumor to intimidate other military officials, due to the triviality of the offense and its reemergence in the media.
"Little snippets of information are imaginatively threaded together by creative diplomats or intelligence officials ... and peddled to journalists working in the hyper-competitive South Korean and Japanese media markets," he wrote.
"Critical thinking just goes out the window on North Korea," NK News founder Chad O'Carroll told the World Post. He warned that while news outlets in Japan and South Korea have greater access to information about the North's regime, some of their media readily carry reports coming from a single anonymous source, as opposed to official UN documents. These stories are often later debunked.
You can share this story on social media: