Lavrov: Russia's relations with EU, NATO need 'rethinking'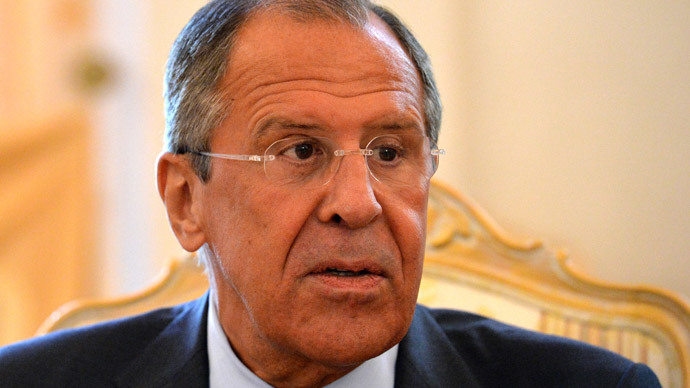 Russian Foreign Minister Sergey Lavrov stated, during talks with his Slovak counterpart Miroslav Lajcak, that Russia's relations with the EU and NATO need to be reviewed.
"We will discuss international affairs, including the European situation, on what is happening in relations between Russia and the EU, and in the NATO-Russia Council in regard to the crisis in Ukraine," Lavrov said in the talks with Lajcak, who arrived in Russia on a working visit on Sunday.
"These relations require essential rethinking, and with both our partners in the European Union and with NATO member states we are trying to conduct an analysis in order to better understand where we are, what our coinciding assessments are, and where we have disagreements," Lavrov added.
During the meeting, Lavrov also spoke out about the detention of two Russian journalists by Kiev's military on Sunday, demanding their immediate release.
"We are concerned that during combat actions, which are led by [Ukrainian] armed forces with the participation of radicals, extremists, militants of the Right Sector and other groups, some journalists are suffering. Very often they are detained, faced with fictitious demands, which do not fit into generally recognized norms. The latter concerns two journalists from the LifeNews channel," Lavrov stated.
The rhetoric follows NATO foreign ministers saying last month they were suspending practical cooperation and military ties with Russia over the Ukrainian crisis. However, the contacts of the NATO-Russia Council (NRC) at the level of ambassadors and higher would continue, the bloc stated.
Russian officials have repeatedly said that Moscow was not seeking confrontation with NATO, but was ready to take all political and military measures to ensure its security.
Since March, the US and EU have imposed targeted sanctions against Russian officials, freezing their assets and banning them from obtaining visas; this includes action against 17 Russian companies.
Moscow has repeatedly declared that the language of sanctions is "inappropriate and counterproductive" and warned its Western partners about the "boomerang effect" that sanctions would have.