New talks on Ukraine doubtful unless opposition takes part – Lavrov
Russia's foreign minister has expressed his doubts over international talks on Ukraine, saying all forces in the country should be present at the negotiating table.
"Once again gathering in the same format, when the opposition to the current regime in Ukraine is absent from the negotiating table, this will hardly change anything," Lavrov said at a news conference on the sidelines of a Council of Europe ministers' meeting in Vienna. "It's possible [to continue on this path] of course, but we will just go around in a circle and once again speak about how everything that we've agreed on needs to be implemented."
Lavrov said he remained hopeful that national dialogue could produce results in Ukraine.
"We are convinced that there is a way out of the crisis. It can be found exclusively on the basis of a national dialogue," - he said, adding that it should take place between the western and eastern regions of the country.
#Lavrov: Holding elections while the army is being used against part of the population is rather unusual. After all, this is not Afghanistan

— MFA Russia (@mfa_russia) May 6, 2014
Ukraine is scheduled to hold a presidential election May 25. But Lavrov said it would be "unusual" to hold a poll when the regime in Kiev was conducting military operations in the southeast of the country.
"Carrying out an election in a situation when the army is being used against parts of the population – that is sufficiently unusual. This isn't Afghanistan, where a war is going on, and nonetheless, elections were held," he said.
The absence of violence would be one of the criteria by which Russia judges the legitimacy of the presidential election, as well as the upcoming referendums in Donetsk and Lugansk, Lavrov said.
"Elections and referendums must be free, fair, and take place in an environment that excludes violence, and be held under object and impartial international monitoring," Lavrov said. "Depending on how all these criteria are met, we will determine our attitude toward events."
For Kiev to de-escalate the conflict, it must cancel the order deploying the army and national guard against the population of southeast Ukraine, he said.
"I'm quoting to you an announcement made by NATO's ministers of defense this past February, in which they demanded that the army not be allowed to interfere in the political process, and [further] demanded that the army remain neutral. That was when the fully valid president was Viktor Yanukovich," Lavrov said.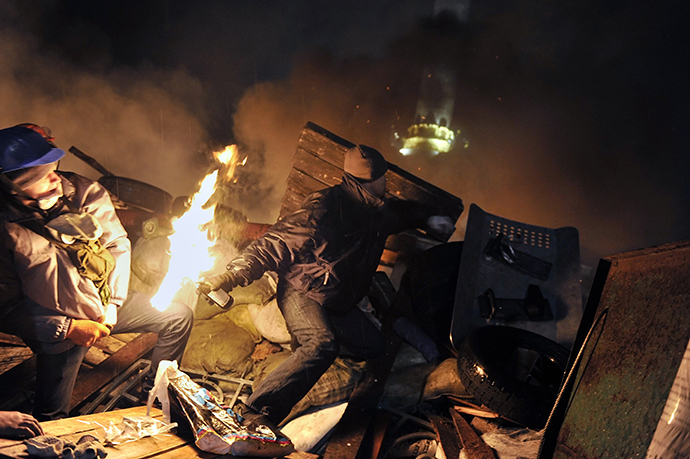 But now the leadership of the EU has changed their tune, Russia's FM added, saying that Kiev "has every right to use the army to carry out the so-called anti-terrorist operation, and that all this is justified because the state has a monopoly on the use of force."
Describing the EU's stance as contradictory, Lavrov said that in the event where the army had been called up to fight its own people, the obvious step towards de-escalation was the "cancellation of such an order."
Lavrov said he would discuss the possibility of holding new international talks on Ukraine with his German counterpart, Frank-Walter Steinmeier, on Tuesday. He added that the chairman of the Organisation for Security and Cooperation in Europe (OSCE), Swiss President Didier Burkhalter, was scheduled to visit Russia on Wednesday.
'West turns blind eye to Odessa massacre reasons'
In his speech at the Council of Europe ministers' meeting, Russia's foreign minister touched upon the events in Odessa on May 2 that saw 46 people killed and another 214 injured after Right Sector radicals set fire to the local Trade Unions House.

"Despite the West condemning the Odessa tragedy, it's still trying to turn a blind eye to its true reasons," FM Sergey Lavrov said.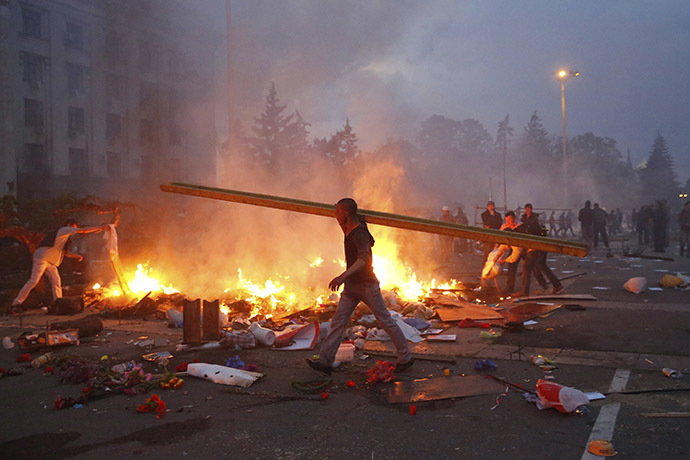 What happened in Odessa, a Ukrainian port on the Black Sea, last week was "an explicit manifestation of fascism," he said.

Those, who organized this mass killing and "rejoiced" over the number of dead bodies, "never hid the fact that they were celebrating victory over the Russians," Lavrov said.

"None of the radicals behind this heinous crime have been arrested. The authorities in Kiev have expressed vague condolences, declared mourning and have begun an investigation. However, few will be surprised if the investigation will be 'buried' as happened with the case of snipers shooting to kill in the Ukrainian capital in February," he said.

The fate of Odessa "was prepared for Crimea, but its multiethnic population managed to defend their future with Russia's help," the foreign minister said.

Meanwhile, Ukraine said it is ready to back a new round of talks in Geneva in an effort to de-escalate tensions as long as Moscow supports the presidential elections, Ukrainian acting Foreign Minister Andriy Deshchytsia said on Tuesday.

"If Russia is ready to commit itself to support these elections and to eliminate this threat and eliminate its support for the extremist elements in Ukraine, we are ready to have such a round of meetings," Reuters cites him as telling a news conference after a Council of Europe meeting in Vienna on the crisis in Ukraine.

Deshchytsia said his government could support another round of Geneva talks if all the parties agreed to implement any document that would be agreed there. "But ... the priority for Ukraine is to hold the presidential elections."
You can share this story on social media: