Interpreter of Khrushchev's 'We will bury you' phrase dies at 81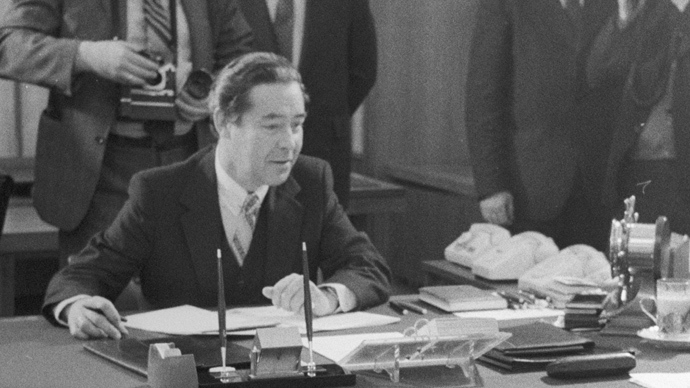 Viktor Sukhodrev, the interpreter dubbed the "shadow of Soviet leaders," has died at the age of 81. A translator for Nikita Khrushchev, he was the one to utter the words "We will bury you," as said by Khrushchev to Western delegates during the Cold War.
Due to his job responsibilities, Sukhodrev always had to stay close – not further than one meter away – from a state leader, be it Nikita Khrushchev, Leonid Brezhnev, or Mikhail Gorbachev. Because of this, the renowned interpreter was often seen in photographs and video footage from some of the most important political meetings of the 20th century. After the fall of the Soviet Union, a retired Sukhodrev shared numerous "backstage" stories in his interviews and memoirs.
Sukhodrev, who was born in 1932 and spent his childhood in London, became the English language voice of Soviet leaders when he began his career in 1956. Over the decades, he interpreted the voices and views of Soviet politicians to seven American presidents, from Dwight Eisenhower to George Bush, and was one of just a few Soviet officials to have met all of them in person.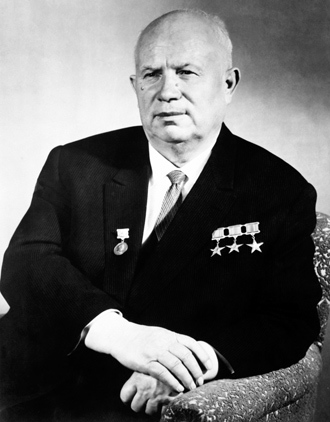 The "king of interpreters," as The New York Times named him, often said that Nikita Khrushchev was one of the most difficult people to translate. Khrushchev, a Soviet leader from 1953 to 1964, used a lot of scandalous statement, cheesy jokes, and liked to spice up his speeh with proverbs (usually Ukrainian ones) that Sukhodrev had never heard before.

"I worked with Khrushchev for many years, he was an uneducated person and he also didn't like to read pre-edited texts. He liked to improvise, spoke plainly, and was fond of discussions and arguments. That is why he liked meetings with journalists: the sharper the question, the more he enjoyed it, because his answer could also be sharp," Sukhodrev once said.
The interpreter witnessed the famous shoe-banging incident, which occurred during a plenary meeting of the UN General Assembly held at the United Nations. Khrushchev pounded his shoe on his delegate desk in protest of another politician's speech.

Sukhodrev said: "He later explained that he was so furious at a delegate's speech that he started banging his fist on the desk, which made his watch stop. He became even angrier that, because of some 'capitalist cad,' a good thing got broken. It made him so disappointed that he had to take his shoe off...by the way, it wasn't a boot, it was a sandal shoe. Khrushchev preferred wearing sandals in the warm weather."

Despite all difficulties, the interpreter said Khrushchev was probably his favorite boss, as he enjoyed the challenge. One of the most daring was perhaps the Cuban Missile Crisis of 1962, which is regarded as the very moment when the Cold War could have turned into a nuclear conflict.

Nikita Khrushchev's famous "We will bury you" – a phrase used by the politician while addressing Western ambassadors at a reception in Moscow in 1956 – was also translated by Sukhodrev, and it was "an exact interpretation," according to the interpreter.

The full quote was: "Whether you like it or not, we are on the right side of history. We will bury you." But media took it out of context and the result was disastrous.

The interpreter later explained that Khrushchev was referring to the inevitable course of history, when one society – such as feudalism, capitalism, socialism, and then communism – gives way to another. "He meant historical evolution. If one society dies off, somebody's got to be there to bury it," Sukhodrev said during an interview with RT.

Although nothing was lost in translation with Sukhodrev, his colleagues often pointed out that he made Soviet leaders sound more educated, noble, and smart. He was also recognized as a master of his craft who was able to switch effortlessly from a British accent to an American one.

Leonid Brezhnev also used Sukhodrev's service. The interpreter said that unlike Khrushchev, who was a very curious person, it was difficult to interest Brezhnev.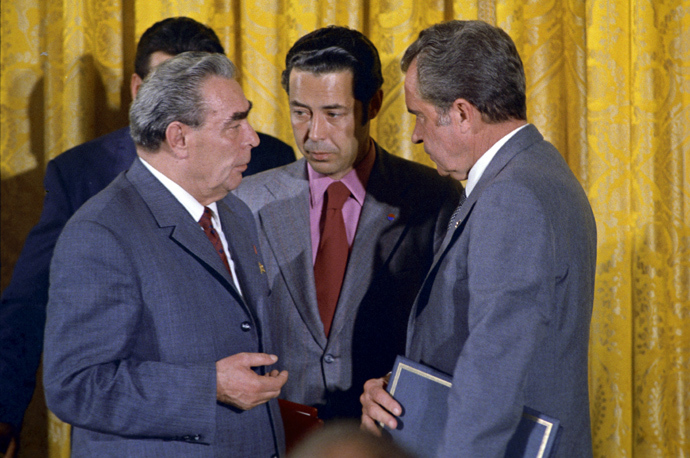 Once on board Richard Nixon's plane, Brezhnev woke to see the spectacular Grand Canyon – and wasn't impressed at all. But, according to Sukhodrev, he liked gifts, especially cars. When given a Lincoln by Nixon, Brezhnev drove it at high speed with great pleasure. Later, in Moscow, Sukhodrev helped the leader deal with a repair parts catalog.

Sukhodrev spoke of his work with various European leaders. He mentioned that then-British Prime Minister Margaret Thatcher was tough – a real Iron Lady. "It's amazing how we, intending to jab her – it was our propagandists who came up with the 'Iron Lady' term – gave her a big compliment. It became her main characteristic and merit."

When talking about politicians of our age, the interpreter complimented Barack Obama – or rather his tongue. "I like listening to Obama, because I think he speaks very good American English. I can compare him to the presidents I've met all the way up to Kennedy, who also had wonderful and very literal American English and spoke perfect language," Sukhodrev told RT.

Sukhodrev retired in the mid-1990s. In 1999, the "general of interpreters," as many called him, published a book titled 'My tongue Is My Friend.' Dubbed by many as a great read on the history of the 20th century, the interpreter pointed out that the book was based on memories of his 30 years of service – not archives. When asked about his part in making history, he said "they formulated it – I interpreted it."

Sukhodrev died from cardiac arrest in Moscow on Friday. A memorial service will be held on Monday.
You can share this story on social media: