EU policy to blame for Ukraine crisis - Ex-Chancellor Schroeder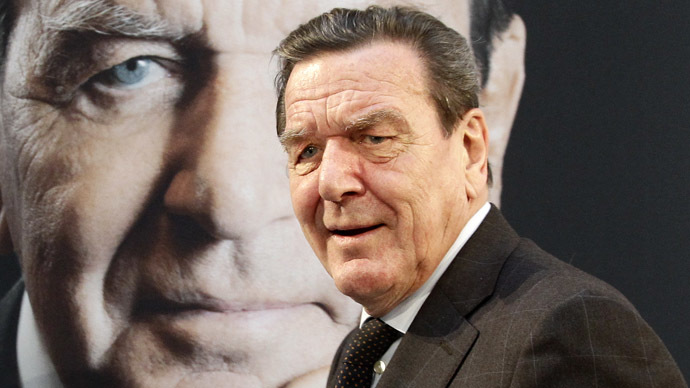 Germany's former Chancellor Gerhard Schroeder has blamed European Union policy for the current situation in Ukraine and urged the West to stop focusing on new sanctions against Russia.
In Schroeder's opinion, the EU's fundamental mistake - that subsequently led to the ongoing crisis in Ukraine – was its association policy, he said in an interview with German newspaper Welt am Sonntag published Sunday.
Brussels "ignored" Ukraine's deep cultural division between traditionally pro-European western regions and Russia-leaning regions in the east, the former chancellor said.
Kiev, however, had to pick either an association with the EU or a Customs Union with Russia, Schroeder said. He suggested that it could have been more reasonable if the former Soviet republic was offered an alternative when it could do both.
Asked whether it was the corrupt system and government in Ukraine that led to the unrest, Schroeder agreed that that was also true, but, at the same time, Yanukovich came to office through a free election.
Initially, protests in Ukraine began in November, after President Viktor Yanukovich put on hold the signing of the association agreement with the EU, because, as he explained, at that moment it would be against national interests.
The decision sparked months of fierce protests on Kiev's Maidan square which ended with a February coup and the ouster of Yanukovich. Since then, the epicenter of bloody unrest has moved to eastern regions where many oppose to the new Kiev government, the republic of Crimea decided to rejoin Russia.
Schroeder admitted that the situation with Crimea joining Russia might be controversial in terms of international law, but that has already happened after the republic decided to be part of Russia via a referendum.
The interview comes amid diplomatic confrontation between Russia and the West over the situation in Ukraine, with western countries accusing Moscow of the developments and punishing it with sanctions.
Last week, French President Francois Hollande and German Chancellor Angela Merkel threatened Russia with new sanctions if Ukrainian May 25 presidential election does not go ahead as planned.
The former German Chancellor believes, however, that sanctions and isolation would bring no result. A dialogue and respect of mutual interests could pave the way to a solution, he said, adding that trying to understand the opponent's arguments would also be helpful.
"One should be speaking less about sanctions right now but instead about Russia's security interests," Schroeder stated, adding that Ukraine's membership of NATO would not be acceptable for Moscow. "I keep hearing that the West 'has to isolate Russia and Putin'."
Schroeder's advocacy of Kremlin's policies and his closeness with President Vladimir Putin have been stirring up sharp criticism and even irritation in the West amid tensions over Ukraine.
In April, the former chancellor came under fire from the media as photos were published of him hugging Putin in St Petersburg where he reportedly was celebrating his 70th birthday.
Schroeder's spokesperson confirmed on April 29 that he was in the Russian northern capital for a shareholders' meeting of Nord Stream AG, the Russian-German pipeline joint venture that he chairs. However, back then spokesman Albrecht Funk did not say why the former Chancellor met with Putin.
Official Berlin rushed to distance itself from Schroeder saying that Schroeder does not represent the German government.
"It should be clear to everyone that Mr. Schroeder left active politics some time ago," a senior German government official said when asked about the pictures, Reuters wrote.
In response to attacks in the media the ex-Chancellor pointed out that Putin "is not a persona non grata." Speaking about the warm hug with Putin, Schroeder said he and the Russian president have been greeting each other that way since they've known each other – for more than 14 years – and he was not going to change that even in difficult times.
"I was really pleased he was able to come, because I knew there would be a chance to talk," he told Welt am Sonntag. He said they talked about Ukraine. "And as far as the situation with theOSCE observersgoes, it led to a successful result. I used the chance to ask President Putin to help free the hostages."
You can share this story on social media: