Fatalities, injuries in Ukraine's Krasnoarmeysk as national guards open fire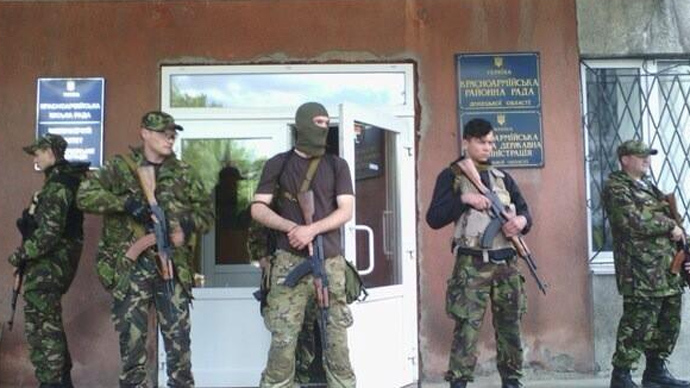 Two civilian were killed and several others wounded in eastern Ukraine as the National Guard started shooting at protesters and voters, who had gathered around a seized polling station in Krasnoarmeysk, self-defense forces and witnesses said.
WARNING: GRAPHIC CONTENT
The National Guard entered the city in the Donetsk region earlier on Sunday and occupied several polling stations, the city council building among them. First reports on shooting appeared on Twitter.
"I just saw the National Guard kill one and injure several others," Russian journalist Ilya Azar wrote in his micro-blog. Later this was confirmed by Denis Pushilin, the co-chairman of the self-proclaimed People's Donetsk Republic.
"People were just standing there, unarmed, outside the city council seized by the Guard," Azar tweeted commenting on a photo of the dead young man:
Это убитый в красноармейске. Просто люди безоружные стояли у захваченного нацгвардией горсовета pic.twitter.com/VJyzYn2bSE

— iлля¯\_(ツ)_/¯няшмяш (@A3AP) May 11, 2014
"One casualty, one injured from what I have seen," said Monica Kalinowska, Ruptly field producer currently there, on her Twitter. Other unconfirmed reports on Twitter say at least three others sustained wounds.
One of those injured died on his way to hospital, while another one is now being treated after sustaining a gunshot wound to his leg.
"Before the shooting took place in Krasnoarmeysk people were negotiating with the 'national guards' in the administration building.They have told people that they are here peacefully and were asking for cigarettes, next thing we know they start shooting."
"We are lying on the ground. Burst fire over our heads," Timur Olevskiy, correspondent for Echo Moskvy radio station wrote in his Twitter page. "The killed person had pushed a guard. I didn't see it. The people standing closer said."
"Honestly, they killed him for nothing. In a snap. That's all. Why? Many are in a shock," he added.
A disturbing video from RT's Ruptly video agency shows several National Guard mercenaries blocking the entry to the city council headquarters used as a polling station, and firing at locals.
Krasnoarmeysk, together with many other places in southeastern Ukraine, has been conducting an autonomy referendum. Following the National Guard's interference, the voting was stopped. Four schools got seized by masked men; all the people had to be evacuated.
"They threatened us and said that they were sent by the Kiev authorities," Sergey, a local resident, told RT.
By that time, over 47,000 people had cast their ballots, self-defense forces said.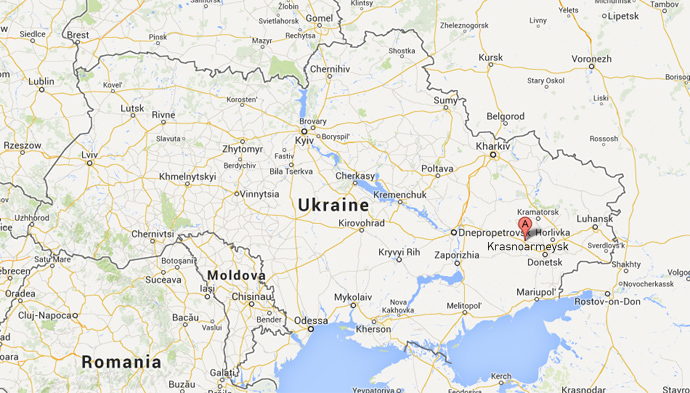 You can share this story on social media: