Lugansk and Donetsk regions vote for self-determination
Polling stations have closed in Ukraine's self-proclaimed People's Republics of Donetsk and Lugansk after a referendum on independence from the Kiev government. The turnout reached over 70 percent, according to organizers of the poll.
Follow RT's LIVE UPDATES on Eastern Ukraine
The last polling stations in Lugansk and Donetsk regions wrapped up their work at 23:00 local time (20:00 GMT).
There is no minimum voter turnout required for the "people's republics'" self-determination referendum, but local authorities claim that in Lugansk it has been over 79%, while in Donetsk region it reached 74.87%, Ria Novosti reports.
According to first preliminary results, only 5% of those who cast their ballots said 'no' answering to a question whether they "support the Act of state self-rule" of the Lugansk People's Republic respectively, the leader of local "people's front" Aleksey Chmilenko told Interfax.
"I think this number [5 %] will not rise, but it may decrease," he added.
According to preliminary results in Donetsk region, 89.7% votes were cast in favor of self-rule, Donetsk election committee said.
#Donetsk region has started counting the votes. Results are expected in the morning.

— PaulaSlier_RT (@PaulaSlier_RT) May 11, 2014
Ahead of the vote, local self-defense forces boosted security, fearing that Kiev could stage provocations to disrupt the self-determination vote. In several areas the day did result in new violence and new casualties as the Ukrainian army continues its military operation against "separatists" as it calls pro-autonomy activists.
Many people at polling station pic.twitter.com/RAbELypS1o

— RT Ruptly-Nicolaj (@Nicolaj_Gericke) May 11, 2014
In Mariupol, recovering from Friday's deadly clashes, only eight polling stations were opened, according to the coordinator of the central election commission of the "Donetsk People's Republic", Boris Litvinov. Those willing to vote had to wait for their turn in huge queues.
Almost simultaneously with the opening of polling stations, sounds of shooting and artillery fire were heard on the outskirts of Slavyansk, in southeast Ukraine's Donetsk region.
Activists in Slavyansk described the attacks to RT by phone.

"The artillery fire was so loud, that the earth and houses shook," said one man, who only gave his first name, Vlad. "I have been trying to call the people at the checkpoint but they don't pick up. There are snipers in the area and it's too dangerous to speak on the phone."
Slavyansk already witnessed mortar shelling of its outskirts by Ukrainian forces on the eve of the referendum. In the embattled city the stations will close at 15:00 GMT for security reasons.
#Slavyansk: Some polling stations are guarded by Cossacks.

— PaulaSlier_RT (@PaulaSlier_RT) May 11, 2014
Some 1,471 polling stations in Lugansk region and around 1,500 in Donetsk region opened their doors for voters at 8:00 local time (5:00 GMT) and will close at 22:00 (19:00 GMT). Security has been tightened around them.

"We sent additional self-defense units to polling stations and also to the most important social institutions," a Lugansk self-defense leader, Aleksey Chmilenko, told Interfax. "So far everything is normal, there are no incidents."
RT's Paula Slier, currently in Donetsk, reported that Roman Lyagin, chair of the central election commission in the region, believed that a provocation was planned and said that anti-government activists were ready for it.
Roman #Lyagin, chair of central #election commission, "This is will of people. The world can say this is bad idea but its idea of the people

— PaulaSlier_RT (@PaulaSlier_RT) May 11, 2014
The people's governor of the Donetsk region, Pavel Gubarev, told journalists that Donetsk and Lugansk will emerge as new legal entities as a result of the referendum.
"The referendum for us is about creating a new state paradigm," he said.
Ukraine's Foreign Ministry said the results of the referendum in Donetsk and Lugansk regions would not affect the country's territorial integrity and form of government.
"Organizers of this criminal farce have consciously violated the Ukrainian constitution and laws, and have neglected calls coming from the authorities in Ukraine and from the international community," the ministry's statement read.
People patiently waiting outside voting stations in #Donetsk#referendumpic.twitter.com/LiJcmcN54c

— PaulaSlier_RT (@PaulaSlier_RT) May 11, 2014
Citizens of the two southeastern regions of Ukraine were asked if they "support the Act of state self-rule" of Donetsk People's Republic or Lugansk People's Republic. The election commission officials explained that the people are not choosing between staying within Ukraine and joining Russia, as widely reported, but instead are asked to support regions' right for political self-determination.
Over 3 million ballot papers were printed for Donetsk region. All in all, the organizers spent about 20,000 hryvnas (US$ 2,000) preparing for the vote in Ukraine's industrial region, the heart of the country's coal-mining. "The referendum will be considered valid whatever voter turnout will be," Roman Lyagin, the head Donetsk election commission told reporters on Saturday.
In Donetsk, western observers were not present at the polling stations, commission officials said, as nobody expressed willingness to oversee the vote in the turbulent region. "We did not refuse anyone, there were no applications," Lyagin said, adding though that over 470 international journalists were accredited in Donetsk.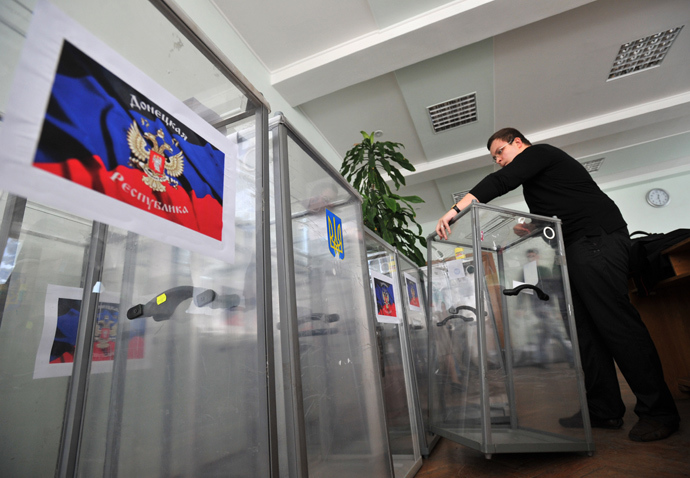 Some 30 international observers were monitoring the voting in Lugansk region, where some 1.8 million are expected to take part in the referendum. "According to a survey, 83% of Lugansk residents are ready to support the Act of state self-rule of the People's Republic of Lugansk," said Igor Shakhov, the head of the local election commission.
The referendums, announced back in March, went ahead as planned despite Russian President Putin's call on pro-federalization activists to postpone them due to the deteriorating and unpredictable security situation in Ukraine.
The Kiev government as well as many western countries, including the US, France and Germany called the referendums "illegal" and urged dialogue between all conflicting parties in Ukraine, at the same time showing no readiness to stop the punitive military operation in the east of the country.
The Unites States and EU have denounced the referendum and said they would not recognize the result of the vote on self-rule held by rebels.
"The so-called referenda in... parts of Lugansk and Donetsk regions were illegal and we do not recognize the outcome. Those who organized the referenda have no democratic legitimacy," said Maja Kocijancic, a spokeswoman for EU foreign policy chief Catherine Ashton.
If a majority of voters answer "yes" on Sunday the regions will gain full moral right to officially state they do not accept what is happening in the country, anti-coup protesters say. The combined population of Donetsk and Lugansk industrial regions, rejecting the legitimacy of the coup-installed Kiev authorities, stands at about 6.7 million in a country of 45 million.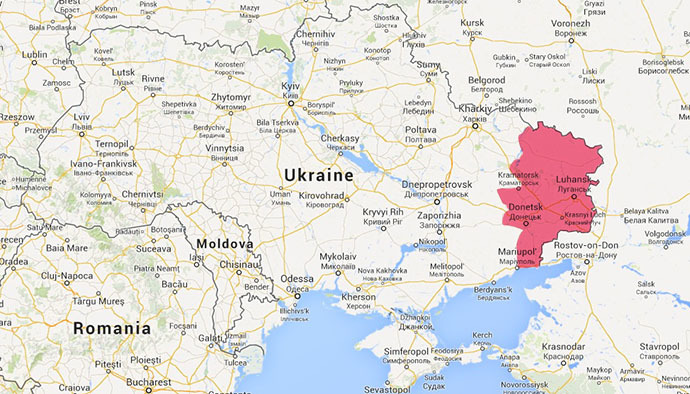 You can share this story on social media: