Tens of thousands demonstrate for renewable energy in Berlin (PHOTOS, VIDEO)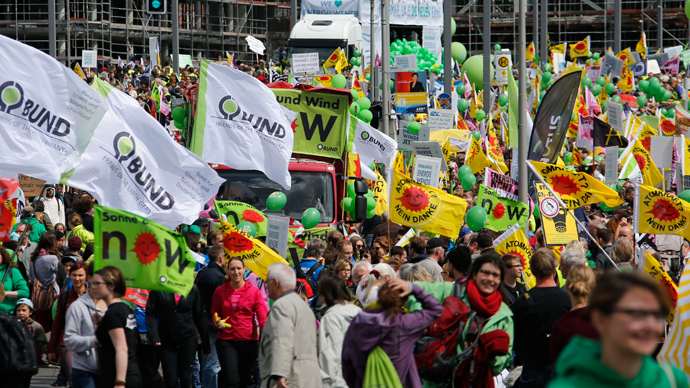 Up to 20,000 people have rallied in Berlin to support renewable energy Saturday under the slogan "Do not capsize the energy revolution!"
The protest was triggered by a planned reform by the Christian Democratic Union of Germany (CDU) and the Social Democratic Party of Germany (SPD), two of Germany's main political parties, called the Renewable Energy Sources Act (EEG).
The demonstrators say the law will "strangle the transition" from gas and nuclear to renewable energy such as wind and solar. The organizers of the protest accuse the German government of backtracking on energy policy.
The rally started at Kapelle Ufer am Hauptnahnhof, Berlin's central station, and then the protesters marched through central Berlin to the CDU party office. They were joined by a flotilla of about a hundred boats and canoes which made their way down the river Spree, which runs through the center of Berlin.
Activists wore caricature heads of the Economy and Energy Minister Sigmar Gabriel and German Chancellor Angela Merkel. Some of the placards read "Sustainable Energy Transition Now!"
Musicians were also at the event to express solidarity with the protesters, including the Berlin bands Gunslinger and Seeed.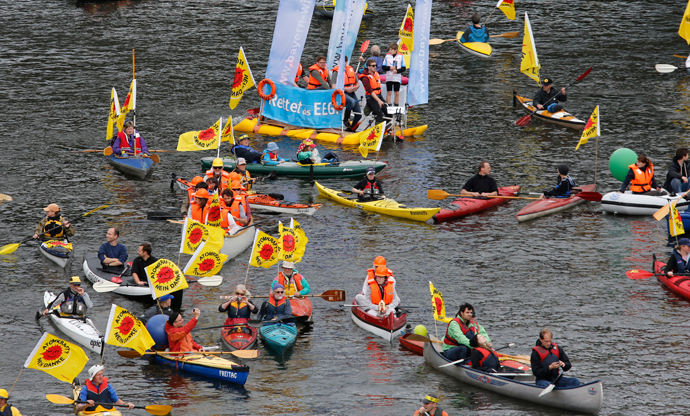 At the closing of the protest in front of the CDU offices, Hubert Weiger the head of Friends of the Earth Germany, called on parliament not to pass the act.
In a separate part of the city there was much smaller demonstration against fracking.
Hermann Albers, President of the German Wind Energy Association, warned "with this bill, the government will clearly loose the momentum of the energy revolution."
While the chairman of the Economic Forum Geothermal Association criticized the fact that the EEG reform will mean that geothermal energy and other weather dependent energy sources will be denied a long term perspective.
Over the past twenty years Germany has had a good record of developing its clean energy sector and Germany's renewable energy sector is among the most successful in the world. The percentage of electricity produced from renewables increased from 6.3 percent in 2000 to 25 percent in the first half of 2012.