No to green tax: Brits vote against levies as parliament environment battle continues
60 percent of British taxpayers are saying no green taxes, and the prime minister pledges to do away with them. However, the problem may be bigger than the additional £112 the taxes add to the bill, with energy giants dramatically increasing prices. 
The public research was conducted by Survation, a UK polling consultancy.

The so-called green taxes, or green levies, make for a significant amount on the already hefty energy bills, around 10 percent, or over £110. 
Green taxes reflect the amount of money the government spends on energy and climate change policies. Here are a few components that make up the green levies:
First comes the Renewable Obligation Support Cost, which was introduced in 2002 and provides incentives for the deployment of large-scale renewable electricity in the UK. 
Second, there's the EU European Trading Scheme, which is an obligatory cap-and-trade plan, principal to the EU's climate change target of reducing carbon emissions by 20 percent by 2020. 
Then there's the Green Deal, which allocates loans and grants for people to make energy improvements to their homes, and the ECO (Energy Companies Obligation) which provides insulation and green measures to people in fuel poverty and on low incomes.
However, the British public isn't eager to shell out on being green.
 "I'm concerned about the environment, but I'm more concerned about what energy is costing me", "We'd always like the bills to come down, that's definitely without a shadow of a doubt" – those were just some comments RT's Polly Boiko got from passers-by on the streets of London.
The issue is in fact essential to solve as soon as possible, because, according to Age UK, a charity for elderly Britons, over three million older people are worried about staying warm indoors this winter, and six million are anxious about rising fuel bills.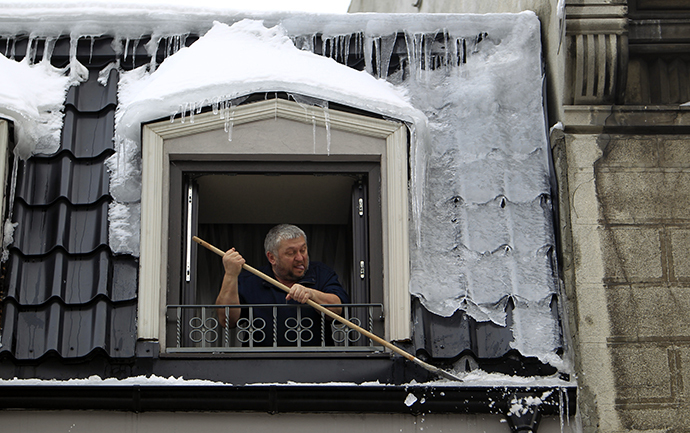 The research also discovered that 24,000 deaths from cold are predicted this winter. 
There may in fact be another side to the problem of hiking energy prices: six of Britain's largest energy companies increased tariffs by double-digit figures just over a week ago. The energy giants put the blame on "external costs", namely, transport, green taxes and wholesale fuel prices. 

"It's the hardest decision that we take and for us the recovery of costs within that was the key reason," Neil Clitheroe of Scottish Power told Reuters on Tuesday. The company raised prices by 8.6 per cent on October 24.
Energy bosses were all for shifting the burden of energy efficiency plans off customers' bills and funding some of the programs through general taxation.
"If the government responds to our request to put this in the general taxation, then pound for pound, penny for penny that should come straight off the customer's bill. We'd do it as fast as possible," said William Morris, the managing director of SSE, a leading UK electricity and gas company.
On the other hand, Stephen Fitzpatrick, managing director of a smaller company, Ovo Energy, told MPs his company was buying gas at a cheaper price than it had in 2009.
"It looks to me like a lot of energy companies, a significant number of the Big Six, are charging the maximum price they feel they can get away with to the customers who they feel will not switch under any circumstances and then maintain the illusion of competitive pricing with tariffs targeted towards a very small number of relatively well-off customers," Fitzpatrick told MPs at the Energy and Climate Change Committee on Wednesday, Express.co.uk reported. 
There's also political pressure from the opposition, with the leader Ed Miliband claiming that David Cameron "is taking a panicky U-turn" at popular discontent and is someone who "changes his policy every day of the week." 
What's more, Miliband said that 60% of green taxes were introduced under Cameron's leadership. 
Meanwhile, it's not only the UK that's asking itself "To be green or not to be green." Germany's energy giants warned the country's quick switch to green power could backfire due to the high prospect of blackouts.
In the worst case scenario, a one-hour blackout across the state may cost almost 600 million euro.
Professor Dr. Frank Endres from Clausthal University of Technology told RT that energy safety comes at a very high cost, with green power being unreliable.
"There is one principal problem: if you rely on windmills and on solar energy, you only get energy when the wind blows or when the sun shines. <…> So if you have an industrial country which needs a lot of energy, you'll need a back-up power plant. So in Germany we now have this situation: we build more and more windmills and solar panels, but they will never deliver you a state energy. So we have coal plants – and this increases the costs," Endres said.
You can share this story on social media: