German lawmakers to ask Snowden testify over mass surveillance despite govt pressure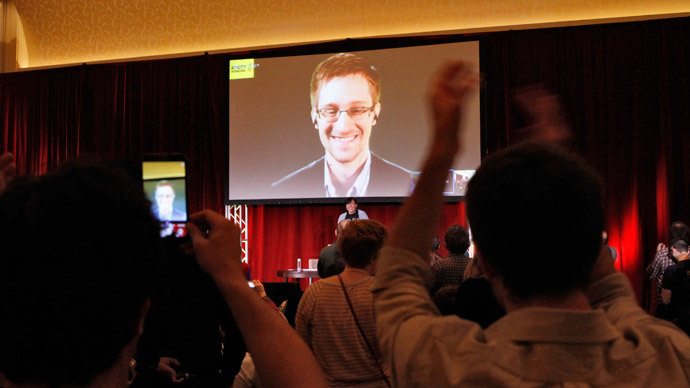 German lawmakers will push ahead with plans to question former NSA contractor Edward Snowden over the agency's surveillance activities despite pressure from government officials who warned interviewing the whistleblower may damage ties with Washington.
"A majority of the committee has decided that we want to hear Mr. Snowden," Reuters cites Roderich Kiesewetter, the conservative head of the 8-member panel of inquiry set up to investigate the National Security Agency's (NSA) activities in Germany, as saying.
The vote was unanimous, said Martina Renner, the chairperson of Germany's Left party for the special committee.
However, it remains unknown if Snowden will testify in Germany, or if he will answer questions from Russia, where he was granted political asylum last year.
Angela Merkel's Christian Democratic Union (CDU) has been opposed to allowing Snowden to come to Germany to testify, fearing it would strain ties between Berlin and Washington. The United States charged Snowden with theft, "unauthorized communication of national defense information" and "willful communication of classified communications intelligence information to an unauthorized person." If Snowden were to step foot on German soil, the US, which has an extradition treaty with Germany, would demand he be handed over under an internal arrest warrant.
Merkel's coalition, which suggested that Snowden answer questions in a video conference, proposed the tentative date of July 3, AFP cites Left party chairperson Renner as saying.
The center-left Social Democrats (SPD), who share power with the CDU in a 'grand coalition', have said they would be open to questioning him in Germany or in Russia. Members of the opposition, however, want Snowden to come to Germany.
Last week, the German government reportedly blocked Snowden from giving personal evidence in front of the parliamentary inquiry regarding the agency's surveillance.
In a letter to members of the panel obtained by Süddeutsche Zeitung, government officials said a personal invitation to the former NSA contractor would "run counter to the political interests of the Federal Republic," and "put a grave and permanent strain" on US-German relations.
Green party head Simone Peter, accused the chancellor of kowtowing to the United States.
"Merkel is displaying cowardice towards our American ally," she said. "We owe the Americans nothing in this respect. The government must at least make a serious effort to safely bring Snowden to Germany and let him give evidence here. But Merkel doesn't want that."
Another recent report in Spiegel Online warned that members of the Committee of Inquiry could themselves face legal problems if they question Snowden, no matter where the location.
According to documents from a Washington-based law firm, the questioning of "the main culprit" would become a punishable offense if he were prompted to disclose secret information.
The parliamentarians could be charged with "theft of state property" or "conspiracy" if they were ever to step foot on US soil, regardless of their parliamentary immunity.
Meanwhile, on Monday Der Spiegel reported that the German government plans to limit their level of cooperation with the parliamentary panel, saying they would only be given limited access to a so-called bilateral no-spy agreement currently being negotiated with Washington.
Access to relevant documents will be limited as it is considered to be "an ongoing process" regarding "a core area of government responsibility" which is constitutionally protected, a senior government official told the German daily.
It also remains unknown whether the committee will be given access to documents regarding cooperation between Germany's Federal Intelligence Service and its US and British counterparts, as such a step would reportedly require the consent of Germany's foreign partners.
Revelations of NSA amassing phone data from private German citizens, as well as of tapping Chancellor Merkel's cell phone for over a decade have sent shock waves through the German public. The surveillance has also dealt a blow to US-German diplomatic relations at a time when Brussels and Washington are trying to agree on a transatlantic trade pact.
You can share this story on social media: